April 2023 - BME Blaze: Paola Wisner
Apr 03 2023
In this monthly spotlight, get to know the alumni and students of Columbia's Department of Biomedical Engineering. Read what our BME folks are up to, from our labs' latest research, to our students' plans for the future, to our teams' innovations, start-ups, and other career successes.
We enjoyed catching up with Columbia BME alumna Paola Wisner, as she discussed her experience as a Columbia BME student. Read below to get to know Paola!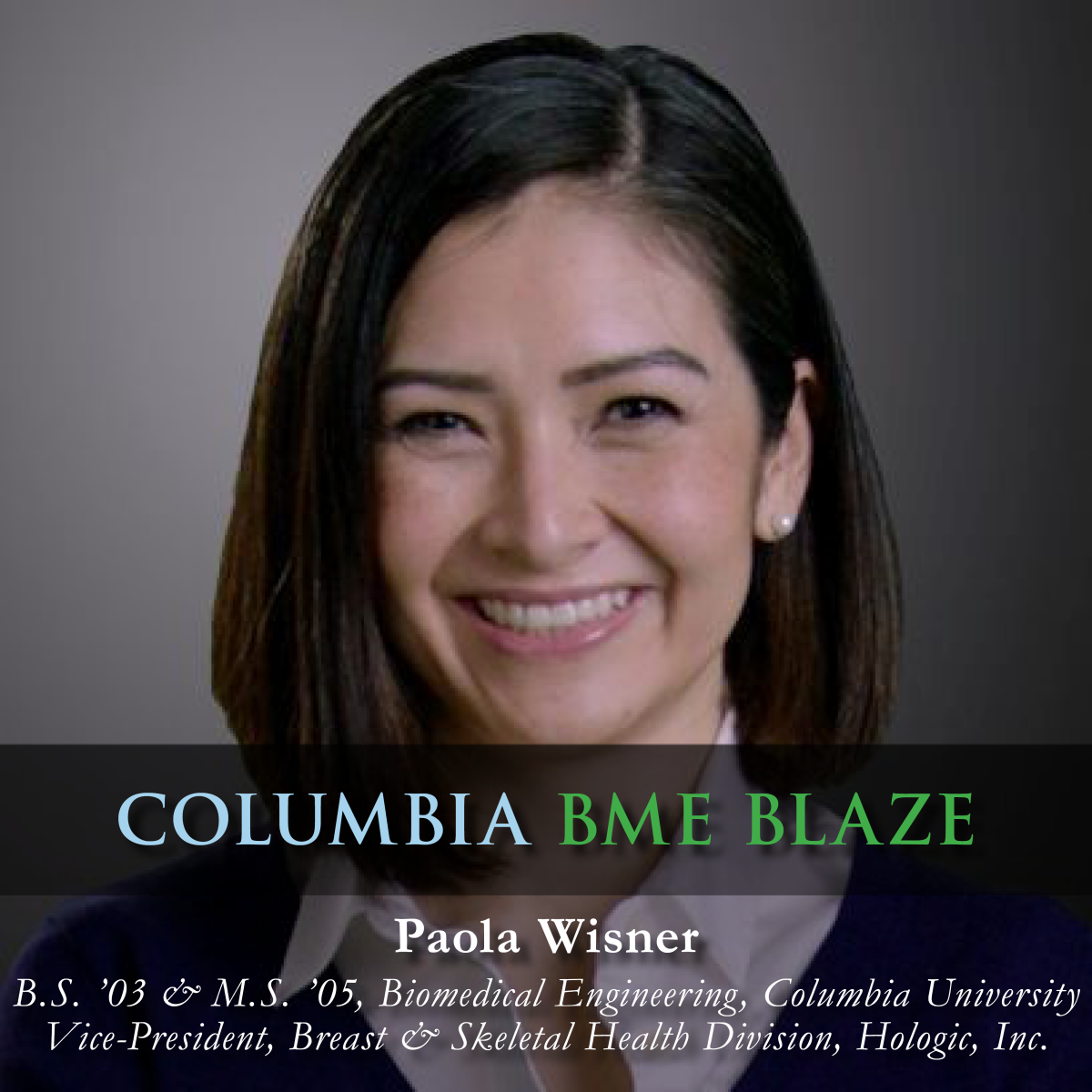 Education
B.S. '03, Biomedical Engineering, Columbia University
M.S. '05, Biomedical Engineering, Columbia University
Where are you from?
I was born and raised in Guatemala City, Guatemala. I currently live in Highland Park, IL.
What drew you to the field of Biomedical Engineering?
I loved STEM growing up, and I knew that I wanted to be an engineer. I wanted to go into a field where I could help make a positive impact in the world. Biomedical Engineering was something that sounded innovative, cutting edge, and challenging. Most importantly, it was a discipline that aligned closely to my personal values.. Biomedical engineers work closely with medical professionals to develop the products that can be used in preventative screening, treatments, and in surgical procedures to make a positive impact in someone's life. It was challenging and exciting!
What is your current role?
Vice President of Global Research and Development at Hologic, Inc. for the Breast and Skeletal Health division.
Why did you choose Columbia BME?
The diversity of the student body was something that was unique to Columbia BME. Having classmates from different parts of the world, representing different cultures, was important to me as I was an international student myself. The diversity brought different perspectives to our classes and our research, it also brought more than just the things we learned at school, but it also allowed us to learn about different traditions and cultures around the world. I also valued that Columbia BME had amazing faculty who truly cared about their students. They had a deep interest in nurturing the curiosity that engineers have and, in the process, they taught us how to lead from the heart, building teams that were passionate about what they did, no matter how challenging it was.
What were some of your favorite projects/memories from the program?
I really enjoyed our Senior Design project where we had the opportunity to identify a problem we wanted to solve and develop a product prototype that we could test. It was a great project because we had to work as a team and we put into practice what we learned. My team decided to develop a prototype for a thumb prosthesis, we worked with doctors at the Columbia Presbyterian Medical School to get access to cadavers where we could test our prototypes. We also worked with our faculty members as they guided us throughout the project as we were developing solutions. At the end of the project, we made a presentation about our idea to our classmates.  I remember how proud we were of what we had accomplished together as a team, and how innovative all other teams were in their solutions and their presentations. This is one of my favorite memories because it was when I realized that we had learned key skills to put into practice to solve real-world challenges in healthcare.
What was your proudest moment at Columbia?
One of my proudest moments was when I started working in the Biomechanics laboratory with Dr. Gerard Ateshian. He was such an inspiration to many students, he was patient and passionate about teaching. I always wanted to work in his laboratory to learn about biomechanics research and I was so proud to be part of his team. Dr. Ateshian's students were like a family. We helped each other in our tough research projects, and we became a strong team. I now realize that the team camaraderie was thanks to Dr. Ateshian's leadership and I am grateful that I had the opportunity to learn from him and my colleagues at the Biomechanics laboratory. I was proud to have the opportunity to work with all of them.
How has your experience with Columbia BME contributed towards your goals?
During my years at Columbia, I learned about teamwork, cross-discipline collaboration, diversity of thought and its role in innovation and leadership. I learned these skills from my BME classmates, my laboratory colleagues who came from different engineering disciplines, and the faculty at Columbia BME. Even today, being in touch with alumni, faculty members, and the Columbia network has been a valuable resource for advice, for hiring talent, and for staying in touch with the latest technological developments in the engineering field.
What are your thoughts on the strength of Columbia BME's alumni network and how has that influenced your career path?
Columbia BME's alumni network is outstanding. As an international student, the alumni network helped me find opportunities for my first job. Also, throughout my career, I reached out to alumni for advice on my career progression and their advice influenced my thinking about the path I pursued. They helped me clarify what my values, my passion, and my strengths were so I could enjoy what I do every day and inspire others to reach their potential. I am so grateful for having the opportunity to access such a wonderful alumni network so I can continue growing and learning from them and contribute to younger generations that are added to our amazing network of Columbia alumni.
Any words of wisdom or tips for prospective BME students?
Take advantage of the opportunities that Columbia BME offers, build relationships with faculty members as they are a wealth of wisdom, and do not hesitate to reach out to the Columbia BME alumni network during your time at Columbia and anytime after your graduation. You have excellent resources at your fingertips every day, so take full advantage of them. Lastly, don't ever forget why you decided to become an engineer - we solve big problems and try to make the world better. Inspire younger engineers and scientists to make a positive impact in their field!
What are you excited about?
I am excited about new technologies that are being developed by the students and faculty at Columbia BME that could be game-changers in the world.  I am excited to see how new developments in electrical, software, and biomedical engineering can positively influence healthcare and detect diseases earlier, so we can save more lives. Also, I am excited about the growing interest in students entering environmental science and engineering careers, because we need more individuals dedicated to solving the challenges our planet Earth is facing today.
The diversity of the student body was something that was unique to Columbia BME. Having classmates from different parts of the world, representing different cultures, was important to me as I was an international student myself.