BME BLAZE: Path to Professor - Sharing stories of the trailblazers of Columbia BME
Feb 11 2021 | By Alexis Newman | Hallie Kapner
In this special 20th anniversary edition of our BME Blaze spotlight, we sat down with the trailblazing women of Columbia BME. Read their stories!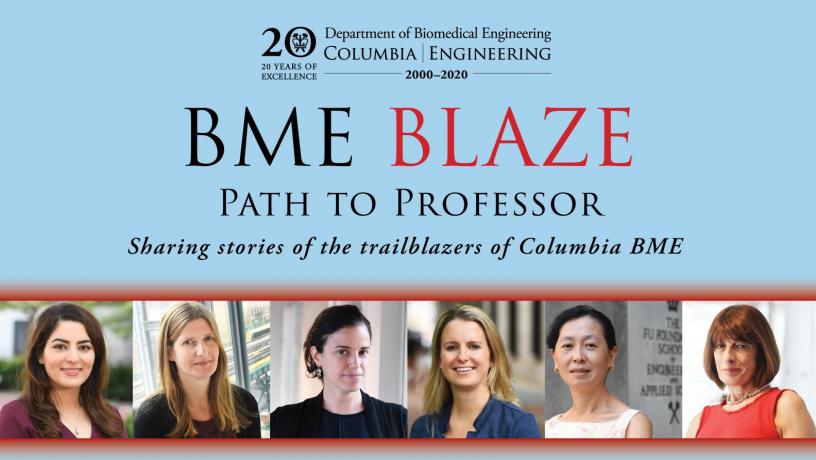 ELHAM AZIZI

Assistant Professor, Biomedical Engineering; Herbert and Florence Irving Assistant Professor, Cancer Data Research (in the Herbert and Florence Irving Institute for Cancer Dynamics and in the Herbert Irving Comprehensive Cancer Center); Director, Computational Cancer Biology Laboratory
What challenges have you faced on your path to professor and how do you address them?
One common challenge in STEM fields is dealing with unconscious biases and a lack of confidence in women to lead successful teams and research groups, let alone to shape and define research fields. This is sometimes rooted in lack of sufficient examples and role models. I was very fortunate to be mentored by Dr. Dana Pe'er during my postdoctoral training, a pioneer and leader in the field of computational biology, whose work in connecting machine learning (a male-dominated field) with biology has largely influenced my path. I am also proud to have joined a department with several female tenured faculty members, all successful leaders in their respective fields and great inspirations to future generations in BME.
BME requires creative collaboration between multiple disciplines. What has been your experience with this? 
My most fruitful projects have indeed been those involving close collaboration between experts from various complementary disciplines. As biomedical engineers, we yearn to see the impact of the tools and technologies we develop in advancing healthcare and our understanding of disease. My research focuses on developing AI and machine learning methodologies for dissecting the complexity of cancer using high-dimensional genomic data.  It's crucial to interact with domain experts (clinicians and cancer biologists) from the early stages of experimental design to identifying statistical and computational problems and interpreting the results of new algorithms towards unlocking high-impact discoveries. 
What about your BME experience are you most proud of and excited for?
I am most proud of my students' performance in the past few months. Our young lab started in January 2020 and the campus was shut down only 2.5 months after. Despite the many challenges that students have faced in the midst of a global pandemic, having to move multiple times across the country and take classes and perform research almost all remotely, they have continued to make great strides in multiple projects building the foundations of our lab. I am very excited about continuing to explore these new directions and expanding our team.
If you could give your 16-year-old self a piece of advice related to pursuing a career in STEM, what would it be?
My advice would be to avoid being deterred by stereotypic roles and to not limit yourself to defined career paths based on current job markets. If you follow your passion with persistence and determination and find mentors that push you beyond your boundaries, you can carve out your own unique path in STEM. 
Elham Azizi is Herbert & Florence Irving Assistant Professor of Cancer Data Research in the Irving Institute for Cancer Dynamics and Assistant Professor in the Department of Biomedical Engineering at Columbia University. Elham's research utilizes single-cell genomic technologies combined with statistical machine learning techniques to characterize interacting cells in the tumor microenvironment as well as their dysregulated gene circuitry. Elham completed her postdoctoral training at Memorial Sloan Kettering Cancer Center and Columbia University. She received a PhD in Bioinformatics from Boston University, an MS degree in Electrical Engineering from Boston University and a BS in Electrical Engineering from Sharif University of Technology. She is a recipient of the NIH NCI Pathway to Independence Award, the Tri-Institutional Breakout Prize for Junior Investigators and an American Cancer Society Postdoctoral Fellowship.

At the American Society for Human Genetics (ASHG) conference in 2018 where I gave an invited talk on "Constructing a map of immune cell states in breast carcinoma"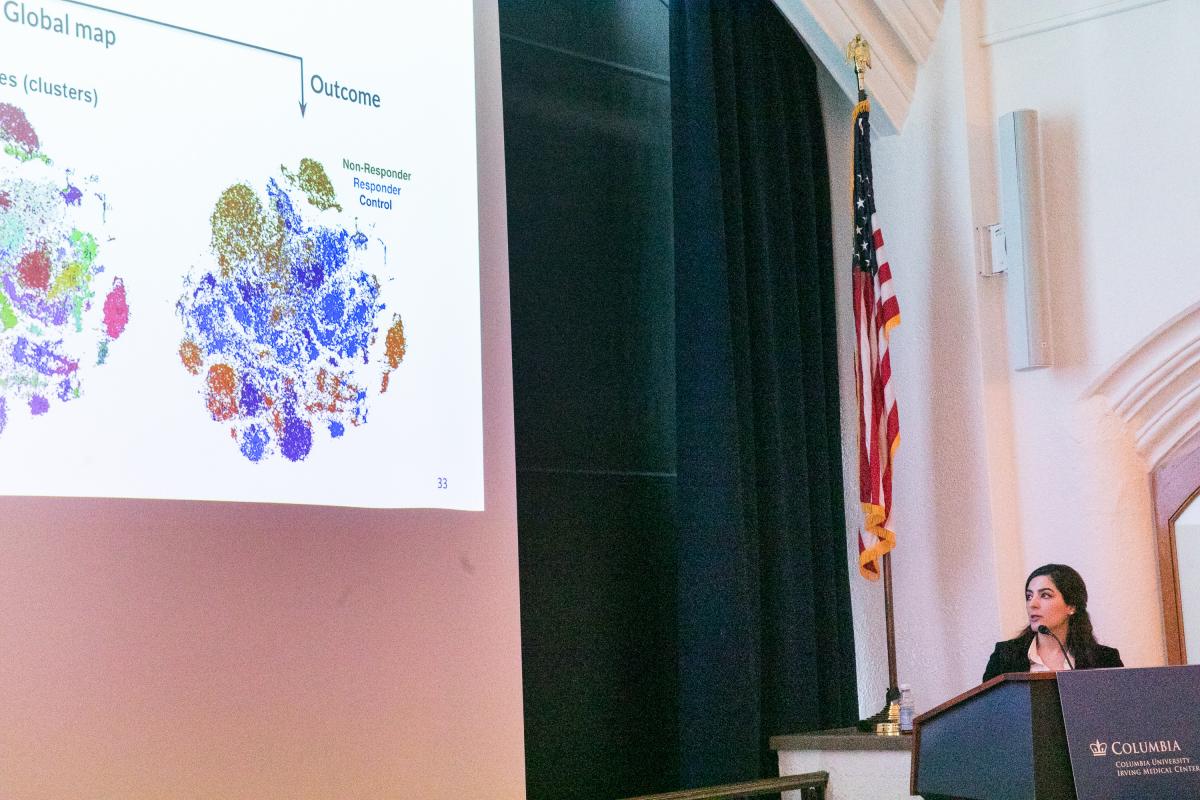 Presenting at Engineering in Medicine symposium (2020)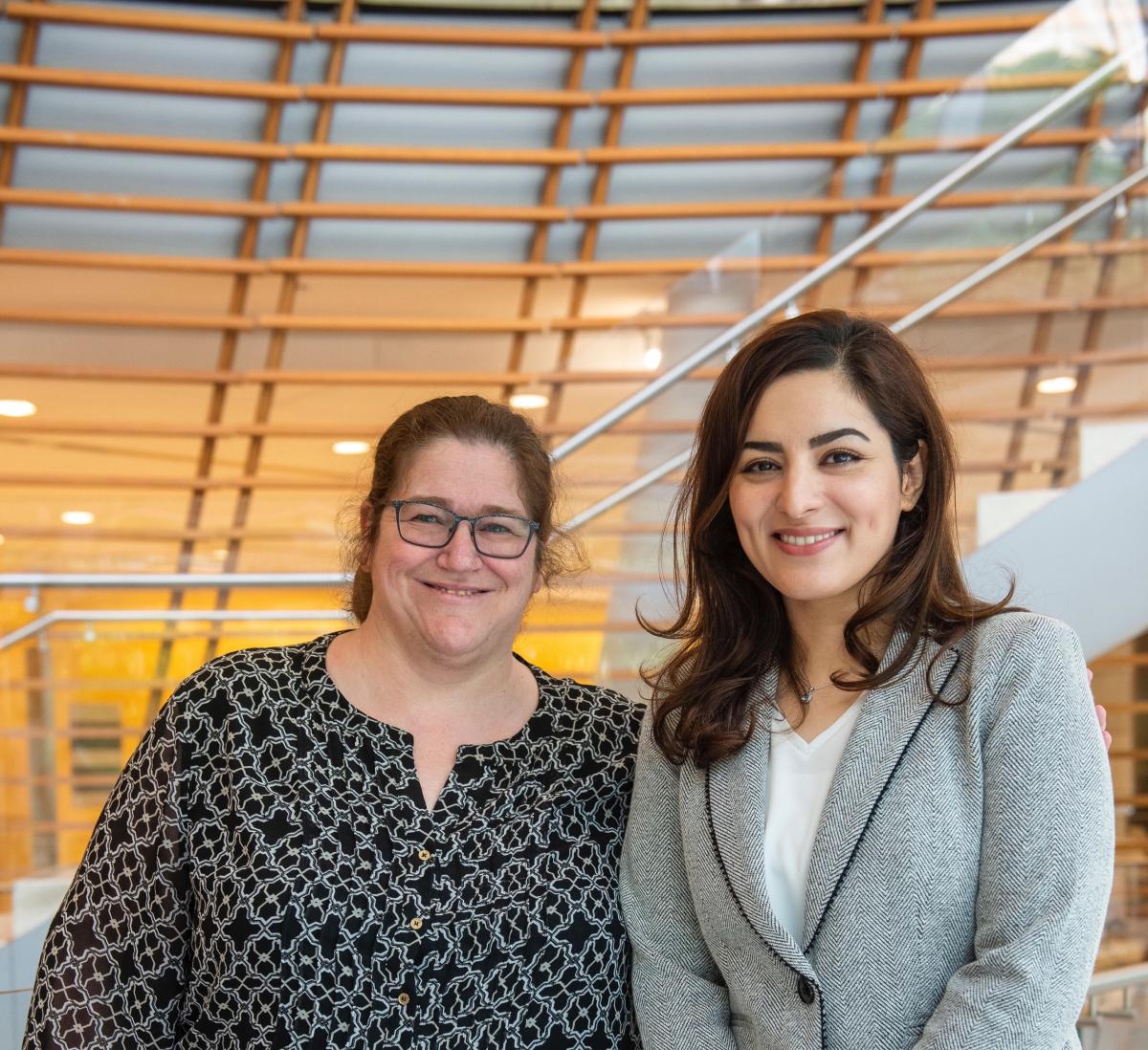 Photo with Dana Pe'er (postdoc mentor), Chair of Computational & Systems Biology at Sloan Kettering Institute (2019)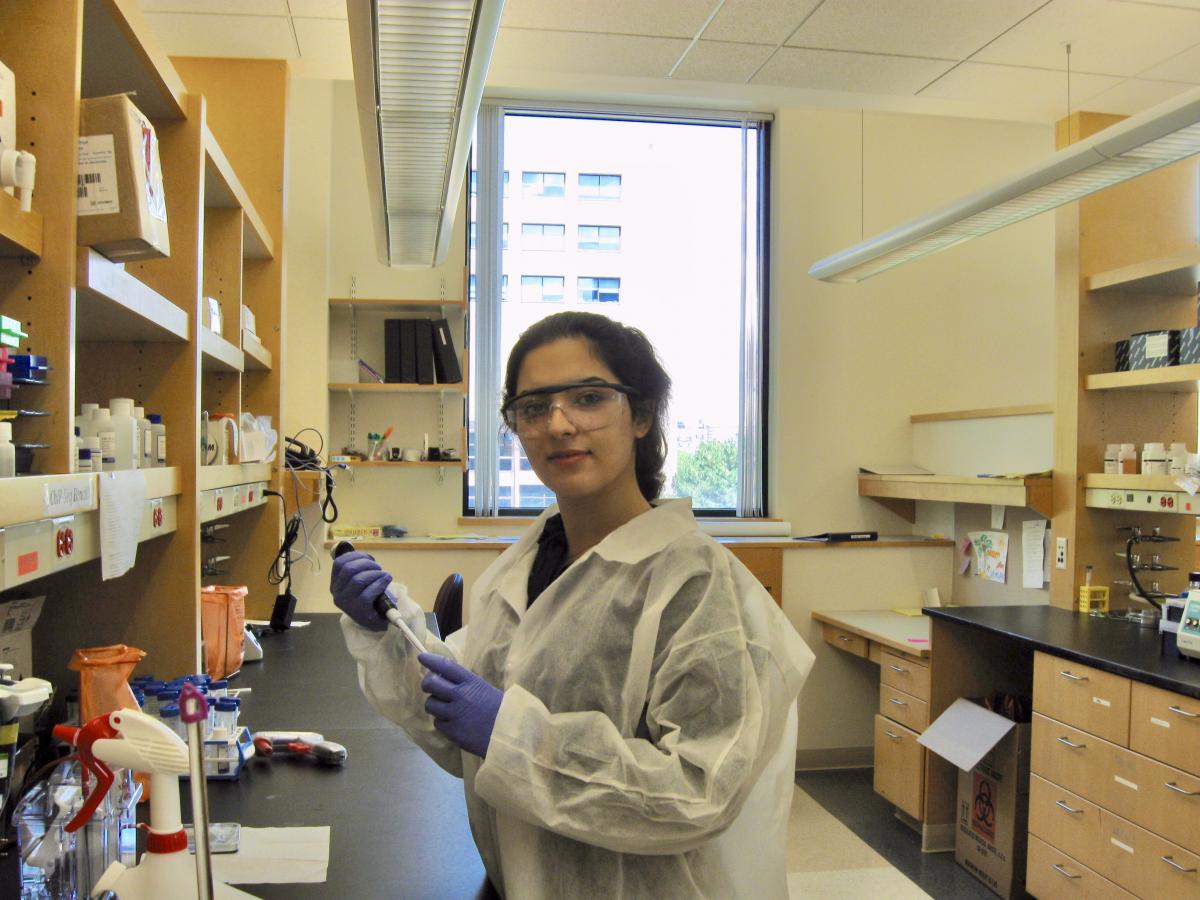 Experimental work during early days of PhD training at Boston University (2010)
ELIZABETH M. C. HILLMAN

Herbert and Florence Irving Professor at the Zuckerman Institute and Professor of Biomedical Engineering and Radiology (Physics); Director, Laboratory for Functional Optical Imaging
What challenges have you faced on your path to professor and how do you address them?
Growing up, I had no idea what it meant to be an engineering professor, so I can't say I was trying to follow a path. My mother was a French teacher with high standards, so I worked really hard in school. My goal was always just to do my best and get to the next step. Working hard and getting good grades gave me more opportunities, but each step I took was about choosing the thing I enjoyed doing the most, and which I was most motivated to do. I enjoyed math, physics, building things and being able to explain things. I was interested in medicine and doing something with human impact, but I never  knew where I was headed. I tell my own kids now that if they work hard, their reward will be getting to do a job they love. 
My biggest challenge as a faculty member has been juggling my time, especially since I had two children pre-tenure at Columbia and I have a large research lab at the Mortimer B. Zuckerman Institute. I also support major efforts to share and commercialize the imaging technologies we develop. You have to be incredibly self-motivated to be a faculty member, but as you progress it can be challenging to decide where to focus your energy and to take a breath once in a while and enjoy and appreciate what you have. 
My path also brought me from a small suburban town in Britain to London, then to Boston and now New York. Many great academics were born overseas, and have faced prejudice, the insecurity of maintaining visas, and the angst of being apart from family members. I have never faced a 'two body' problem, and I have been very fortunate to have a supportive spouse, but finding the ideal position can be a major challenge, especially for female faculty seeking jobs that are a 'best fit' for them.
BME requires creative collaboration between multiple disciplines. What has been your experience with this? 
I've always wanted to learn more, so I love the interdisciplinary nature of BME. My original training was in physics and I was told on career day that I was a "jack of all trades, master of none." I embraced this and sought to learn more and more 'trades,' realizing one can never 'master' anything completely. 
I think diversity in science and engineering is the catalyst for new discoveries. Whether it is people from different disciplines or backgrounds, everyone sees problems from a different angle and has different knowledge and experiences that can provide new insights. People need to teach each other at all levels. Everyone should be encouraged to ask 'stupid questions'— in my experience, these can truly prompt new ideas. 
In my lab, we combine development of novel microscopy techniques and imaging methods, and apply these to studies of brain physiology. We also share these methods with others, who bring amazing new samples to us, and describe scientific ideas and questions that they need help answering. Many of these interactions lead to rich collaborations and I relish the chance to learn about their science. I also try to train people in this way, helping people with engineering backgrounds fill in their knowledge of biological systems and physiology while insisting that end users who are strong in biology or neuroscience learn to use our microscopes and analyze their data independently. 
What about your BME experience are you most proud of and excited for?
Although we often fixate on grants, papers, and awards, a major part of our job is teaching and training. I can think of many times when I saw students come alive with excitement for a subject I was teaching, or who experienced the joyfulness of building something that worked, seeing something for the first time, or doing an experiment that turned out as they predicted. It feels great to watch students go on to careers that involve things I taught them or introduced them to. It is not always easy though. Many students and trainees are under a lot of stress right now and need more than just guidance in their classes and research. I am continually seeking better ways to perform research, train, and collaborate more effectively.
If you could give your 16-year-old self a piece of advice related to pursuing a career in STEM, what would it be?
At 16, I wanted to be an astronaut, but I herniated a disc in my back doing gymnastics and suddenly experienced a world of medical imaging and physical therapy. I was considering doing medicine when one day I asked "wait, who builds these machines?" So I think 16 year-old me would not be terribly surprised to see what I am doing now! 
The main thing I would have liked to hear is that it's ok to be different. It is not always easy to find other people who understand what matters to you and accept who you are. When I moved from my all-girls high school to a university class of 150 undergraduate physics majors, even though there were only 15 girls, we all had a lot more in common than people I had met before. It is so nice now to find people throughout the world who share my excitement and interests and who appreciate what I do. That would have been pretty hard to imagine at 16.
Elizabeth Hillman is a Herbert and Florence Irving Professor at Columbia University's Zuckerman Mind Brain Behaviour Institute and a Professor in the departments of Biomedical Engineering and Radiology. Hillman obtained her PhD in Medical Physics and Bioengineering at University College London. After a year at a medical device start-up company in Boston, she performed postdoctoral research at Massachusetts General Hospital, Harvard Medical School, and became faculty at Columbia University in 2006.
Professor Hillman has developed a wide range of multi-scale in-vivo imaging methods including SCAPE microscopy for high-speed 3D imaging, as well as techniques for dynamic analysis of high-speed imaging data. She uses these methods to study whole-brain neural dynamics in a range of model organisms, as well as the cellular mechanisms of blood flow regulation in the brain as a way to improve human brain imaging.
Hillman is a fellow of the Optical Society of America (OSA), the society of photo-optical instrumentation (SPIE) and the American Institute for Medical and Biological Engineering (AIMBE). She received the 2011 OSA Adolf Lomb Medal for contributions to optics at a young age, the 2018 SPIE Biophotonics Technology Innovator Award, a 2020 Royal Microscopical Society Mid-Career Scientific Achievement Award and early career awards from the Wallace Coulter Foundation, National Science Foundation and Human Frontier Science Program.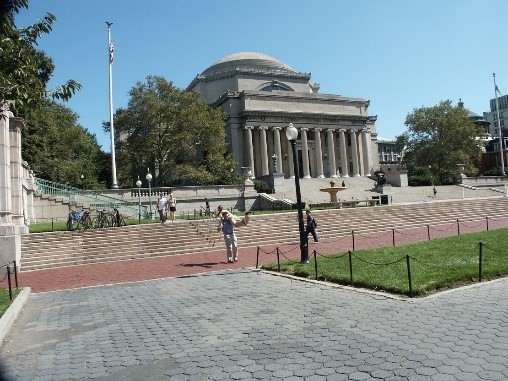 Visiting Columbia after I got my job offer

My first New York baby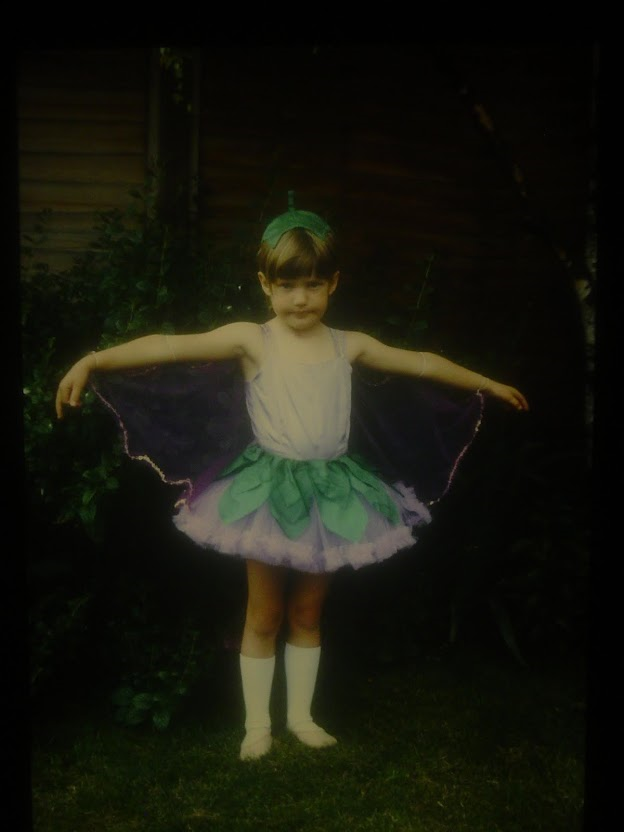 Ballet was not my Jam.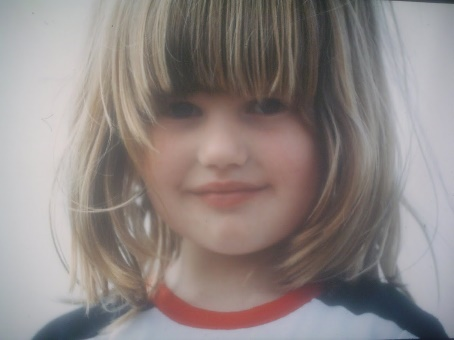 This was pretty much me.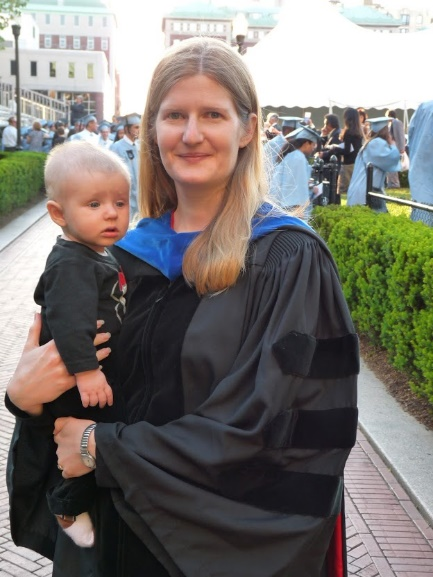 Baby at graduation
ELISA E. KONOFAGOU

Robert and Margaret Hariri Professor of Biomedical Engineering and Professor of Radiology; Director, Ultrasound Elasticity Imaging Laboratory (UEIL)
What challenges have you faced on your path to professor and how do you address them?
One of the main challenges I had to face as I embarked on the professorship path as a new assistant professor was the lack of a research laboratory space. This continued for the first four years of my tenure, with multiple moves to temporary lab spaces. Because my lab was on the medical campus, we had to navigate through the Columbia University Irving Medical Center (CUIMC) to find suitable temporary lab space and make a convincing case for why it should be used for my group. I quickly found that the highest priority for obtaining space (especially at CUIMC) was funding, so I began concentrating on grant applications to ensure that my lab would have a viable home. Another challenge related to having a lab at CUIMC was the fact that I was constantly moving between two worlds— the Morningside and CUIMC campuses. I taught  on the Morningside campus, while my lab group was on the CUIMC campus. This demanded a lot of prior organization and planning to make sure that neither my students nor those in my lab would suffer as a result.
BME requires creative collaboration between multiple disciplines. What has been your experience with this? 
Columbia is highly suitable for forging collaborations. One of the main reasons I chose to have my lab at CUIMC is so that I could have my counterparts—including physicians and basic scientists—as well as the patients, at close proximity. This has paid off tremendously, as my team would not be able to do clinically significant research without our close collaboration and partnership with clinical departments. Over the past 17 years, my lab has partnered with groups in Neurosurgery, Neurology, Radiology, Oncology, Psychiatry, Cardiac Electrophysiology, Noninvasive Echocardiography, Pathology, Somatosensory Biology, Neuroscience, Cancer Biology, Radiation Oncology, Vascular Surgery, and Neurocritical Care, to name a few. 
What about your BME experience are you most proud of and excited for?
I am most proud of  our students and the alumni from my laboratory. One of the things that nobody tells you when you're a stressed, panicky  young assistant professor is how rewarding it is to interact with students and fellows that are eager to learn and contribute to scientific research. Our students are so dedicated and hardworking that it pushes me to  be better. I am very excited about the future. I am especially excited to see how our technologies can make patients' lives better. Virtually all of our technologies are in the clinic now, and it is so exciting to witness howwe, as biomedical engineers, can positively affect the way patients are diagnosed and/or treated. In addition, working with ultrasound, a non-ionizing and non-invasive technology that can be used for both imaging and therapeutics, offers its own unique realm of possibilities.
If you could give your 16-year-old self a piece of advice related to pursuing a career in STEM, what would it be?
Great question! I was a very shy and not always happy 16 year-old, but one thing I knew was that I loved math and physics. I loved matrix inversions and solving quadratic equations. Physics made me look at the world through a completely different lens, no pun intended!  I would tell  my younger self that your instincts are correct. You belong in the STEM field, even if people around you may push you in different directions. I grew up in Greece, and the default for women was not becoming an engineer or scientist— far from it! I would also say that even if you may not see a single female faculty in STEM from high school through college (and find that strange!), the only way to change that is by becoming one yourself, so the women after you may see it as a natural thing—which it is, of course.
Elisa E. Konofagou is the Robert and Margaret Hariri Professor of Biomedical Engineering and Professor Radiology as well as Director of the Ultrasound and Elasticity Imaging Laboratory at Columbia University in New York City. Her main interests are in the development of novel ultrasound-based imaging and therapeutic methods. Elisa has co-authored over 230 peer-reviewed research articles and is the recipient of the NSF CAREER award, the NIH Nagy award, the IEEE-EMBS Technological Achievement Award, the SPIE Wellness Award and the IEEE-IUS Carl Helmholtz award. Elisa is also a fellow of the Acoustical Society of America, the American Institute of Ultrasound in Medicine and the Wallace H. Coulter foundation.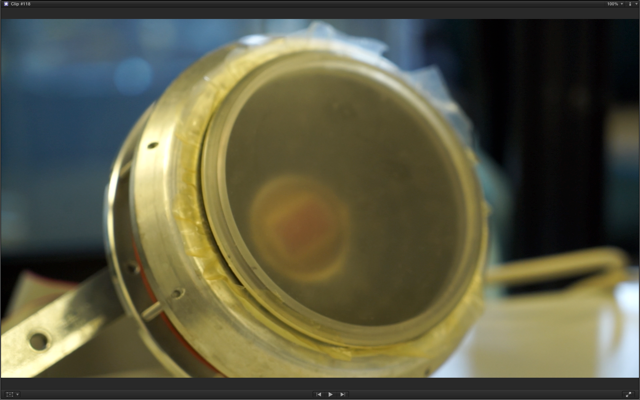 Concentric imaging (center in red) and therapeutic (in black) ultrasound arrays in a single probe unit which is used for breast cancer imaging and ablation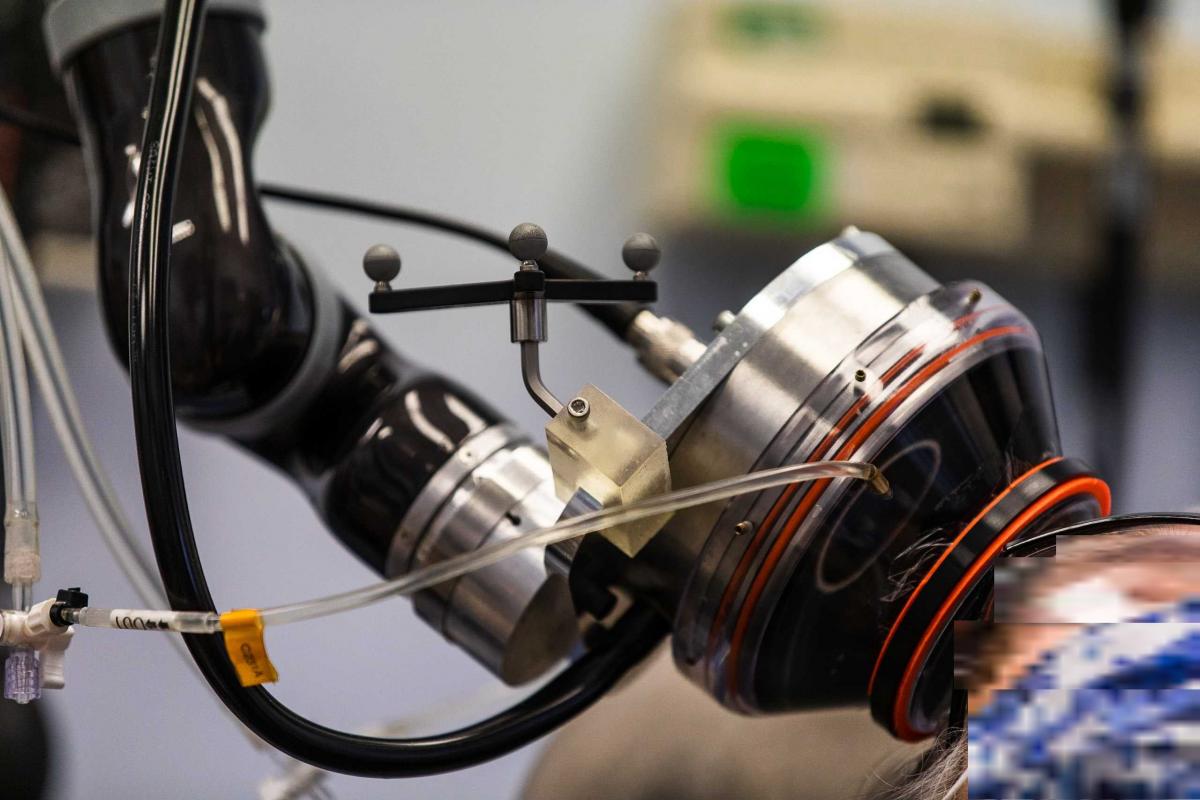 Blood-brain barrier opening system applied on a patient with Alzheimer's using focused ultrasound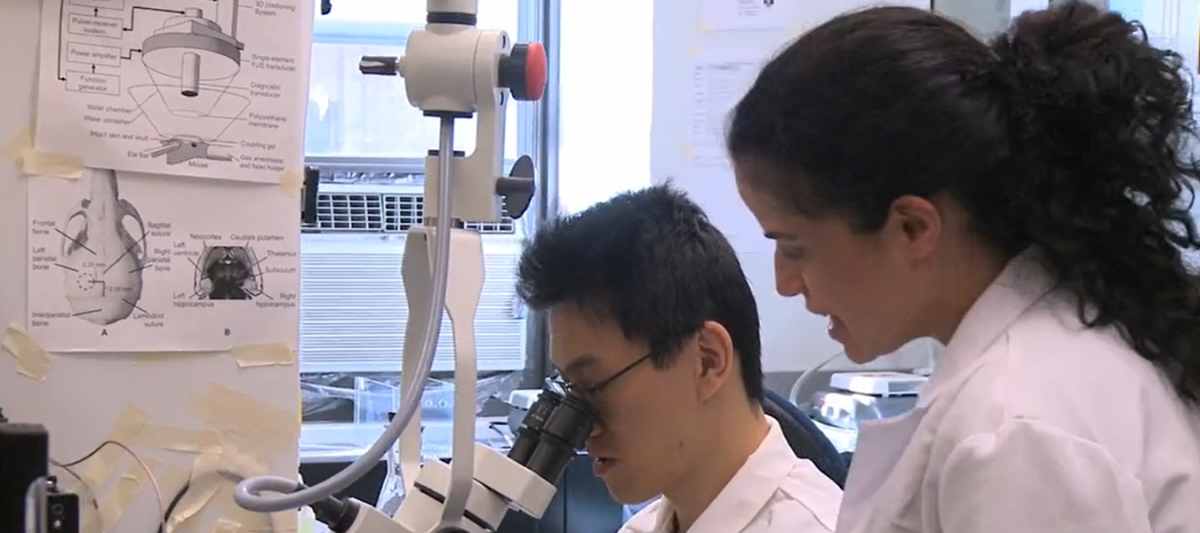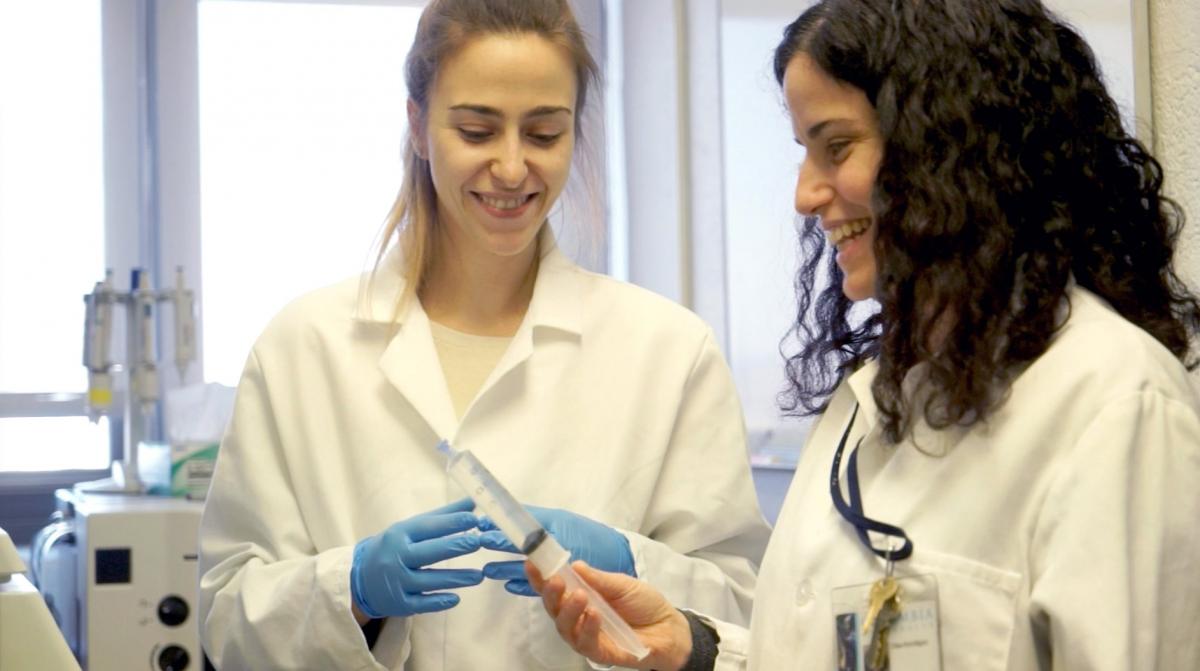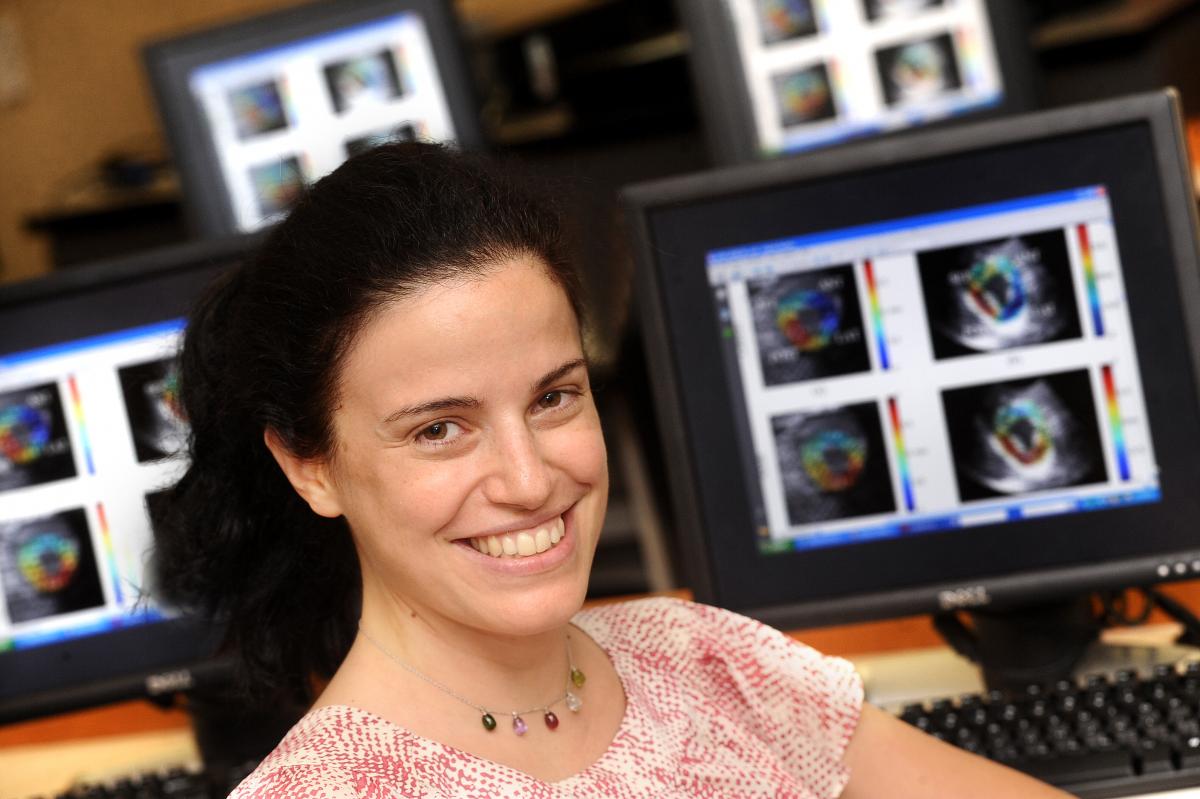 Lab memories
KATIE REUTHER

Senior Lecturer, Biomedical Engineering; Director, Master's Studies in Biomedical Engineering
What challenges have you faced on your path to professor and how do you address them?
I encountered some struggles with "imposter syndrome" while in graduate school. I was able to address this by surrounding myself with a supportive network of peers, mentors, friends, and family members. It was helpful for me to have open and honest discussions with my support system and realize I was not alone! Through these conversations and struggles, I learned a lot about myself and came to a realization that rather than feeling uncomfortable or upset when I didn't know something or felt inadequate, I could embrace these moments as  opportunities for learning and growth.
BME requires creative collaboration between multiple disciplines. What has been your experience with this? 
This is one of the most exciting parts of BME. In my current role as Senior Lecturer in Design, Innovation, and Entrepreneurship in BME and as Director of Columbia BiomedX, I am fortunate to truly sit at the intersection of engineering, medicine, and business.  The overlap between these disciplines allows us to collaborate and work toward developing new technologies and innovations that address real unmet clinical needs and can be implemented to impact human health. 
What about your BME experience are you most proud of and excited for?
As an educator, the most rewarding part of the job is seeing my students find careers they are passionate about and fulfilled by after graduation. As Director of Columbia BiomedX, I am most excited to see innovations developed at Columbia move from the academic environment to the real world to impact patients' lives. We are already starting to see this, but I look forward to even more success stories from the bench to the bedside and playing a part in fulfilling Columbia's mission "to convey the products of its effort to the world."
If you could give your 16-year-old self a piece of advice related to pursuing a career in STEM, what would it be?
I found this quote in graduate school but I wish I found it sooner: "The goal is not to be better than anyone else but rather to be better than you were yesterday." I think having this growth mindset and internalizing this desire for continuous improvement and learning has allowed me to overcome some of the "imposter syndrome" feelings often encountered in academia.
Dr. Reuther is currently  Senior Lecturer in Design, Innovation, and Entrepreneurship in the Department of Biomedical Engineering at Columbia University, with additional appointments as the Director of the Columbia Biomedical Technology Accelerator (BiomedX) Program and the Director of Master's Studies.

Presenting my research as a PhD student at Penn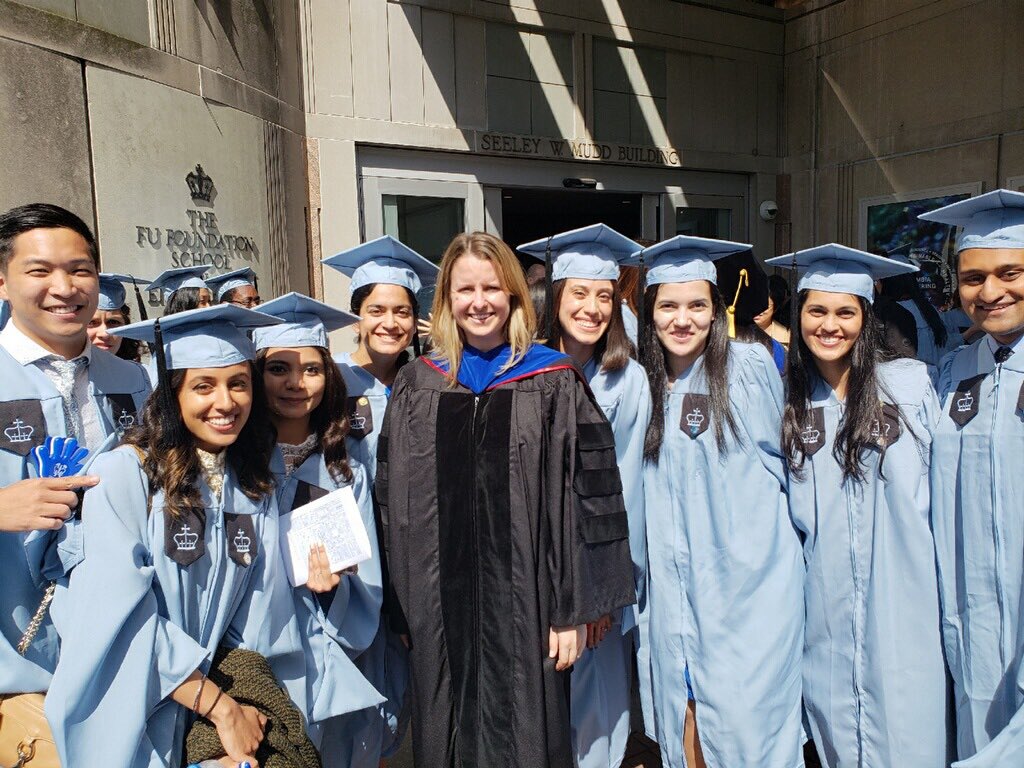 Graduation for our BME MS students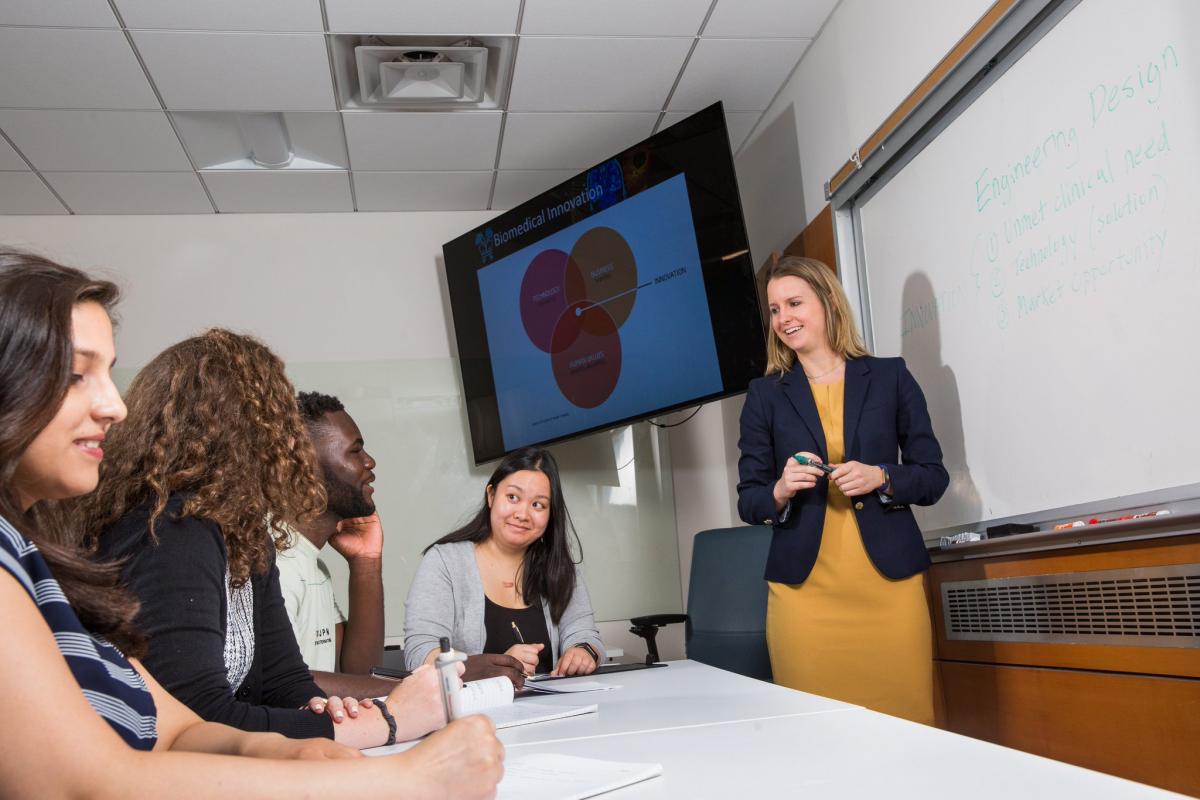 Teaching
(image credit: Timothy Lee Photography)
HELEN H. LU

Percy K. and Vida L. W. Hudson Professor, Biomedical Engineering; Director, Biomaterials & Interface Tissue Engineering Laboratory (BITEL)
What challenges have you faced on your path to professor and how do you address them?
One of the first challenges I faced was starting at Columbia in 2001 with lots of new ideas, but without students or a lab. The space that is now my lab was a storage dumpster for another division of the university! Kevin Costa, another BME faculty member, generously shared his lab with me while I worked with an architect to design the new lab, which thankfully was completed a year later. A bigger problem than deciphering architectural drawings was that I had no students to do research with, as I missed the regular doctoral student recruitment season. Luckily, word got around that there was a new professor in town, and I was approached by BME junior Kathie Dionisio and then BME Masters student Jie Jiang, who later became my first doctoral student. For the first few years, unlike today, my lab had two to three times more undergraduate and MS students than doctoral students; they made a big difference in helping me get started! The lessons I learned through this unexpected beginning are to make the best of any difficult situation, embrace local talent, and appreciate the generosity of others.
BME requires creative collaboration between multiple disciplines. What has been your experience with this? 
Collaborations are essential for our work, especially when it comes to clinical translation of biomaterials and devices for tissue regeneration—taking an idea from bench to bedside. As biomaterial designers, partnerships with clinicians are essential in order for our technologies to truly benefit patients. We have benefited greatly from the generosity of our clinical collaborators, who have taught us and shared valuable perspectives. Another exciting aspect of collaboration is the continuous intellectual exchange between specialties or fields that these interactions foster, challenging us to move out of our comfort zones and even learn a new scientific language. Team science enables us to work together on bigger problems and provide better solutions. I'm also grateful that many collaborators have become lifelong friends. Working together at midnight on a proposal that is due in just a few hours is a magical bonding experience!
What about your BME experience are you most proud of and excited for?
I am most proud of my students and fellows (the BITEL'ers) and what they have accomplished here through ingenuity and hard work and, after having graduated, seeing them readily applying their immense talents to make a better world.
What was exciting, and what still gives me a little thrill after almost two decades, is what we have learned in our research program in biointerfaces and tissue engineering and what we may discover in the future. That mystery is what excites me every time I enter the lab and every time I meet with my students. I am also energized by the intersection of different ideas within the discipline of biomedical engineering, moving beyond the original classic triad of biomaterials, biomechanics, and bioimaging, to now include new advances in sustainability, machine learning, and synthetic biology, all of which allows us to tackle new and old problems while injecting new perspectives in advanced material design.
If you could give your 16-year-old self a piece of advice related to pursuing a career in STEM, what would it be?
Research is both fun and challenging. Believe in yourself and your ideas. Don't take things too seriously, especially the setbacks, which are par for the course in any worthwhile endeavor. Keep an open mind about science, people, and life. You can't predict the future, so enjoy the journey of learning and relish the joy of discovery.
Helen H. Lu's research focuses on tissue interfaces, particularly recreating the body's natural synchrony between tissues, a hallmark of the musculoskeletal system and the nexus of human mobility. The body of fundamental knowledge she has uncovered regarding biointerfaces and interface scaffold design has provided blueprints for building organs-on-a-chip as well as total limb regeneration. She has also received tenure at the Columbia College of Dental Medicine and currently serves as Chair of Promotion, Tenure and Faculty advancement for Columbia Engineering. The inventor and co-inventor of more than 25 patents and patent applications, her research has led to the formation of several start-ups for medical devices. Her many accolades include the Presidential Early Career Award for Scientists and Engineers (PECASE) and Columbia's Avanessians Diversity Award. She is an elected Fellow of the American Institute for Medical and Biological Engineering and a fellow of Biomaterials Science and Engineering. Lu received her undergraduate and graduate degrees in bioengineering from the University of Pennsylvania and has been on the faculty at Columbia since 2001.
GORDANA VUNJAK-NOVAKOVIC

University Professor and Mikati Foundation Professor of Biomedical Engineering and Medical Sciences; Director, Laboratory for Stem Cells and Tissue Engineering
What challenges have you faced on your path to professor and how do you address them?
I trained as a chemical engineer, and secured a faculty position at my home department even before I completed my PhD. All I wanted to do professionally was to be an engineer like my dad and be in academia because of its intellectual freedom and opportunity to mentor young talent. Still, something was missing, as I always dreamed about pursuing engineering that would enable biological research and lead to new medical applications. I went to Boston on a Fulbright Fellowship to search for such an amalgam of the two areas. It took some serendipity to discover tissue engineering—it was just emerging at that time in Robert Langer's lab, which I was fortunate to join. I realized right away that this was my dream job. Also by serendipity, my thesis work provided a basis for the design of bioreactors for tissue culture that were not yet used in tissue engineering. This gave me an entry into the field. The bioreactor control of cell and tissue environments opened new opportunities to explore biology using quantitative approaches
The critical challenges of my academic path were to discover my area of research and to be brave about making a big change and learning a lot about life science disciplines. Today, with biomedical engineering connecting and redefining engineering and medicine, I would just naturally pursue training in this area.
BME requires creative collaboration between multiple disciplines. What has been your experience with this? 
Collaboration is an organic component of everything we do. If you are a mathematician or a poet, you may be able to do it on your own. If you are a biomedical engineer, you rely on collaborators from many different areas. In my lab, these include stem cell biology, cancer, surgery, immunology, transplantation, pulmonology, orthopedics, cardiology, dental medicine, systems biology, materials science, and of course many areas of engineering.
BME is incredibly supportive and collegial and makes it easy for a "collaborative phenotype" to thrive. This culture started with our founding chair, Van C. Mow, and the legacy continues among the faculty, staff, and trainees in our growing department. The barriers for collaboration are low across Columbia campuses, and it is easy to cross the boundaries between disciplines, where some of the most exciting science happens today. The spirit of collaboration is really important, both for our research and for the training of our students, and is a big attractor for new faculty and students. It was also one of the two things that drew me to Columbia— the other being the opportunity to build programs and pursue research with incredibly nice and creative people. 
What about your BME experience are you most proud of and excited for?
I am most proud of my lab. The successes of our postdocs, students, and scientists are what count the most. They are passionate about science and about working hard, even under the abnormal conditions of the pandemic. After leaving the lab, our alumni continue to be very successful in many different ways. We really are only as good as the people we train, and our trainees need to be better than we are. 
BME also enables us to translate our science, with a lot of advice and handholding all along the way  for our faculty and our entrepreneurial students. Katie Reuther and Aaron Kyle have done wonders with their programs in our department, while the Columbia Technology Ventures office provides support for filing, protecting, and licensing patents and starting companies. This is really important, as most of our science is translational and we always aim to  improve the current standards of care.
Finally, I am proud of our culture of inclusion and the diverse environment in our laboratories, at BME, SEAS, and across Columbia as a whole.
If you could give your 16-year-old self a piece of advice related to pursuing a career in STEM, what would it be?
I would say that STEM is the most exciting choice one can make, as it gives you real opportunities to make the world better. It is incredibly important to find something you are passionate about, and to work hard so you can be the best and make a difference. Finally, please remember that if you love what you do, everything comes along naturally, and that you will have a lot of help along the way. A STEM career is a really exciting journey.
Gordana Vunjak-Novakovic is University Professor, the highest academic rank at Columbia. She is the first engineer in the history of Columbia to receive this distinction. She is also the Mikati Foundation Professor of Biomedical Engineering and Medical Sciences and is a member of the faculty of the College of Dental Medicine. Her research focuses on engineering functional human tissues for regenerative medicine and the study of development and disease. She has been elected to the Academia Europaea, Serbian Academy of Arts and Sciences, the National Academy of Engineering, the National Academy of Medicine, the National Academy of Inventors, and the American Academy of Arts and Sciences.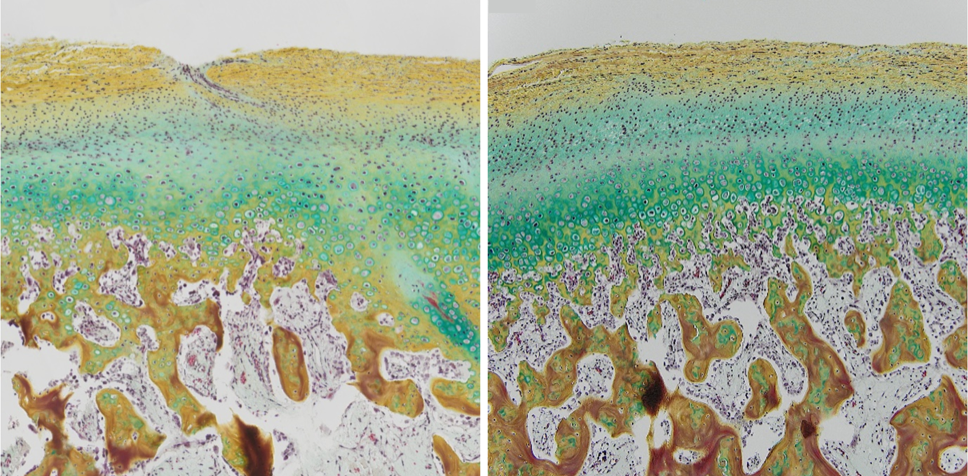 Engineered cartilage overplayed on bone (left) resembles native cartilage-bone tissue (right) From Chen, Wu et al., Science Translational Medicine 2020.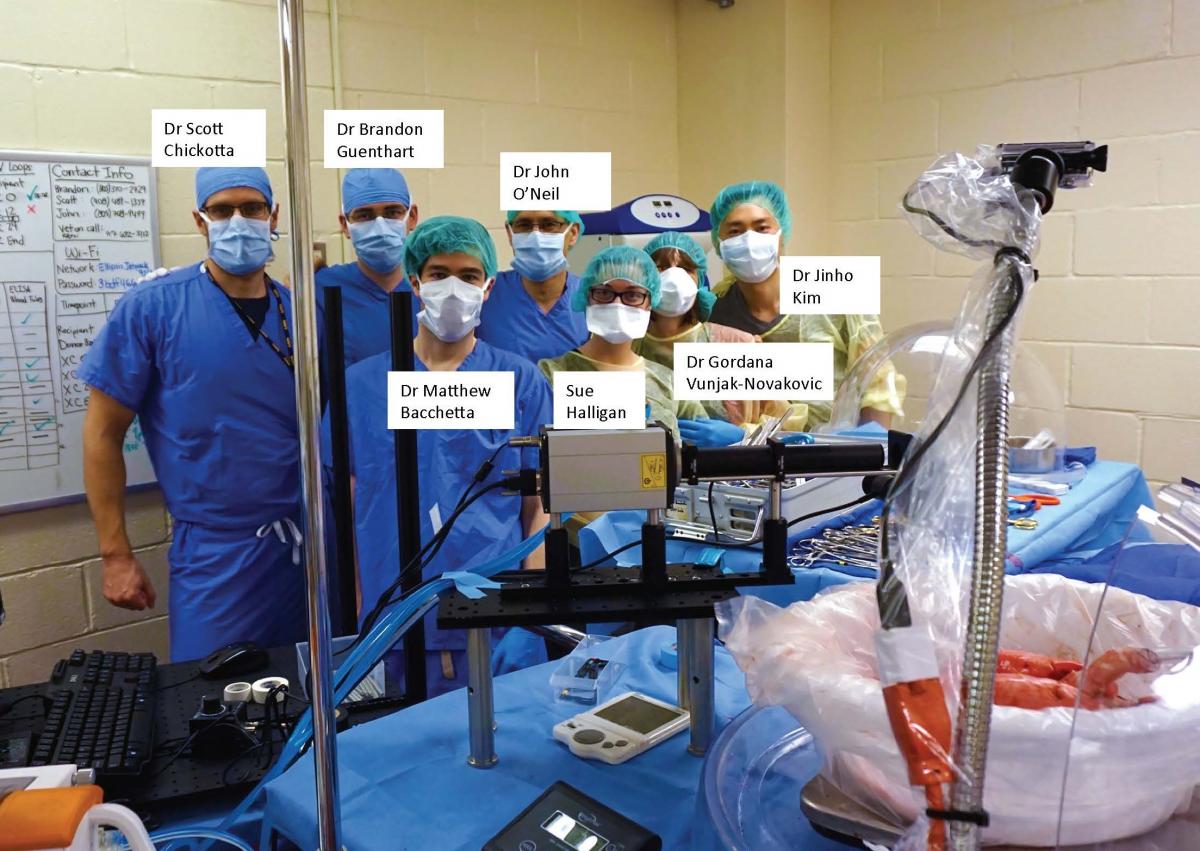 The lung team