BME BREAKS: Weekly Webinar Series hosted by Columbia Department of Biomedical Engineering
Jun 22 2020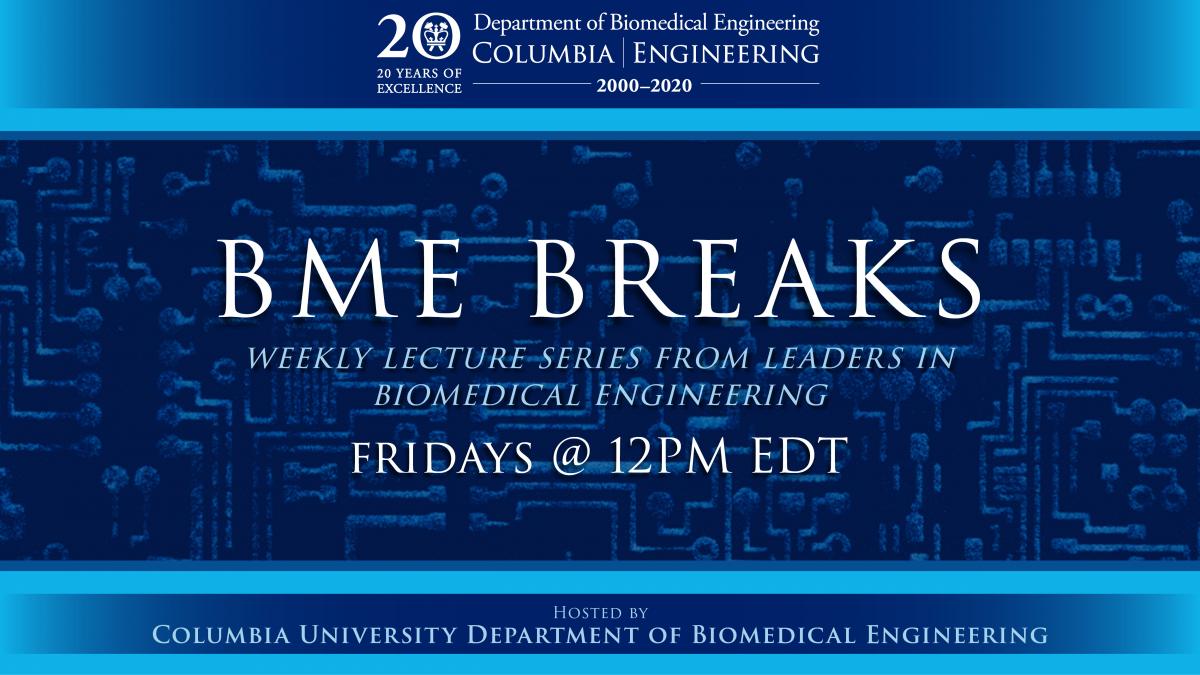 Join us every Friday at 12:00 p.m. EDT for BME Breaks, Columbia University's weekly webinar series hosted by the Department of Biomedical Engineering. Don't miss the opportunity each week to hear from global leaders in Biomedical Engineering research!
REGISTER FOR THE AUGUST 7 WEBINAR WITH JAMES COLLINS
REGISTER FOR THE AUGUST 14 WEBINAR WITH JOSÉ MCFALINE-FIGUEROA
ABOUT THE AUGUST 7 WEBINAR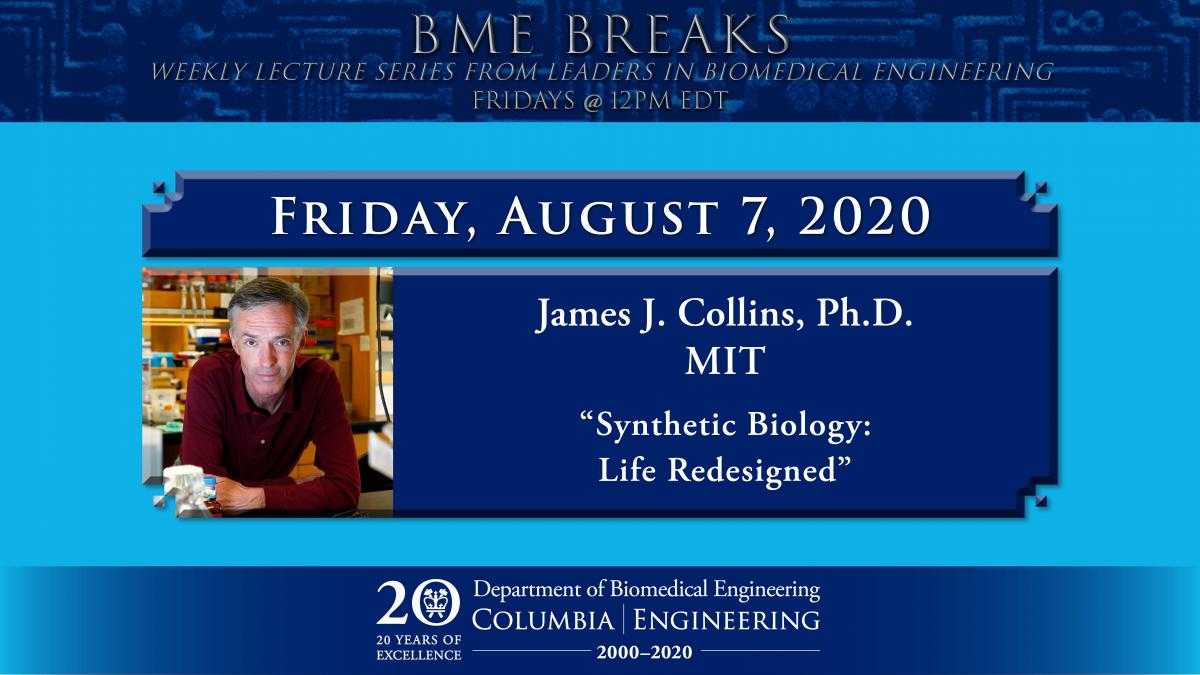 Synthetic Biology: Life Redesigned
Synthetic biology is bringing together engineers, physicists and biologists to model, design and construct biological circuits out of proteins, genes and other bits of DNA, and to use these circuits to rewire and reprogram organisms.  These re-engineered organisms are going to change our lives in the coming years, leading to cheaper drugs, rapid diagnostic tests, and synthetic probiotics to treat infections and a range of complex diseases.  In this talk, we highlight recent efforts to create synthetic gene networks and programmable cells, and discuss a variety of synthetic biology applications in biotechnology and biomedicine.
James J. Collins, PhD
Institute for Medical Engineering & Science, Department of Biological Engineering
Massachusetts Institute of Technology; 
Broad Institute of MIT and Harvard; 
Wyss Institute, Harvard University
Jim Collins is the Termeer Professor of Medical Engineering & Science and Professor of Biological Engineering at MIT, as well as a Member of the Harvard-MIT Health Sciences & Technology Faculty. He is also a Core Founding Faculty member of the Wyss Institute for Biologically Inspired Engineering at Harvard University, and an Institute Member of the Broad Institute of MIT and Harvard.  He is one of the founders of the field of synthetic biology, and his research group is currently focused on using synthetic biology to create next-generation diagnostics and therapeutics. Professor Collins' patented technologies have been licensed by over 25 biotech, pharma and medical devices companies, and he has helped to launch a number of companies, including Synlogic (NASDAQ: SYBX).  He has received numerous awards and honors, including a Rhodes Scholarship and a MacArthur "Genius" Award, and he is an elected member of all three national academies - the National Academy of Sciences, the National Academy of Engineering, and the National Academy of Medicine.
BME BREAKS SCHEDULE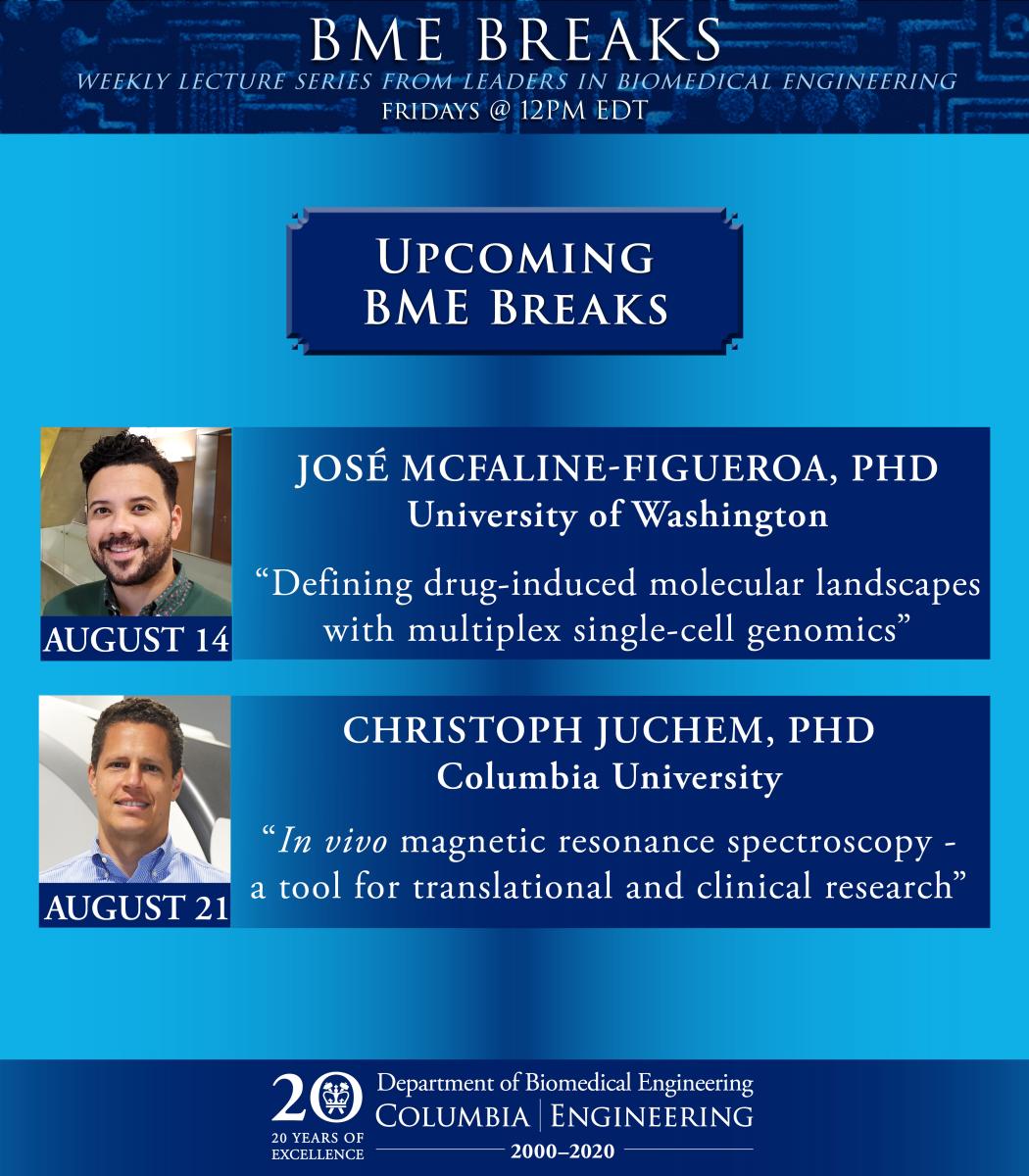 June 5 - Nandan Nerurkar, PhD, Columbia University BME
"Mechanobiology of vertebrate gut morphogenesis"
June 12 – Benjamin Izar, MD, PhD, Columbia University Irving Medical Center
"Systematic dissection of the tumor-immune synapse"
June 22 (DATE CHANGED) - Christopher J. Hernandez, PhD, Cornell University
"New insights in bone fragility and mechanobiology of bacteria"  
June 26 – Tal Danino, PhD, Columbia University BME
"Engineering bacteria for cancer therapy"
July 10 - Simone Schürle, PhD, ETH Zürich
"Engineering micro- and nanorobots for medicine"
July 17 - Gordana Vunjak-Novakovic, PhD, Columbia University BME
"Engineering human tissues for medical impact"
July 24 - Rong Gan, PhD, University of Oklahoma
"Measurement and modeling of blast-induced auditory injury in animal model of chinchilla"
July 31 - Elham Azizi, PhD, Columbia University BME
"Machine learning for modeling the dynamics of the tumor microenvironment"
August 7 - James J. Collins, PhD, MIT
"Synthetic biology: life redesigned"
August 14 - José McFaline-Figueroa, PhD, University of Washington  
"Defining drug-induced molecular landscapes with multiplex single-cell genomics"
August 21 - Christoph Juchem, PhD, Columbia University BME
"In vivo magnetic resonance spectroscopy - a tool for translational and clinical research"