BME Postdocs Participate in NSF I-Corps Program
Nov 01 2018
Translating lab discovery into commercial innovation can be challenging, as it requires skillsets not usually acquired during graduate and post-graduate training. Three postdoctoral research scientists in Professor Gordana Vunjak-Novakovic's Laboratory for Stem Cells and Tissue Engineering, Kelsey Kennedy, Kacey Ronaldson-Bouchard, and Ece Ozturk, utilized an opportunity offered by the National Science Foundation I-Corps program to explore the commercial impact of an "Organs on a chip" technology developed in their lab. 
For seven weeks, they trained to interface with potential customers to discover the value proposition and the associated business model. This program is hypothesis-driven and teaches critical skills in translating new technologies to viable commercial entities.
The "Organs on a chip" technology seeks to accelerate and de-risk drug development by using human engineered tissues as miniature models of their respective organs. The drug safety and efficacy can be predictably studied in vitro, providing human data before the drug reaches the clinical stage of development.
NSF Innovation Corps (I-Corps™)
The National Science Foundation (NSF) I-Corps program prepares scientists and engineers to extend their focus beyond the university laboratory, and accelerates the economic and societal benefits of NSF-funded, basic-research projects that are ready to move toward commercialization.
Through I-Corps, NSF grantees learn to identify valuable product opportunities that can emerge from academic research, and gain skills in entrepreneurship through training in customer discovery and guidance from established entrepreneurs.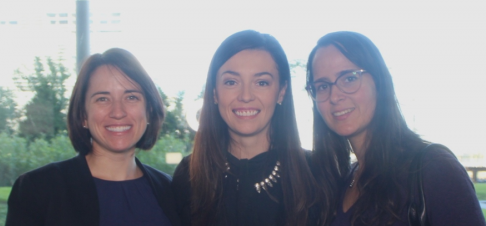 Left to right: Kelsey Kennedy, Kacey Ronaldson-Bouchard, and Ece Ozturk