Clark Hung Elected to 2021 ORS Class of Fellows
Nov 24 2020 | By Alexis Newman | Photo Credit: Eileen Barroso
It is a huge honor and extremely humbling to be recognized as an ORS Fellow, as I feel that the ORS is the premiere musculoskeletal research society in the world.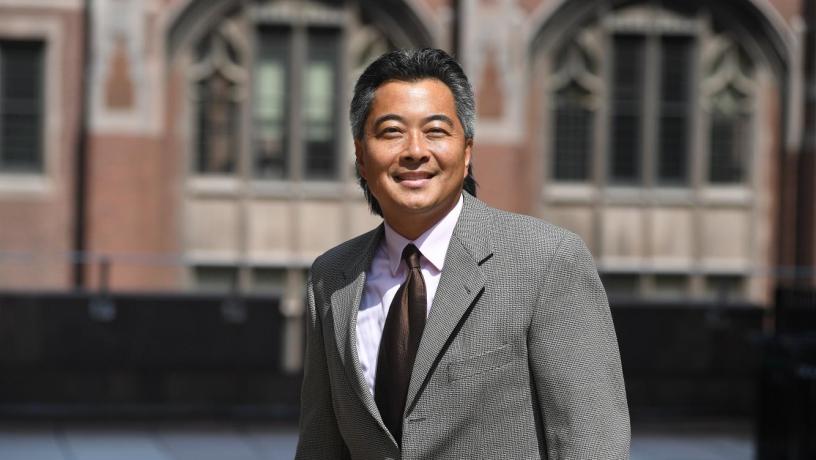 Clark Hung, Professor of Biomedical Engineering and Professor of Orthopedic Sciences (in Orthopedic Surgery) and Director of the Cellular Engineering Laboratory, has been elected to the 2021 Orthopaedic Research Society (ORS) Class of Fellows. Professor Hung is recognized by ORS for his exemplary service, leadership, achievement, expert knowledge & contributions, representing ORS as a thought leader & expert in the field of musculoskeletal research, and serving as a role model in the ORS community.
"I started attending the ORS annual meeting when I was a doctoral student, and it has been my home professional society ever since," says Hung. "It is rewarding to see former students at the annual meeting who are now active independent investigators, training their own students, and doing amazingly well in the field."
Professor Hung has served as an associate editor for Journal of Orthopedic Research, the flagship ORS journal, for the past 12 years and he credits this role as having "provided [him] the opportunity to keep a finger on the pulse of the field, as well as to have some impact on its direction."
"My involvement with ORS has truly shaped my career," he remarks, "and was a catalyst for many friendships and collaborations."
UPDATE AS OF DECEMBER 8, 2020:
Prof. Hung was recently selected to receive the 2021 ORS Outstanding Achievement in Mentoring Award in recognition of his exceptional dedication to and success in the mentoring of new investigators in orthopaedic research throughout his career. Dr. Hung will be recognized at the Career & Scientific Achievement Awards and Presidential Address on Sunday, February 14 from 7:00 AM – 8:00 AM Pacific Time during the ORS 2021 Annual Meeting.