Columbia Engineering Hosts Second International Mechanomedicine Symposium
Nov 01 2018
Mechanobiology is a rapidly-developing discipline that studies the physical and mechanical properties of multiple "scales"–notably cells and tissues–to better understand both disease and treatment.
On October 23rd, Columbia Engineering convened a day-long 2nd International Symposium on Mechanomedicine to examine the emerging discipline of mechanobiology, and explore opportunities for Columbia to partner with academic institutions across the United States and abroad. The event was organized by X. Edward Guo, Stanley Dicker Professor and Chair of Biomedical Engineering, and Lance Kam, Professor of Biomedical Engineering, with support from the Office of the Executive Vice President for Research's Center Stimulus Grant program.
"Mechanobiology is an exciting new field because it provides a rich opportunity for conversations between basic biologists, clinicians, and, of course, engineers," says Guo. "MechanoMedicine highlights the new era of mechanobiology: mechanobiology making  impact in medicine.  Some of the biggest hurdles to such intensely interdisciplinary research are bringing together the right group of researchers from mechanobiology and medicine and finding a shared vocabulary across such different disciplines. This symposium was a wonderful way of jumpstarting conversations around MechanoMedicine and a fantastic opportunity for Columbia and Columbia Engineering to illustrate its leadership in the field."
The conference featured research presentations from 16 leading academics from around the world, who spoke about their research advancements and future applications of mechanobiology to cancer, childbirth, sexually transmitted infections, heart disease, and skeletal biology.  In addition to speakers from Columbia Engineering, presenters included faculty from Columbia's Faculty of Arts and Sciences and Vagelos College of Physicians and Surgeons, and drew professors from the University of California and Illinois systems, the University of Pennsylvania, the National University of Singapore, and others. Columbia Engineering Dean Mary C. Boyce joined Guo in delivering opening remarks.
The event was dedicated to the memory of Christopher R. Jacobs, a professor who had been affiliated with Columbia Engineering since 2008, who passed away in July 2018. Jacobs was a leading contributor to the development and advancement of the mechanobiological discipline, and many of the symposium's speakers and 130 audience members were Jacobs' collaborators, and students, as well as friends.
In addition to providing a forum for the exchange of ideas, the conference fosters a community of scholars who conduct research, teach courses, and potentially will develop novel technologies in the burgeoning field of mechanomedicine.
To learn about future mechanomedicine-related events, please contact Marley Bauce, Manager of Research Initiatives, at mb3952@columbia.edu.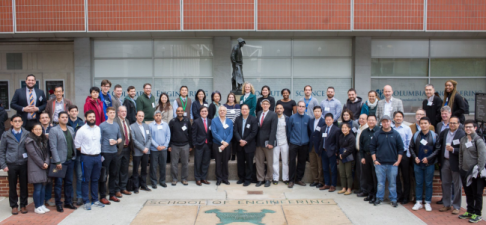 Second International Mechanomedicine Symposium
Photo provided by Tim Lee Photographers