December 2019 - Introducing Columbia's BME Blaze...Shining a Light on the People of BME
Dec 23 2019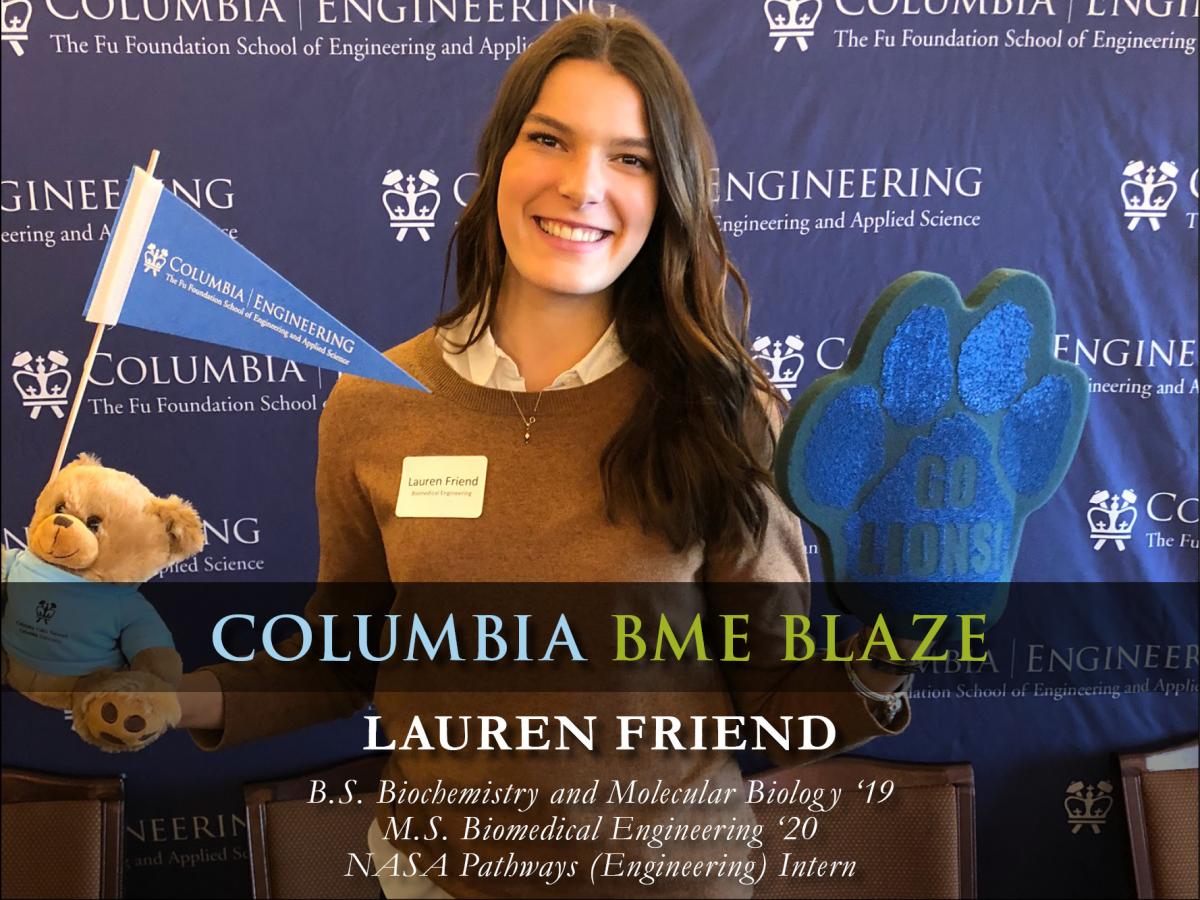 In celebration of our department's 20th anniversary, and after being named a Top 10 BME program in the nation according to U.S. News and World Report, we decided to launch a monthly feature to highlight what makes our department so great, our people! Read what our BME folks are up to, from our faculty's latest research, to our students' plans for the future, to our teams' innovations, start-ups and other career successes.
In the first of our monthly BME interviews, we sat down with Columbia BME M.S. student, Lauren Friend, a native of Kirkland, WA, to chat about her experience in the program, how being a student-athlete shaped her path, and her advice to future BME students.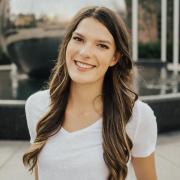 Lauren Friend
B.S. Biochemistry and Molecular Biology '19
M.S. Biomedical Engineering '20
NASA Pathways (Engineering) Intern
What drew you to the field of Biomedical Engineering?
The goal to improve human health. I have been motivated by this ever since I was a child: all of my brother's baby photos have a band-aid across his forehead because every time he would fall or get a boo-boo I would run for the band-aids, my only known solution or way to help. I never really grew out of this motivation to help others who are hurting or sick, so that has been the driving force in my career.
I was always very curious about science, and originally hoped to accomplish my goal of improving health through medicine. I studied biochemistry and molecular biology in my undergrad, and took additional courses in mathematics, logic, and computer science for fun. After interning for doctors, I decided that the day to day routine did not fit what I was hoping for in my career, and was also disappointed in the lack of options to treat patients and the high price tag associated with them. At the same time, I was completing independent biomechanics research to characterize the gait of a deep sea fish called the Hagfish, with the goal of translating this foundational research into specialized robotics. This research in bio-inspired design and computer science is what landed me a role as an intern at NASA Glenn research center working on PetaL, which in my opinion has been my largest career tipping point aside from my acceptance to Columbia.
Between my interest in biomechanics, my goal to improve human health, and motivation to remain in the 'applied' field I decided to pursue biomedical engineering the summer before my Junior year! I felt that it was the way for me to help the most people improve their health by providing better options for treatment at a lower cost. As an added bonus, I get to use a lot more computer science and logic which I really enjoy. I am so happy with my choice and I think BME is particularly special because I will forever be learning and connecting fundamental research to actual patients through new and innovative products and data.
What is your current role?
I am a graduate researcher in the Azizi Lab focusing on computational cancer biology, my particular interest right now is on multidisciplinary approaches to model high-throughput sequencing data through machine learning.
I am also a Pathways Intern at NASA Ames Research Center in code RE, specifically Instrument and Engineering R&D. I am working on a team that is designing and testing microfluidic devices aimed at life detection on icy worlds such as Europa. It is truly an honor to work for a public agency whose mission "for the benefit of all" is so similar to my own. I also use this platform to engage young students and young women in STEM.
How did being a student-athlete shape your educational and career path?
Being an athlete without a doubt shaped every part of my education and my career. I played 10 years of competitive volleyball culminating in 4 years of college winning a variety of athletic awards and being selected for the highest female leadership award and being nominated for the NCAA woman of the year award. This is probably the thing I am most proud of because I am not a naturally talented athlete, and in fact my first year trying out for a team I got cut from all 13 that I tried out for. I swallowed my pride and joined an after school camp that I arrived early to, left late, and asked for additional help from the coaches. The next year I made every single team I tried out for and from there my athletic career grew.
From my experience with volleyball, I was so used to failing miserably at things the first time I tried them and knowing that working hard and asking the right people for help would allow me to succeed. This is also how I approached school, so I was not discouraged to try new classes outside of my discipline or to try very difficult classes. I think that the resiliency I learned in my athletic career is the single most important skill, and I take that with me in everything else I do. I think that playing a team sport for so long has also made me a very dedicated teammate and a good communicator. I didn't wake up at 6am to run suicides 3 times a week for myself, it was for my teammates. By far tenacity, grit, and perseverance partnered with a growth mindset have been the biggest factors that allowed me to switch between career paths and have confidence it will be ok.
On top of that, I think that sports have made me very empathetic. I have seen so many people suffer career-ending injuries and have been very injured myself. I think that seeing all of this makes me even more passionate about helping people who are working so hard to be better every day. Finally, I think that team sports forced me to be a clear and respectful communicator even in the shortest amount of time or in the most emotionally charged situations.
This is all a long-winded way of saying that sports is a great way to challenge yourself and push yourself beyond what you thought you were physically and mentally capable of, and that experience and strength when applied to my academics or career have been a major factor in my success.
Why did you choose Columbia BME?
I had a lot of experience in biochemistry and body systems from my undergraduate degree, and I was really looking for a program that was first of all, inclusive of me even though I have a non-traditional background. Secondly, I thought that Columbia has a very special program in the types of applied classes and the degree to which it can be customized- with every direction having phenomenal faculty that are at the top of their field. I had a taste of research and I really wanted to study biomechanics and other product design as well as computational work, and Columbia is what fit the bill!
I also joke that I chose my undergrad institution based off the fact that students stopped and said hello to one another on their way to class, and to me Columbia BME had a similar vibe. As a team-sport athlete I thrive on teamwork and wanted to be in an environment where students were encouraging and supportive of one another.
What were some of your favorite projects/memories from the program?
I am in Dr. Reuther's course on biomedical innovation where we have to come up with new product ideas that fill in unmet clinical needs. While racking my brain on what medical problems are not fully solved, my mom came to visit and broke her wrist! I took her to the nearby ER and watched her struggle to complete her daily tasks with a fiberglass cast. While this could have been an all-around negative experience I used these observations to ideate on a better way to treat wrist fractures! I think that was the first time I thought like a biomedical engineer: I saw a problem and then couldn't get it out of my head and had to come up with some better solutions.
Any words of wisdom or tips for prospective BME students?
Follow what you are most interested in, even if it's not what you had seen yourself doing or not the area that you have the most experience in. You now have the great once in a lifetime privilege of learning THE most interesting things I can think of from the most respected people in that field. Sure grades are important, but not nearly as important as learning or learning things that excite you. 
Columbia BME M.S. Program
The Master of Science degree program in the Department of Biomedical Engineering (BME) at Columbia University offers world-class biomedical engineering education and opportunities for cutting edge research and innovation. 
Priority deadline for applications is February 15, 2020.