Event Recap: BME Seminar - Juergen Hahn, RPI
Sep 28 2021 | By Abigail Ayers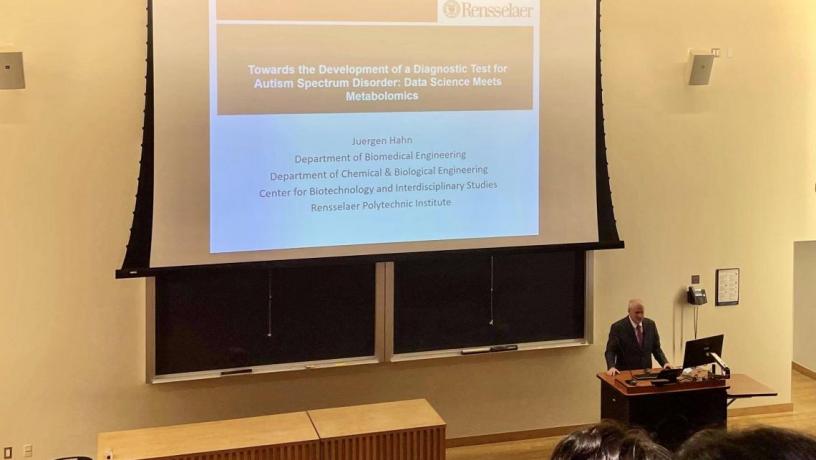 The BME Seminar Series continued on Friday, September 24, 2021 with an engaging talk by Dr. Juergen Hahn. As the head of the Department of Biomedical Engineering at Rensselaer Polytechnic Institute with an additional appointment in the Department of Chemical & Biological Engineering, Hahn leads one of the oldest BME programs in the nation while also conducting groundbreaking research in systems biology and process modeling and analysis. In addition to his production of research, Hahn has been instrumental in the publishing of science as deputy editor-in-chief for the Journal of Process Control, as editor for the journal Optimal Control: Applications and Methods, and as associate editor for the journals Control Engineering Practice and the Journal of Advanced Manufacturing and Processing. Hahn balances many roles, but he embraces the opportunity to bring together different perspectives. He finds that "most meaningful work is done when one steps out of [one's] traditional comfort-zone and works on problems at the interface of other disciplines (which obviously requires good collaborators)."
Most meaningful work is done when one steps out of [one's] traditional comfort-zone and works on problems at the interface of other disciplines.
With his talk titled "Towards the Development of a Diagnostic Test for Autism Spectrum Disorder: Data Science Meets Metabolomics", Hahn shed some light on the ongoing search for reliable diagnosis and prediction methods for Autism Spectrum Disorder (ASD). ASD encompasses a large group of early onset neurological disorders characterized by difficulties with social communication and interaction and expression of restricted repetitive behaviors and interests. Autism frequently co-occurs with a variety of conditions from ADHD to gastrointestinal problems. He touched on the disconnect between the portrayal of autism in the media compared to scientific research; in his words, "you have to think beyond the brain," because this disorder affects the body as a whole. Autism is a very heterogeneous condition, making it difficult to diagnose; since early diagnosis and treatment leads to better patient outcomes, improving accuracy and promptness of diagnosis is essential. Currently, no lab test or standardized severity score exists for general ASD diagnostic purposes. Hahn's lab, with experience in systems analysis, offers a unique approach to ASD research by analyzing multiple variables to identify patterns in the data and draw connections previously unknown. By looking at seven variables from an ASD clinical trial, their algorithm was able to demonstrate that metabolite concentration measurements can be used to predict, with high accuracy, whether a participant was in an ASD cohort or typically-developing cohort. Taking this a step further, they used a kernel partial least squares regression to predict severity.
Moving beyond diagnosis, Hahn is trying to develop a blood test for biomarkers to predict autism before symptoms appear. At this time, ASD can be reliably diagnosed at two years of age, but it often takes longer as it is difficult to determine if a young child is developing as expected. Hahn's goal is to move up the timeline to accurate diagnosis at 18-24 months, or even during pregnancy. While this work is still in its infancy (no pun intended), early studies have shown that there is a difference in metabolites for high or regular risk of birthing a child with autism. One takeaway Hahn emphasized from his talk was the importance of trying new approaches. When asked about advice to those interested in this field, he said: "Traditionally, work on autism spectrum disorder has mainly been done by looking at behavioral or genetic aspects. Our work approaches this from the data science side, which has the potential to uncover new findings and provide a different perspective. My advice would be to not be afraid to leverage one's expertise in a new field." With Hahn's work, we are a step closer to understanding the mechanisms underlying Autism Spectrum Disorder and identifying new avenues of diagnosis and treatment to improve quality of life.
You can read more about the Hahn lab's systems analysis research here. His captivating lecture was the second of many in this semester's seminar series hosted by the Department of Biomedical Engineering at Columbia University. If you are interested in attending in person or virtually, the weekly series takes place on Friday mornings at 11:00 AM Eastern and includes a variety of renowned academics from top universities to talk about their specific research and experience.
Learn more and register for the seminar series!