January 2021 - BME Blaze: Özgenur Çelik
Jan 04 2021
In this monthly spotlight, get to know the alumni and students of Columbia's Department of Biomedical Engineering. Read what our BME folks are up to, from our labs' latest research, to our students' plans for the future, to our teams' innovations, start-ups and other career successes.
We were excited to catch up with Columbia BME student, Özgenur Çelik (B.S. '22), as she told us about her experience as a Columbia BME undergraduate student so far, and her advice to future BME students.
Read below to get to know Özgenur!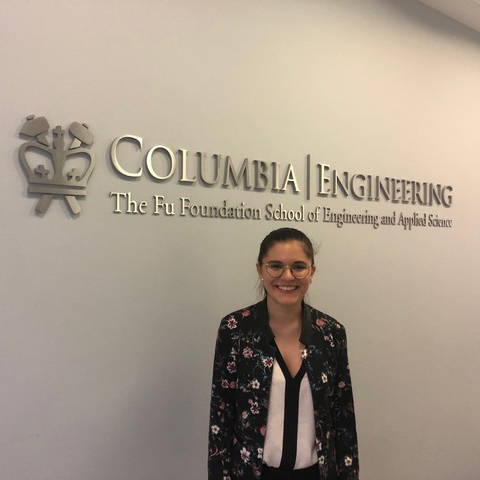 Özgenur Çelik
B.S. '22, Biomedical Engineering
Where are you from?
I'm from Izmir, Turkey. Izmir is a coastal city along the Aegean Sea with beautiful views and delicious seafood!
What drew you to the field of Biomedical Engineering?
My grandfather had suffered a really detrimental stroke nine years ago. Since then, my parents, who are both physicians, have been taking care of him. During my teenage years where my identity began to form, I witnessed the importance of compassion that this caregiving creates. I saw his mental and physical health ameliorate day by day. However, besides our love for him, the biomedically engineered devices used during his neurological surgery and the pacemaker that prevents him from fainting has kept him alive after all of these years. This bitter sweet event that molded me initially ignited my interest for the field of Biomedical Engineering.
Thus, I applied to Columbia as a BME major. After two years of experience and learning at Columbia, I officially declared myself as a BME major, without changing my mind. Although my initial inspiration has a role in this decision, observing the applications of biomedical engineering in tissue and organ renewal through stem cells especially amazed me. I believe there is no limit to humanity's creativity and achievement. Biomedical engineering complements this so well. It is an intersection of medicine, technology, engineering, and even social sciences.
Why did you choose Columbia BME?
What I love most about Columbia Engineering is their motto "Engineering for Humanity." The field of engineering might sound really technical and not related to social interactions, however, this motto proves the opposite. Although it involves a lot of thinking and technical knowledge, engineering is about determining a problem in society, working in teams to come up with the most feasible idea, and failing many times before making that idea come to life. In particular, why I chose Columbia BME is their curriculum, research labs, and faculty which are an embodiment of this thought.
What are some of your favorite projects/memories from the program, so far?
I've been working in Dr. Kam Leong's lab for over a year. His research focuses on Nanotherapeutics and Stem Cell Engineering. Getting the opportunity to work in his lab has been the highlight of my college education as someone who just finished sophomore year. Learning about wet lab techniques, getting to know so many knowledgeable scientists, listening to their experiences, joining the weekly lab meetings, and doing literature searches are all invaluable experiences that cannot be learned in a classroom, in my opinion. In fact, I have been lucky enough to coauthor a review paper published in Advanced Functional Materials that was led by my research mentor Dantong.
My favorite memory from lab is when all the lab members gathered to organize a birthday surprise for Dr. Leong. We each brought a dish and one of the lab members brought a whole cooked duck and cut it in the lab, serving it to us! Along with all the rigorous research, it was a very pleasant day.  
What are you excited about?
I am excited about learning, not just academically but in general. I am excited about learning new baking recipes, stories behind paintings, improving my Spanish, a friend's happy childhood memory, a new dog type name, a social movement on social media… The list can go on infinitely… I believe as long as there are people like me in this world who take great pleasure in learning, then there is still hope for this world. Because if people aim to do something and work towards that goal consistently, I really think there is little that people can't achieve. Together we can solve the environmental crisis, prevent against future pandemics, and make the world a more equitable place. 
What are you looking forward to during this next year?
I am looking forward to gradually going back to our pre – COVID lives next year. No matter how much technology advances, I believe that it's in our nature to long for in-person human interactions and communications. As the world gets over this pandemic, I hope that we don't forget the things that this year showed us. For me, that meant not taking my own life and my loved ones' lives for granted and being able to stay in the moment. Because of all the responsibilities and stress factors we have in our lives, we tend to worry about the future and sometimes our past actions too much. However, a year ago, who would have thought that we'd all be confined in our houses and unable to do the things that we considered simple before the pandemic? As we recover from this year, I hope that the next year brings us hope.
Together we can solve the environmental crisis, prevent against future pandemics, and make the world a more equitable place.
COLUMBIA BME ACADEMICS
Find out more about our BME programs!