July 2021 - BME Blaze: Charlie Cai
Jul 01 2021
In this monthly spotlight, get to know the alumni and students of Columbia's Department of Biomedical Engineering. Read what our BME folks are up to, from our labs' latest research, to our students' plans for the future, to our teams' innovations, start-ups and other career successes.
We enjoyed catching up with Columbia BME alumnus Charlie Cai (MS '18), as he reminisced about his experience as a Columbia BME grad student, and told us about his current role at Medtronic, a global leader in medical technology. Read below to get to know Charlie!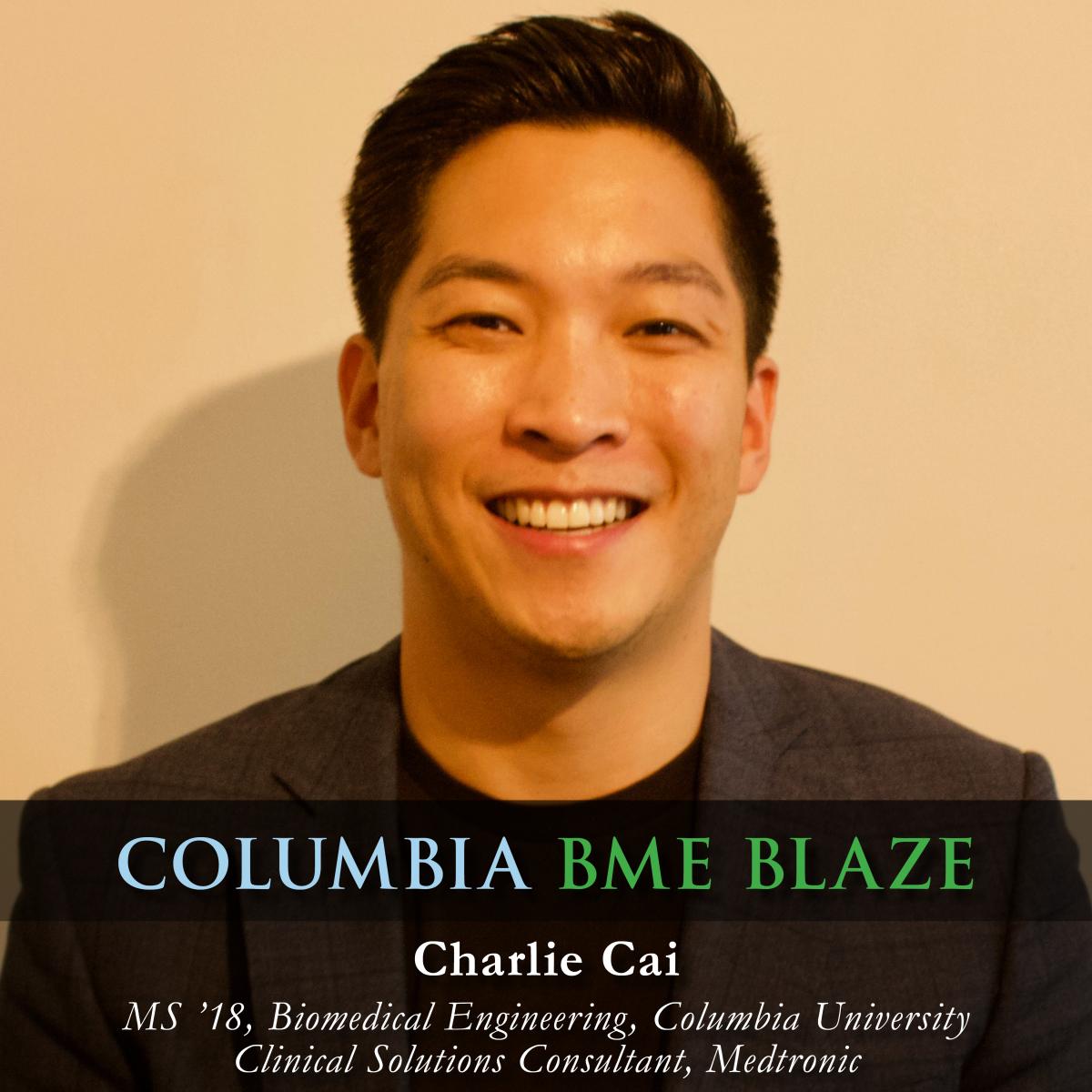 Charlie Cai
MS, Biomedical Engineering, 2018, Columbia University
Where are you from?
I was born in Boston and grew up in a small town in South Coast Massachusetts called Westport. I attended undergrad at Syracuse University (go Orange!) and have lived in NYC for the last 6 years for my graduate program and current job.
What drew you to the field of Biomedical Engineering?
I had NO idea what major to choose coming out of high school. I was still pretty convinced that I would make it to the NBA as a 5'9" shooting guard, but I was pretty good at math and science, so engineering seemed like a good backup plan. I read a few articles about biomedical engineering as an emerging field, and the concept of designing products to help extend the duration and improve the quality of life was incredibly appealing to me!
What is your current role?
I currently work in the Cranial & Spinal Technologies division at Medtronic as a Clinical Solutions Consultant on their UNiD Adaptive Spine Intelligence team. Our team focuses on utilizing surgical simulation software & data analytics to help spine surgeons make the most well-informed decisions for each patient. We started as a smaller company called Medicrea based in NYC and were recently acquired in November 2020.
Who has/have been your strongest influence(s) in life?
My mom and dad – bar none. They came to the U.S. and worked tirelessly to provide my sister and me with opportunities they never had growing up in China. They started from humble beginnings and, through perseverance and tenacious work ethic, were able to create a life for themselves and their children in a foreign country where they didn't speak the language. They led by example and taught me countless lessons on working hard and always taking pride in what I did – without their commitment and sacrifices, I wouldn't be where I am today. 
Why did you choose Columbia BME?
I joke and tell people that I got into Columbia BME due to a fortunate administrative error. Someone dropped my application, and it luckily ended up in the right pile. I've always held Columbia BME in the highest regard, and I couldn't turn down an opportunity to study and work with some of the top thought leaders in biomedical research. I saw it as an opportunity to learn from the best and push myself outside my comfort zone. As a kid who grew up in a small town in Massachusetts, I also wanted to see how I stacked up against some of the most talented students in the world! 
What were some of your favorite projects/memories from the program?
Some of my favorite projects from the program were from working in Professor Hung's Lab. I was super fortunate and got to work with exceptionally knowledgeable (and patient) Ph.D. students to help design experiments and develop the skillset required to work in a biomedical research setting. Some other great memories were having dinner at Dinosaur BBQ, grabbing a beer (or several) at Arts & Crafts, and cruising around Manhattan on the BME boat tour.
What was your proudest moment at Columbia?
I took Professor Reuther's Lab-To-Market class during my last semester at Columbia. Our team worked through the commercialization process for a tubular wound dressing designed for an under-served patient population with congenital fragile skin disorders. The end of the course involved a sales pitch to investors, and our team won a $75,000 grant to help continue developing the technology and getting it into the hands of patients in need! Also, figuring out how to open the rubric on GitHUB for Numerical Methods after 4 weeks of lectures was also pretty fulfilling.
What are your thoughts on the strength of Columbia BME's alumni network and how has that influenced your career path?
I personally didn't tap into the strength of Columbia BME's alumni network as much as I probably should have, which hindsight 20/20 was a gross under-utilization of a fantastic resource. However, it was super beneficial that many of my professors either spent time in industry themselves or had well-established connections with current industry professionals. As a result, they introduced me to many of their former students and peers who provided great perspectives on various positions across the medical device space. In addition, they helped define what kind of roles were available, skills that the employers were looking for, and their day-to-day roles and responsibilities. This was invaluable intel for me and helped me narrow the scope of what I was looking for in my own career trajectory. 
Any words of wisdom or tips for prospective BME students?
Enjoy the process! I think we spend a ton of time and energy obsessing over what the end result will be, but I emphasize the importance of focusing on the task at hand and doing it to the best of your ability. Of course, you're going to fail at some point, but you'll never get better at something without the first attempt, practice, and repetition!
What are you excited about?
From a biomedical engineering standpoint, I'm excited about the future of big data and the role it's going to play in healthcare moving forward. My belief is that we are just scratching the surface of how beneficial these tools can be in maximizing good outcomes for patients in a more predictable, reproducible, and cost-effective way across all disciplines.
I've always held Columbia BME in the highest regard, and I couldn't turn down an opportunity to study and work with some of the top thought leaders in biomedical research. I saw it as an opportunity to learn from the best and push myself outside my comfort zone.