May 2020 - BME Blaze: Danielle Bogdanowicz
May 01 2020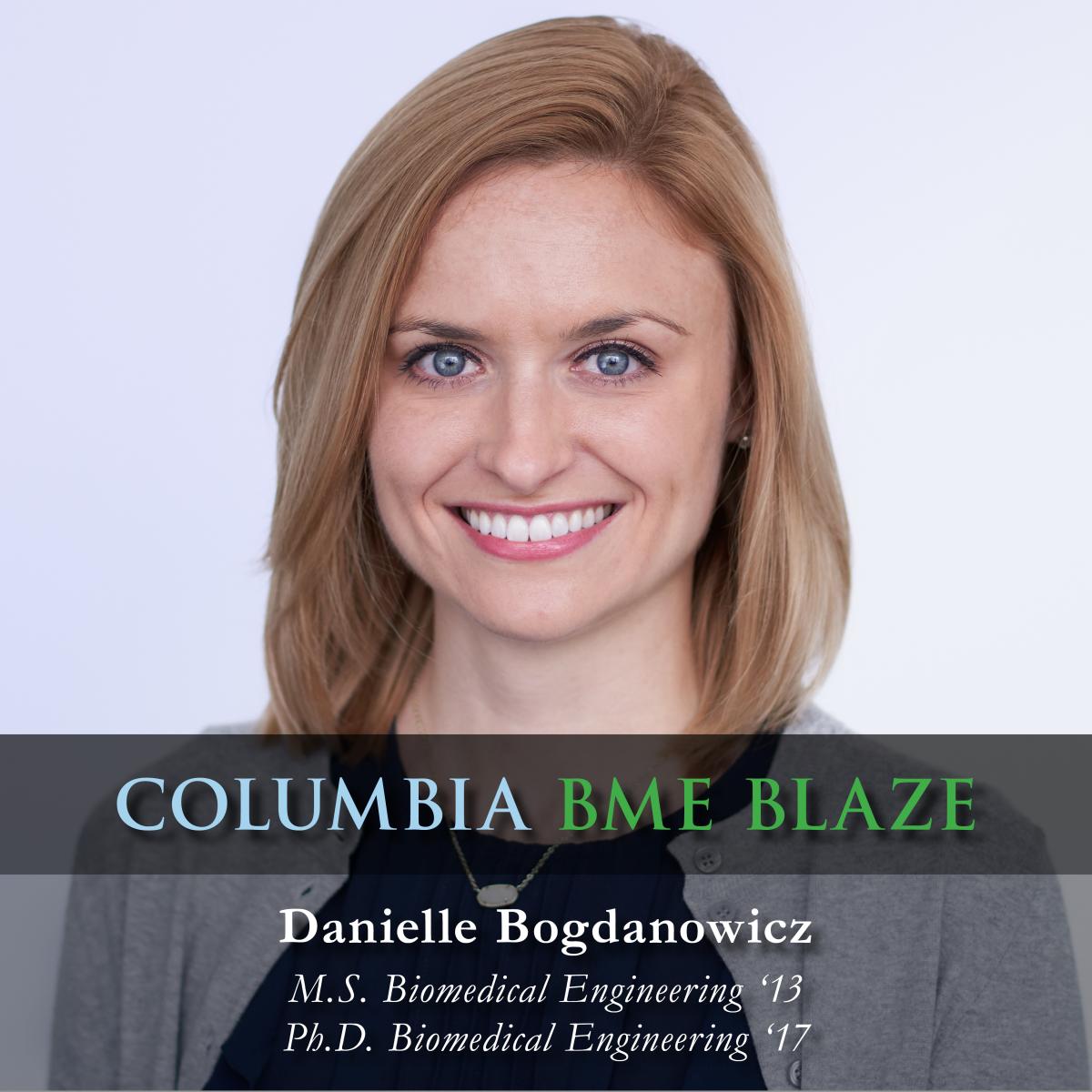 In this monthly spotlight, get to know the alumni, students, and faculty of Columbia's Department of Biomedical Engineering. Read what our BME folks are up to, from our faculty's latest research, to our students' plans for the future, to our teams' innovations, start-ups and other career successes.
We had the opportunity to catch up with Columbia BME alumna, Danielle Bogdanowicz (M.S. '13, Ph.D. '17), to discuss her experience as both a Master of Science student and as a Ph.D. student in the Columbia BME program, and her advice to future BME students.
Read below as Danielle reminisces about her Columbia experience and tells us about her current role at TARA Biosystems.
Where are you from?
I was born and raised in New York – I grew up in Westchester County and attended Rensselaer Polytechnic Institute (RPI) in Troy, NY for undergrad.
What drew you to the field of Biomedical Engineering?
In high school, I was fascinated by the fields of biology and medicine, and became interested in a career that would give me the opportunity to impact patient outcomes through development of the next generation of biomedical devices and therapeutics. I have always been especially interested in designing novel biomaterials for tissue engineering and regenerative medicine applications, as well as studying the effects of biomaterial implants on the body's immune response. The multidisciplinary nature of this work made pursuit of a degree in Biomedical Engineering a great fit for me.
What is your current role?
I am currently a Research Scientist at TARA Biosystems, a human heart-on-a-chip startup company based in New York City. 
Why did you choose Columbia BME?
When applying to graduate school, I was interested in learning more about the biology behind orthopedic injuries, as well as biomaterial-based approaches to musculoskeletal tissue repair and regeneration. I was first drawn to Columbia's Biomedical Engineering graduate program because of the BME department's strong community of professors and researchers in the orthopedics space. Specifically, the Biomaterials and Interface Tissue Engineering Lab, led by Professor Helen Lu, offered me the opportunity to explore the cellular and matrix-based changes that occur during ligament and tendon injury and repair, as well as gain expertise in designing biomaterials for functional regeneration of fibrous connective tissues. 
What were some of your favorite projects/memories from the program?
As a member of Columbia's chapter of the Society for Biomaterials, we used to take semi-annual trips to Washington, D.C. to volunteer at the USA Science and Engineering Festival. Each program cycle, the club sponsored a booth and sent a team of grad students to exhibit a biomaterials-focused science demonstration/experiment for K-12 students and their families. The event is a chance to promote STEM education to students of all ages, while also getting to view and test out the latest and greatest technologies across a variety of STEM fields. Even after graduating, I've continued to attend the festival with my family, in order to introduce my younger family members to career opportunities in math and science, as well. 
What was your proudest moment at Columbia?
My proudest moment was definitely my Ph.D. thesis defense. Having the opportunity to combine my passions for both biomedical research and science communication by presenting my thesis project to an audience of my mentors, peers, family, and friends was a really cool experience. Devising a presentation for such a diverse group of scientists and non-scientists was a unique challenge and inspired me to pursue extracurricular activities and volunteer projects in science communication in my career after grad school. 
How has your experience with Columbia BME contributed towards your goals?
There are plenty of opportunities for innovative thinking and entrepreneurship within the BME department, including the Columbia Biomedical Engineering Technology Accelerator (BiomedX) and the graduate-level Biomedical Innovation course. I had the opportunity to participate in a BiomedX-sponsored project called "Immunomesh," led in part by Columbia BME Professor Lance Kam. Through this work, I collaborated with a multidisciplinary team of scientists, engineers, and clinicians, and gained exposure to some of the business aspects of translational biomedical research. This sparked my interest in the startup world and led me to pursue a career in biotech entrepreneurship.  
What are your thoughts on the strength of Columbia BME's alumni network and how has that influenced your career path?
My friends and colleagues from the BME department have built successful careers across a range of disciplines, in NYC and across the country, in both scientific and non-scientific arenas. I think this speaks to the multidisciplinary nature of the program, and the breadth of skills that can be developed through pursuit of a degree in BME. For me, in my current role at TARA, in addition to preparing me for a role as a research scientist and engineer, the Columbia BME alumni network was what initially let me to TARA, as the company is a spin-out of a technology co-invented by labs from Columbia BME (Dr. Gordana Vunjak-Novakovic's lab) and the University of Toronto. 
Any words of wisdom or tips for prospective BME students?
My advice to prospective students is to take advantage of your time in school to explore your interests and find what you are passionate about. Biomedical Engineering is a versatile field, and a degree in BME provides you with the skills to pursue any number of career paths. So, while you may have joined a BME program for one reason, this may evolve, and now is the time to explore these new interests to build a career path that is right for you.
What are you excited about?
I think it's a really exciting time to be a part of biotech, especially in NYC. Throughout my time in the Columbia Ph.D. program, I have seen the New York biotech scene grow through the inception and expansion of biomedical incubators and accelerators across the city, and increased public and private funding for translational biomedical research projects. With the growing number of university faculty- and student-led startups and increasing resources in terms of funding and lab space, I am really looking forward to seeing where NYC biotech is headed over the next few years.  
COLUMBIA BME ACADEMICS
Find out more about our BME programs!