May 2021 - BME Blaze: Kimberly Lipman-White
May 03 2021
In this monthly spotlight, get to know the alumni and students of Columbia's Department of Biomedical Engineering. Read what our BME folks are up to, from our labs' latest research, to our students' plans for the future, to our teams' innovations, start-ups and other career successes.
We enjoyed catching up with Columbia BME alumna Kimberly Lipman-White (BS '11), as she reminisced about her experience as a Columbia BME student, and told us about her current role as Operations Manager at an amazing non-profit organization called Possible. Read below to get to know Kim!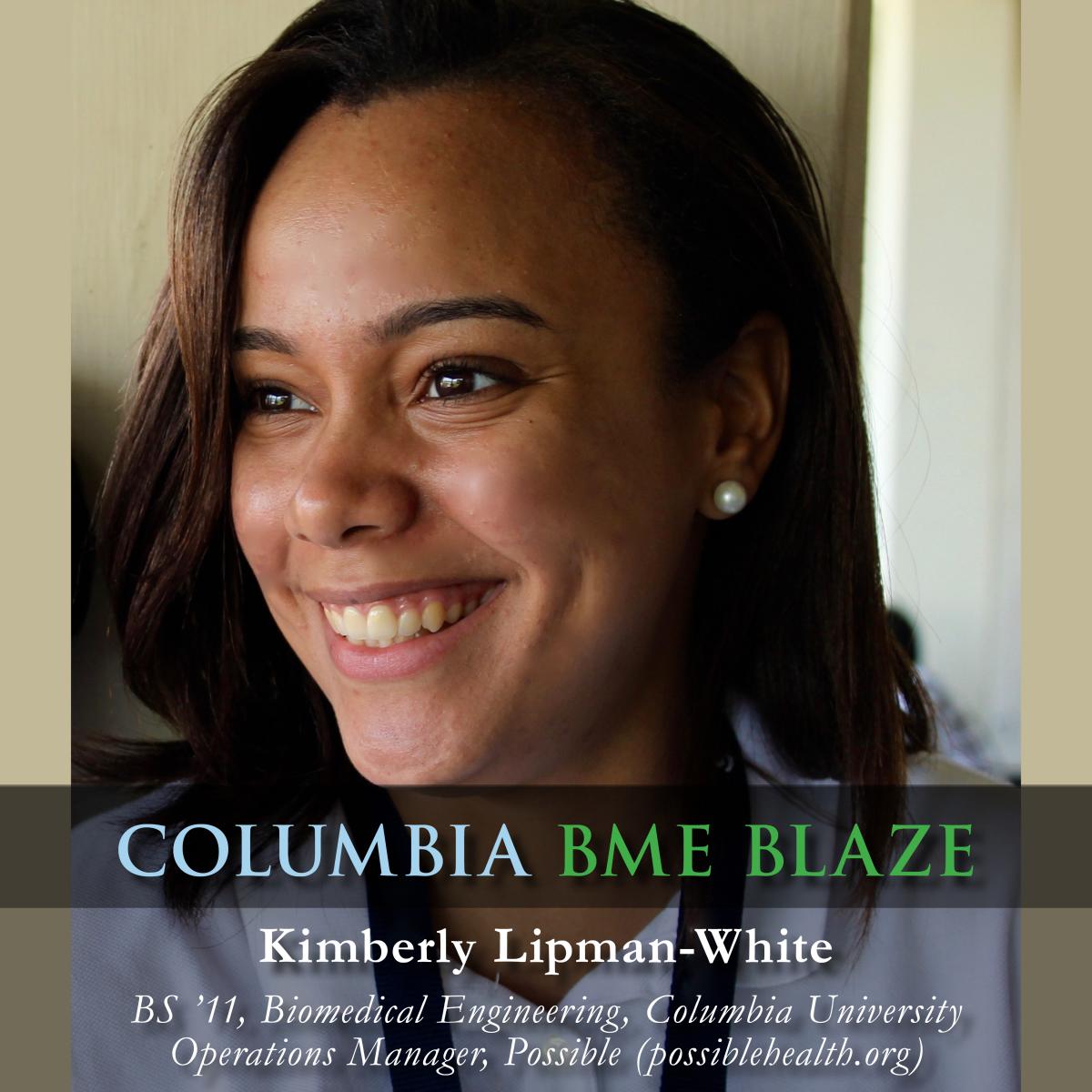 Kimberly Lipman-White
MSc, Global Health, 2016, University of Edinburgh
BS, Biomedical Engineering, 2011, Columbia University
Where are you from?
I was born in Kingston, Jamaica. I moved to the United States when I was very young and spent a majority of my upbringing in Long Island, New York.
What drew you to the field of Biomedical Engineering?
Growing up, I always performed well in and favored my math and science courses, which was my initial push into engineering. This aptitude for the sciences enabled me to participate in a multitude of academic programs, including the Center for Talented Youth (CTY) Program offered by Johns Hopkins University, and a summer intensive program offered by the DNA Learning Center in Cold Spring Harbor. These opportunities exposed me to the world of sciences that I could pursue with my undergraduate education.
I was specifically attracted to Biomedical Engineering because of the potential to apply these skills to healthcare. Health, healthcare, and health impact have always been areas I have been passionate about, but I did not necessarily want to become a clinician or healthcare provider. Biomedical engineering provided me with the balance of both worlds, the application of my strengths, and the potential to contribute to positive health impact.
What is your current role?
I am the Operations Manager for Possible, a nonprofit organization that focuses on collaborative research to address evidence, implementation, and policy gaps in the equity, quality, and accessibility of healthcare in Nepal. In my role, I support the operations, development, human resources, and finances of our US operations. I also work closely with and in support of our Nepal-based partners.
Why did you choose Columbia BME?
To be honest, when I was deciding between schools to attend for undergrad, I was heavily leaning towards Johns Hopkins University, as they also have a strong program. I was introduced to Johns Hopkins through the CTY program, and it remained at the top of my list since that introduction in middle school. When researching schools during my 3rd / 4th year of high school, I found the engineering program at Columbia to be well rounded. It offered an array of fundamental engineering courses as well as exposure to a range of specialties under Biomedical Engineering. After touring the campus and getting to connect with current students as well as alumni during my interview process for Columbia, I was in awe and inspired by those interactions. The choice to attend Columbia became obvious, plus, how could you beat a prestigious school with a beautiful campus in NYC? 
What were some of your favorite projects/memories from the program?
I had the privilege to learn and work alongside a group of diverse people in the BME class of 2011. Shout-out to my classmates who are all doing amazing things! While the coursework was rigorous and my university years came with their challenges in the classroom and beyond, there was also the joy of learning, working, and growing with my peers. One particular memory was when a small group of us were working on a problem set together and after a few text exchanges/calls with other classmates, it ultimately ending up being a majority of the class coming together for an impromptu study session, with jokes and snacks to boot.  The program was great at fostering and encouraging collaboration. As a result of that environment, I was able to cultivate the very valuable skill of collaborating with individuals with differing perspectives and backgrounds.
Another highlight of the program, as I'm sure many other graduates of the program would agree, was the Senior Design Project. I can't speak about our design project without first acknowledging my team members Connie, Megan, and Jenny as well as our advisor Dr. Clark Hung. We had such an incredible support system built into this course including Dr. Elizabeth Hillman and countless others, from the Columbia community and beyond, who provided prompt feedback and advice. A special shout-out to Dr. Aaron Kyle who, I believe, was a key facilitator for our Global Health Tech projects in partnership with Mulago Hospital in Uganda. It was a truly rewarding experience to work on a global health idea from its inception to the end.  
Outside of my course work, I have fond memories of the extracurricular activities I was involved in, from the Engineering Student Council to the Caribbean Students Association. One highlight from those activities was having the opportunity to travel to Honduras with Columbia Global Brigades during our winter break. I was able to participate in two trips, once for a medical brigade and once as a part of the public health brigade. Another highlight for me was being a part of the leadership group that coordinated Columbia's Annual Community Outreach (CCO). Every Spring, we coordinated the largest day of community service that connected students, faculty and alumni with various nonprofits throughout the City. I still remember the buzz of excitement the day of and seeing the masses of people pumped to participate (even those that had to make the trek to Staten Island!). I fondly remember the mini dance sessions throughout the day until the volunteers returned from their service activities. I think it was in my last year or maybe even the last two years, we also created a mini-community service fair for people to learn about other service organizations that they could volunteer with throughout the year.
These experiences all informed my professional career, reaffirming my passion for nonprofit work and healthcare as well as my love of travel.
What were your proudest moments at Columbia?
This is a challenging question, as there are so many things that I learned, accomplished, and challenged myself to do during my time at Columbia. However, I think the proudest moment has to be the moment I was able to share with my family—graduation. Graduation was not only a celebration for me and my classmates for achieving this milestone, but also for my family and friends, my indispensable support system. Being the first of my family to graduate from an Ivy League College was a milestone for all of us. Celebrating this milestone with my family also encouraged my cousins to expand the scope of what they could picture for their future. I hope seeing me succeed reaffirmed for them their ability to accomplish the same and more.
What are your thoughts on the strength of Columbia BME's alumni network and how has that influenced your career path?
Columbia's BME alumni network, the faculty, and advisors of the department have always been a strong resource. I was fortunate to be a part of Columbia's Opportunities program which offered among many things, networking opportunities to meet with fellow students and alumni. It was through this connection that I was encouraged to reach out to professors currently conducting research at Columbia. Taking that advice and also eager to work in a lab, I reached out to Dr. Clark Hung to learn more about his research. He was so receptive, responsive, and supportive. I am grateful to have had the opportunity to work in his lab so early in my tenure at Columbia. It was also through Columbia's network I was connected to an opportunity to work as an intern with a small nonprofit organization based out New York Presbyterian/Columbia University Medical Center. Women at Risk provided research, education, and support services to women affected by breast cancer. This opportunity was my initial foray into the nonprofit healthcare realm and prepared me for my next step working at Orbis International, which I started during my last year at Columbia. Now as an alumna, I hope I can act as a facilitator, connection point, or reference for members of this incredible community.
Any words of wisdom or tips for prospective BME students?
These are few pieces of advice that come to mind:
Use the great network of supporters you have within Columbia and beyond. It's something I wish I had utilized more during my time at Columbia, and when I was exploring my options after university. I know it's said all the time, but it really is amazing to see how many people are willing to talk about their experiences, share their learnings, and help in any way they can.
Try not to beat yourself up for the failures and mistakes, but instead, lean into them as opportunities to learn and seek out resources for help.
What are you excited about?
I am excited about the conversations around equity, inclusion, and intersectionality. It's only upon reflection that I have started to unpack how the various parts of my identity impacted and guided my course through academia and through my professional life. For a long time, I didn't realize how many of the things I had internalized as "normal" or "appropriate" were rooted in systems of oppression and anti-Blackness. Being an immigrant woman of color, I didn't grasp how important it is to embrace my whole self in these different spaces, so as a result, I'm pushing myself and others to have conversations around these topics. I think it is important to name and have uncomfortable conversations around race, equity, and inclusion to enable opportunities for change, reflection, and learning (and often unlearning!).
A special shout-out to Dr. Aaron Kyle who, I believe, was a key facilitator for our Global Health Tech projects in partnership with Mulago Hospital in Uganda. It was a truly rewarding experience to work on a global health idea from its inception to the end.