Columbia-Coulter Translational Research Partnership Highlight: MatriTek
Oct 10 2016
Between 2010 – 2014, John O'Neill, MS '11 SEAS, '17 GSAS, working in the Laboratory for Stem Cells and Tissue Engineering directed by Gordana Vunjak-Novakovic, PhD, developed a platform technology for the production of extracellular matrix biomaterials. Extracellular matrix (ECM), a major component of tissues, supports and guides cell growth and function. In 2015, he and the team felt they were ready to commercialize their matrix technology, so they applied to the Columbia-Coulter program and participated in the Coulter "Boot Camp."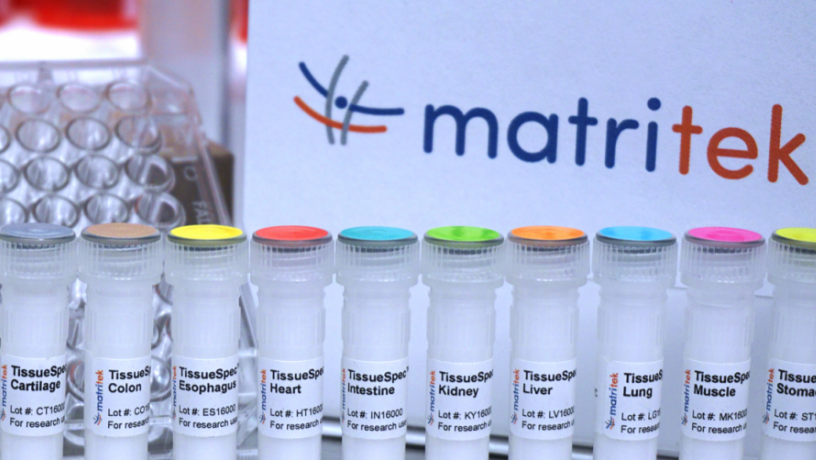 The Coulter Boot Camp ("Lab-to-Market: Accelerating Biomedical Innovation") is designed to provide teams with specialized frameworks for successful translation of biomedical innovations from the lab to the market. Teams work to develop and describe their technology's Value Proposition, Competitive Market Landscape, IP Strategy, Regulatory Roadmap, and Reimbursement Plan so they can best position their technology for partnership and follow-on investment.
"The Boot Camp's intensive curriculum, weekly assignments and presentations, and peer-level feedback significantly accelerated the development of MatriTek's pitch," O'Neill said. "Every week we were led through a critically constructive process that was very challenging, but significantly strengthened our story."
By the end of the course, John and his team had honed in on how to position their technology, and in early 2016 John and his team founded MatriTek, Inc. – a life sciences research supply company specializing in the production of tissue-specific matrix biomaterials for biomedical research. MatriTek's TissueSpec™ technology provides a natural cell culture microenvironment with signaling and regulatory functions highly specific to each tissue. (See more at: matritek.com)
"The Coulter program is a great opportunity for engineers and physicians to get a condensed, accelerated introduction for how to bring a technology to market." O'Neill said. "The expert advising, resources, and lessons that the Columbia-Coulter program offered were invaluable to us. It was a really fantastic experience."
Learn more about the Columbia-Coulter Translational Research Partnership.