Elham Azizi Recognized with NSF CAREER Award
Computational biologist focuses on characterizing various interacting cell types in the tumor microenvironment to advance the development of improved, personalized cancer treatments.
Feb 28 2022 | By Holly Evarts | Photo Credit: Timothy Lee Photographers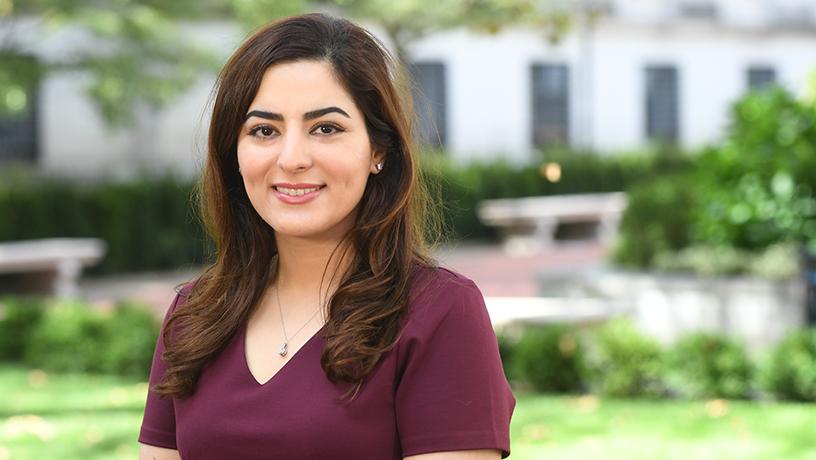 Elham Azizi, Herbert and Florence Irving Assistant Professor of Cancer Data Research in the Irving Institute for Cancer Dynamics and department of biomedical engineering, has won a National Science Foundation (NSF) CAREER award to study interactions between cells inside and around breast cancer tumors to better understand how aggressive tumors evade the body's immune defenses. One of the most prestigious prizes awarded by the NSF to early-career scientists, the five-year, $500,030 grant will support her project, "Integrative modeling of intercellular interactions in the tumor microenvironment."
"Breast cancer is the second leading cause of cancer deaths among women overall and the leading cause of cancer deaths among African American and Hispanic women in the United States," said Azizi, who is also affiliated faculty of Computer Science, and a member of Data Science Institute and the Herbert Irving Comprehensive Cancer Center. "There is a pressing need for principled and scalable computational methods capable of analyzing and integrating measurements from thousands to millions of tumor and immune cells using recent genomic and imaging technologies. The innovative machine learning tools we develop to tackle this problem will be made publicly available to benefit the broader scientific community for use in exploring other biological systems and cancers."
Azizi's Computational Cancer Biology Laboratory uses novel machine-learning techniques together with cutting-edge genomic and imaging technologies to study and model the composition and circuitry of cells in tumors. Azizi's approach involves leveraging genomic profiling at single-cell resolution and developing machine learning and statistical methods to analyze and integrate high-dimensional genomic data. The group characterizes various interacting cell types in the tumor microenvironment to better understand their underlying mechanisms with the goal of developing improved and personalized cancer treatments.
For this project, Azizi's focus is on developing new computational methods to analyze the interactions between immune cells and breast cancer. The deep generative models will enable her group to analyze crosstalk between diverse cell states, in particular between tumor-associated fibroblasts and immune cells.They expect this new framework to reveal how cell organization in breast tumors impacts immune response and will inform approaches for improving anti-tumor immunity.