Fostering Connections for Black Engineers
Columbia's chapter of National Society of Black Engineers fosters a community for Black engineers on campus. The group provides members with opportunities for professional development, networking, and mutual support.
Apr 18 2023 | By Alisa Shodiyev Kaff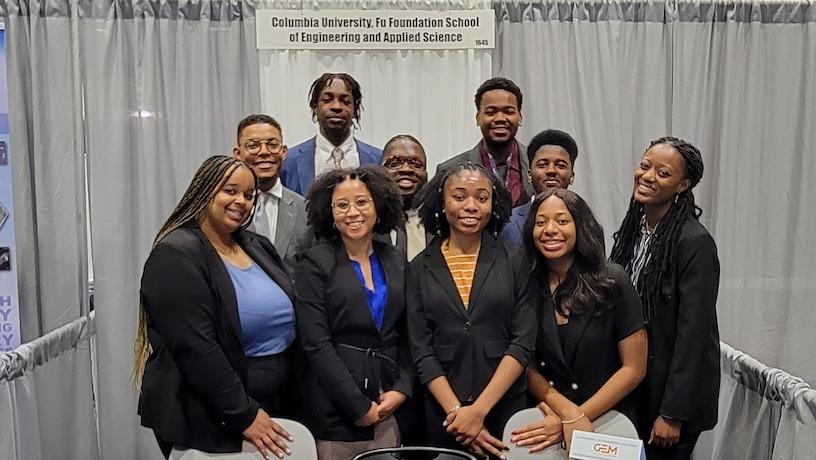 When Stephen Mgbemeje first came to Columbia Engineering it was overwhelming.
Originally from Nigeria, Mgbemeje says, "It was a big culture shock coming in. I needed a lot of help and a lot of guidance."
Mgbemeje found this guidance in NSBE, Columbia's chapter of the National Society of Black Engineers, a student organization that provides resources and support for students of color in STEM.
Today, three years later, Mgbemeje leads NSBE alongside co-president Chukwudubem Anwunah. In a recent interview, the two discussed the importance of representation and networking in the engineering world.
"Our main mission is to serve as a safe space to grow and foster Black engineers," says Mgbemeje, a junior studying computer science with a minor in psychology, who previously served as a liaison for first-year students and a vice president of the organization.
Anwunah, a biomedical engineering student on the pre-med track, says that being part of NSBE is a way to foster connections and knowledge that will allow more Black students to pursue engineering degrees.
"Knowledge and connections are incredibly important. You can only know so much by yourself, but those who have that network will always be able to reach further, higher," says Anwunah.
What is NSBE?
Founded in 1975, NSBE is one of the largest student government organizations in the country. It has served tens of thousands of students across the United States on over 300 college campuses.
"What we try to do is get Black engineers together," says Mgbemeje, "to provide them with meetings, events, and mentorship – a social network to connect with other Black engineers."
Both Mgbemeje and Anwunah say that their participation in NSBE was a significant influence in their early years at Columbia.
"When I was a freshman, I didn't really know how to navigate resumes, different job opportunities, being able to connect with older students," says Anwunah. "Being an upperclassman now and being able to impact those younger students is something that's really meaningful to me."
Mgbemeje agrees. "Without the upperclassmen [at NSBE] I feel like I wouldn't be able to navigate Columbia. It had a big impact on me."
What does NSBE do?
Offering support primarily to Black engineers on campus, the presidents of NSBE are open to anyone interested in joining the group. The chapter mostly provides support to the undergraduate student body but works with graduate participants as well, even those who are not studying engineering. "Everyone's free to come," says Anwunah.
At its core, NSBE strives to boost academic achievement among Black engineers and provide networking and professional development opportunities.
"In the past, we've hosted resume workshops, we've had panels where students come and discuss their career experiences," says Mgbemeje. "We've also had things like info sessions from companies, or we have companies come to recruit from our pool of engineers that we have in our organization."
But NSBE is not just a professional development space — it's also a space for Black engineers to socialize. Earlier this spring, NSBE hosted a national conference in Kansas City for chapters from around the country.
This year's annual conference welcomed over 10,000 attendees across four days. The conference featured a career fair with well over 100 companies seeking to recruit undergraduates for engineering roles with onsite interviews, workshops promoting professional development and career tips in various fields. The conference enabled an environment for Black engineers from all over the nation to connect with one another.
Now that they're rising seniors, Anwunah and Mgbemeje say their most significant achievement has been their impact on the younger Black engineers at Columbia. What has been most meaningful, Mgbemeje says, is "being able to help other people grow and be able to pass on information to younger classmen, especially."