Re-Defining Power Lunches
Mar 08 2013 | By Melanie A. Farmer
For biomedical engineering PhD candidate Kacey Ronaldson, the monthly L2 Ladies Luncheons hosted by the School's GradSWE (Society of Women Engineers) chapter have been more than just a nice meal with friends — they've been an invaluable career development experience as well.
Members of GradSWE with Professor Gordana Vunjak-Novakovic, who spoke at the November 2012 luncheon. From left, Genevieve Brown, Vunjak-Novakovic, Kacey Ronaldson, and Paulina Concha.
Ronaldson, who is president of GradSWE at the Engineering School, initiated these monthly luncheons to help women sharpen their networking skills as well as connect with successful women engineers who share their own personal experiences balancing life, career, and professional development.
"I do feel women innately do not network in the same way that men do," says Ronaldson. "Providing opportunities for women to network with one another, and more importantly, to learn how to effectively network, is very important to me." Networking also means supporting one another to "reach their fullest potential," she adds, "and to develop a foundation to support one another whenever needed or to just share a laugh."
The L2 Ladies Luncheon series, co-sponsored by the School's Office of Graduate Student Affairs, began last year as a way to provide networking opportunities and facilitate mentorships and collaborations within and across engineering disciplines. Featured luncheon speakers have included Gordana Vunjak-Novakovic, Mikati Foundation Professor of Biomedical Engineering; Womensphere founder and CEO Analisa Balares; and Melinda Thomas, entrepreneur-in-residence at NYC Tech Connect. Christine Fleming, assistant professor of electrical engineering at the School, is slated to speak at GradSWE's May luncheon.
Dedicated to the recruitment and retention of women graduate students, the Office of Graduate Student Affairs works in partnership with GradSWE. "It's an honor to work with an amazing group of women who are passionate about fostering a supportive environment for women graduate students," says Tiffany Simon, associate dean of graduate student affairs. In addition to co-sponsoring events, GradSWE assists the Office of Graduate Student Affairs with recruitment at annual conferences hosted by the Society of Women Engineers (SWE) and the Women in Science and Engineering (WISE). "They play an instrumental role in the recruitment and retention of women graduate students at Columbia Engineering," adds Simon.
The luncheon series is just one of several events and workshops the chapter offers women graduate students at the Engineering School. The GradSWE chapter at Columbia Engineering boasts more than 200 members, and is led by 10 board members representing 6 different departments. The hope is to cater to the busy, dynamic lifestyle of graduate students by offering concise programming during or shortly after the workday.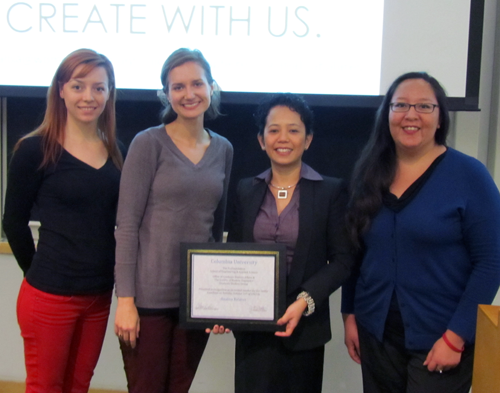 GradSWE members with Womensphere CEO Analisa Balares, who spoke at the December 2012 luncheon. From left to right: Kacey Ronaldson, Gwen Effgen, Balares, and Clarissa Pena, a student services officer in Graduate Student Affairs.
Founding board member Gwen Effgen established the GradSWE chapter because she felt there was a need to engage the School's graduate women engineering students in discussions around the topics of career development, mentorship, leadership building, and community service.
"Being able to get to know other women in different professional fields but with common interests and values who are genuine and hard-working has been the most rewarding," says Effgen, a PhD candidate in biomedical engineering.
GradSWE is an active group that has sponsored many activities since its inception just two years ago. In addition to the monthly luncheons, GradSWE has hosted engineering demonstrations for high school students in the Girls Engineering Club at the Young Women's Leadership School in Harlem. They also conducted a successful clothing drive last fall for Dress for Success, a nonprofit organization that provides professional attire to women who don't have the means to access interview-appropriate clothing; the organization also gives women career development tools to help them thrive in the workplace. Just last month, GradSWE hosted a joint networking reception with the undergraduate group of Society of Women Engineers and gave campus tours to high school students from the Young Women's Leadership School.
"It's really been a privilege to not only get to know and work with but also lead and represent women at Columbia Engineering who share similar interests and value the development of this community," says Effgen. "Starting GradSWE was a group effort that could not have been possible without the women who went above and beyond to create this active and unique group—both students and administrators."