School Honors Outstanding Students at Awards of Distinction Dinner
May 05 2014 | By Tim Cross
On Thursday, May 1, Columbia Engineering deans, faculty, and alumni gathered to celebrate the accomplishments of 12 outstanding undergraduate and graduate students at the School's fifth annual Awards of Distinction reception and dinner. The event honored three graduate students and nine seniors from the Class of 2014 who will speak or receive prizes at Class Day, Monday, May 19.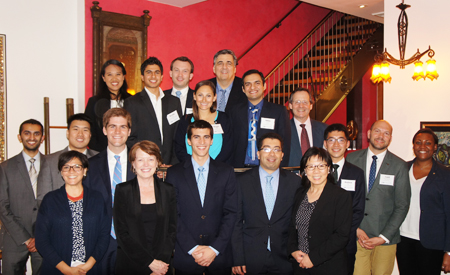 Interim Dean of Student Affairs Terry Martinez welcomed students and guests, noting that the School has "so many talented, capable, and caring students" that "selecting the recipients of the distinguished class prizes is always a difficult task."
Columbia Engineering Dean Mary C. Boyce presented the Illig Medal, named for William C. Illig (Class of 1882) and presented each year to the class valedictorian, to Alden Quimby, who is majoring in computer science with a minor in economics. She then recognized Halvard Lange, a mechanical engineering major and the class salutatorian.
Vice Dean Soulaymane Kachani recognized three graduate student honorees with Graduate Student Life Awards: Nithin Antony, who is studying in the Department of Industrial Engineering and Operations Research and serves on the Engineering Graduate Student Council; Venkatesh Hariharan, an Egleston Doctoral Fellow, who is studying biomedical engineering and serves on the Engineering Graduate Student Council's Executive Board; and Andrew Kang, a PhD candidate in biomedical engineering, who will be the graduate student speaker at Class Day. The Graduate Student Life Award honors students "whose participation and involvement at Columbia has enhanced the spirit of graduate life on campus … creating a more purposeful, caring, and celebrative community."
Martinez acknowledged the following graduating seniors, who will speak or be recognized at the Class Day ceremonies.
Joshua P. Muniz, who will receive the George Vincent Wendell Memorial Medal, presented to a graduating senior who "best exemplifies Professor Wendell's ideals of character, scholarship, and service."
Wendy Sun, who will receive the Student Activities Award, presented to a graduating senior who "significantly contributed to the co-curricular life of the School."
Andrew Tan, who will receive the Scholar-Athlete Award, presented to the graduating senior who has distinguished him/herself as a varsity athlete and scholar.
Rushal Rege, who will receive the Columbia Engineering Alumni Association Distinguished Student Leadership Award, presented to a graduating senior "who promotes the interests of Columbia Engineering, partakes in co-curricular activities, contributes to student-alumni affairs, and carries on the traditions of Engineering alumni.
Daniel O'Leary, president of the Class of 2014, who will speak on behalf of undergraduates at the Class Day ceremonies.
Pravitra "Farsai" Chaikulngamdee and Morgan Strauss, who as chair and vice chair of the Class of 2014 Senior Fund, led their class to a record-breaking fundraising performance this year.
The dinner was hosted by Alessandro BS'79, MS'82 and Alexandra '79BC, BS'79, MS'83 Piol at their Upper East Side home. Mr. Piol, co-founder of Vedanta Capital, and Mrs. Piol, managing director at 4C Ventures Management, met during their first semester at Columbia. Both experienced entrepreneurs who regularly mentor students established the Piol Family Entrepreneurship Fund in 2011 to help launch the School's Res. Inc. Program, a residency program for students interested in entrepreneurship. Mr. Piol serves on the School's Board of Visitors and Entrepreneurship Advisory Board; he recently helped judge the 2014 Columbia Venture Competition. The Piols are the parents of two children: Serena '13CC and Marco.
Other alumni at the dinner were Allan Cytryn BS'72, MS'75, '79GSAPP, secretary of the Board of Visitors; Whitney Green BS'10, '13TC, president of the Columbia Engineering Young Alumni Association; Hitoshi Tanaka BS'63, MS'65, EngScD'76, president of the Columbia Engineering Alumni Association; and Lauren Wong Sheng BS'76, chair of the Board of Visitors.
Dean Boyce concluded by encouraging the students to look at the celebration "not just as one part of the culmination of your careers as Columbia students but also as the beginning of your lifelong careers as interested, engaged alumni."
"I think it's fair to say that the Columbia Engineering family finds its true expression in moments like this, when students, alumni, and faculty come together to honor their own," she said.