Ultimate Show and Tell: Senior Design Expo, May 8
May 06 2014 | By Melanie A. Farmer
A nod to the traditional school science fair, the Engineering School's Senior Design Expo spotlighted students' one-of-a-kind solutions to a wide range of engineering problems.
Showcased at Columbia Engineering's inaugural Expo were 66 innovative projects ranging from new medical devices with the promise of cutting costs and improving effectiveness, clever new applications that address a variety of issues, and product solutions for the sports and fitness arenas. Senior Design Expo was open to the public and was held on Thursday, May 8 in Roone Arledge Auditorium, Lerner Hall, from 12:00 p.m. to 3:00 p.m.
Typically, each department at the Engineering School hosts its own individual senior design day toward the end of the academic year. But in honor of the School's 150th anniversary this year, the School took this opportunity to more visibly spotlight and celebrate the innovation and creativity of its students, collectively. The Senior Design Expo for the first time brought together all student teams, representing each of the nine Engineering departments, on the same day, in the same place.
Video of the inaugural Student Design Expo
"We were extremely excited for the Senior Design Expo," said Linda Sun, an electrical engineering senior who helped develop a new app that tracks objects and people. "It is a really unique experience to be able to see projects from all the different departments in one place, and we believe it will inspire more interdisciplinary projects in the future."
Science and engineering enthusiasts, or even non-engineering attendees, were in for a treat.
"The 150th Expo was like binge watching five-minute documentaries on all things technical, except you actually got to play with real stuff and speak with the designer," said Dave Vallancourt, senior lecturer in the Department of Electrical Engineering, who was instrumental in organizing the event.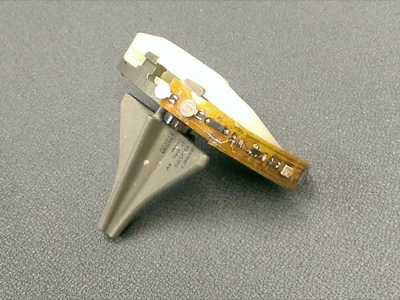 The TKAone device is an orthopedic implant with diagnostic functionality; it measures changes in the optical properties of synovial fluid caused by the immune response to infection, and reports the data in real time.
One of the many teams that presented their projects at the Expo is a four-member team from Biomedical Engineering (BME) that tackled the problem of implant infection in patients who have undergone TKA, or total knee arthroplasty. TKA is a common surgical procedure in the U.S., with more than 600,000 primary surgeries and 60,000 revision surgeries performed annually. The leading cause of revision surgeries is bacterial infection. At the Expo, this team presented a device that immediately detects infection in vivo and alerts a patient in real time. This rapid detection device would replace the current method of diagnosing infection, which relies on blood tests, cultures, assays, and radiography.
"This is a space in which a device like ours can make a real difference with tangible benefits for a huge number of people," said Forrest Miller, one of the designers. "It is also a tremendous engineering challenge, one that requires us to synthesize knowledge from every aspect of our multidisciplinary BME education." Miller's teammates included fellow seniors Emily Cen, Elsa Swanson, and David Xing. They each intend to pursue the development of the device after graduation.
Said Swanson, "This year's design event was an excellent opportunity to showcase our hard work … and provided a unique opportunity for attendees to see a vast array of engineering applications, as well as the result of high quality departmental and faculty advisement and support."
Another four-member team, which included Sun, Timmy Li, also from electrical engineering, computer science senior Michael Yan, and computer science junior Zuokun Yu, demonstrated their new smartphone application called the Beacon. Their idea stemmed from a brainstorming session with their faculty adviser, Vallancourt, whose son, a model rockets enthusiast, would oftentimes have trouble finding his rocket after it had landed.
"We started thinking of ways to solve this problem quickly and cheaply, without the service fees you have to pay for other tracking devices," said Sun. "We realized the same device could be applied to help solve other problems with greater ramification, such as finding a patient with Alzheimer's who has gone missing."
Small and easily portable, the Beacon transmits GPS data through the Family Radio Services band, so after the one-time cost of the device, there are no other charges required. The app decodes the data and displays location, trajectory, and other statistics, in part by using Google Maps.
Other exciting projects that were showcased at the Expo included engineered, replaceable "crumple zone" helmet inserts for use in athletics that can reduce concussion rates among football players; a novel microfluidic platform for embryo maintenance that aims to address the 25% of embryo culture-related failures in IVF; and an app that accurately identifies foodborne disease outbreaks in New York City by analyzing data in real time from multiple social media sources.
The variety of student design projects at the Expo meant there was something for everyone.
"I experienced a cacophony of creativity, like a music festival except with gears instead of guitars," said Vallancourt. "It was the most exciting place to be in New York City on May 8, which is saying a lot!"