November 2020 - BME Blaze: Ritish Patnaik
Nov 02 2020
In this monthly spotlight, get to know the alumni and students of Columbia's Department of Biomedical Engineering. Read what our BME folks are up to, from our labs' latest research, to our students' plans for the future, to our teams' innovations, start-ups and other career successes.
We had the opportunity to catch up with Columbia BME alumnus, Ritish Patnaik (B.S. '16), to discuss his experience as an undergraduate Columbia BME student, his current role at Genentech/Roche, and his helpful advice to future BME students.
Read below to get to know Ritish!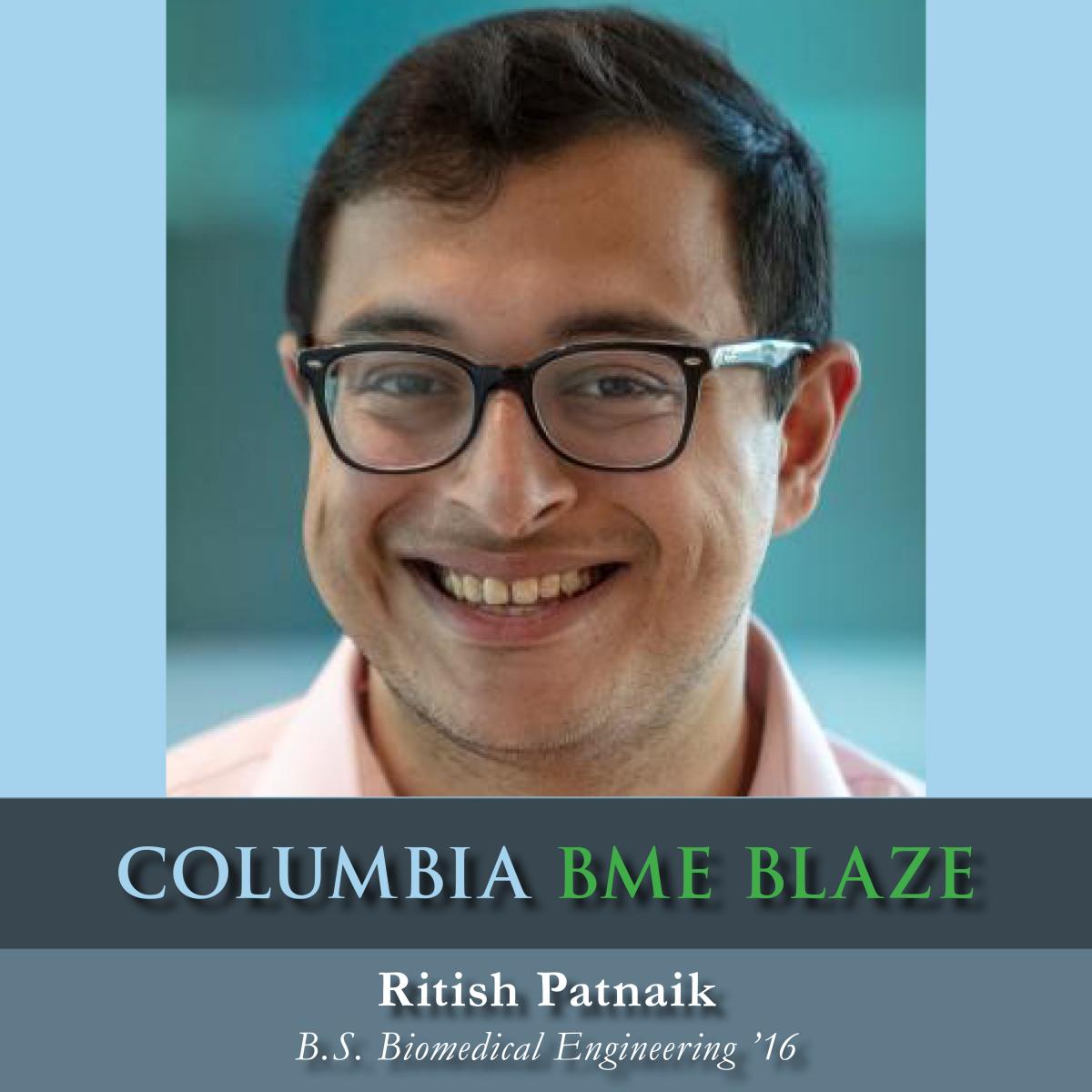 Where are you from?
I was born in Ottawa, Canada, and was brought up in Plano, Texas, a suburb of Dallas.
What drew you to the field of Biomedical Engineering?
I was obsessed with Legos as a kid, and I was most inspired by my biology classes. Biomedical engineering is the perfect chance to obtain a foundation in engineering rooted in the context of medicine, so that I could build and discover new things that can improve healthcare.
What is your current role?
I work at Genentech/Roche in the Business Development (Pharma Partnering) group. Business Development in pharma is like a combination of strategy and venture capital. I help lead cross-functional teams of scientists, clinicians, lawyers, and finance professionals to partner therapeutic, diagnostic, and computational technologies with Genentech and Roche. I also work with internal R&D teams to establish our strategy around exciting new areas of medicine, while also collaborating with VC firms to understand their views in these areas. 
Why did you choose Columbia BME?
I chose Columbia because I wanted a well-rounded education and the opportunity to live in New York City. At first, BME was a no-brainer for me, given my interests in medicine/engineering and my desire to get a PhD in Biomedical Engineering. After meeting Dr. Aaron Kyle and seeing his passion for developing his students, I knew that I had to major in BME. 
What were some of your favorite projects/memories from the program?
My favorite memories are tied to some of the closest friends that I made at Columbia through BME. I still talk to Stephanie Yang, Jahrane Dale, Olachi Oleru, and Gabby Ramil on a weekly basis for Luso Labs, our social venture centered around cervical cancer screening that originated from our Senior Design project. I also loved working with Kathleen Fan, Bryan Louie, Kris Harris, Andrew Tieu, among many others, on BMES initiatives. 
What were your proudest moments at Columbia?
During my junior year, it was when I received the Goldwater Scholarship. Balancing research/extracurriculars while maintaining my grades was really difficult while at Columbia, and this achievement was my first tangible sign that my hard work was paying off. It also solidified my intent to pursue a PhD.
During my senior year, it was getting accepted into PhD and deferred-MBA programs. I have always seen myself on the business side of the healthcare industry, and Dr. Kyle and Dr. Sam Sia pushed me to explore my post-graduate options. Because of these acceptances, I was emboldened to pursue part-time consulting/entrepreneurial options during my PhD and now find myself in Business Development at Genentech/Roche. 
Any words of wisdom or tips for prospective BME students?
For undergraduates: enter into the BME program with the open mind of pursuing further school (PhD, MD, MBA, MPH, etc.). Our program provides a great foundation for you to excel in these avenues.
Focusing on what you're learning in each class will naturally lead to better grades. I've seen that anxiety around my grade did little to actually influence that grade, while identifying and studying what I hadn't yet understood in a class let to a nice score bump.
Carve your own path. Every person is unique in terms of their experiences, desires, and skills, and the mainstream path may not suit you well. I really benefited from this during undergrad and my PhD.
Try your hand at research. If you don't like your first experience, try a completely different lab – you'll be surprised by how much can change in different labs.
Reach out to alumni, including me. Come to us with questions or asks, and we can give our perspective.
Cherish your time with Dr. Kyle and Dr. Katie Reuther. They are phenomenal teachers and people.
What are you excited about?
Over the next decade, we are going to see some commercial breakthroughs in medicine. I'm very excited to see my PhD work (blood-based early cancer detection) and Luso Labs be commercialized and translated to patients. I'm also very excited to see how I can contribute to Genentech and Roche growing with the leadership of Aviv Regev, a computational biologist who is an expert in single-cell genomics. I'm also getting a dog soon!
COLUMBIA BME ACADEMICS
Find out more about our BME programs!