October 2020 - BME Blaze: Samiksha Nayak
Oct 06 2020
In this monthly spotlight, get to know the alumni, students, and faculty of Columbia's Department of Biomedical Engineering. Read what our BME folks are up to, from our faculty's latest research, to our students' plans for the future, to our teams' innovations, start-ups and other career successes.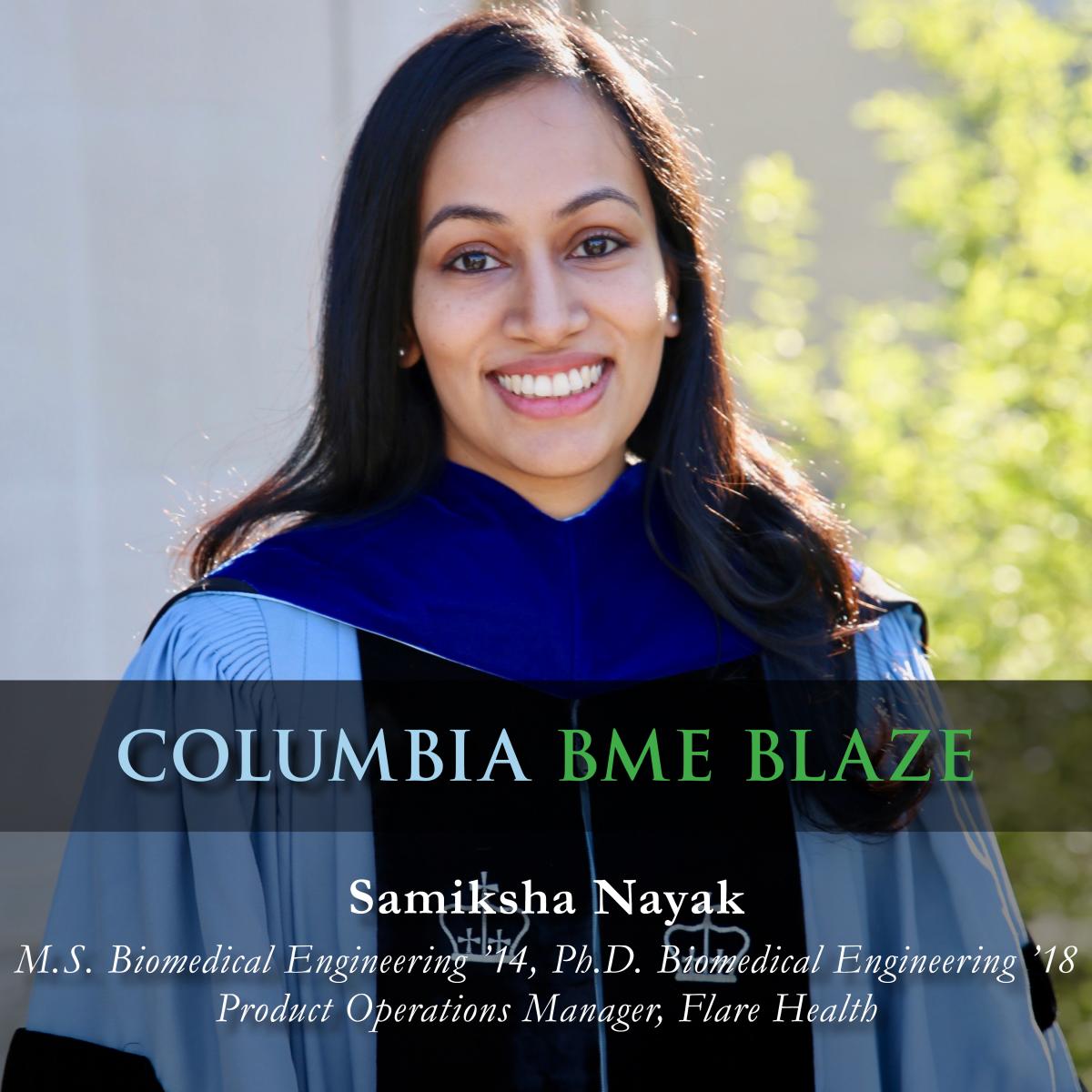 We were excited to catch up with Columbia BME alumna, Samiksha Nayak (M.S. '14, Ph.D. '18), and discuss her experience as a graduate student in the Columbia BME program, her role at Flare Health, and her advice to future BME students.
Read Samiksha's story below!
Where are you from?
Syracuse, NY (but born and raised in Canada!). I completed my undergraduate studies at MIT in Cambridge, MA.
What drew you to the field of Biomedical Engineering?
From an early age, I was drawn to the "bench to bedside" promise of innovation in the healthcare space.  While I had never picked up a pipette until I reached college, I was fortunate to work with some really great mentors as an undergraduate research assistant, exploring projects in vaccine design, tissue engineering and therapeutic development. I was quickly hooked to the translational side of biomedical research, particularly in building products that could have a tangible impact on patient lives. A seminal year working at a public health agency, broadened my perspective on 'real-world' challenges of access to care and health inequities that necessitate more consideration in the innovation process. I found the intersection of engineering, medicine, public health and technology really compelling, making BME the perfect fit for my graduate studies.
What is your current role?
I am a Product Operations Manager at Flare Health, a digital health startup developing mobile referral tools that makes it easier for patients to get the specialized care they need. It's been great to apply some of the foundations imparted by Columbia's BME program in user-centered engineering design, to help build and implement products in the health tech space. 
Why did you choose Columbia BME?
I chose Columbia's BME to gain a deeper understanding of the multi-disciplinary skills and tools needed to drive new solutions from ideation to implementation. I was really drawn to Professor Sam Sia's work in translating technologies for clinical use, particularly around expanding access to diagnostics. The opportunity to collaborate with clinicians, community health care workers, and global health partners seemed like an incredible opportunity to enrich my engineering education beyond a traditional classroom (or lab!) experience. And it was! 
What were some of your favorite projects/memories from the program?
Some of the most memorable experiences I had were field trials in Rwanda, where we were testing new smartphone-integrated diagnostic tools in the hands of local healthcare workers and patients. Being able to take technology our team had spent hours developing in the lab into a 'real world' setting was simultaneously incredibly rewarding and humbling. In many ways, this provided a crash course in Lean/Agile product development and testing (which I can appreciate more fully in my current role!).  I am deeply appreciative of the collaborative efforts it took to make these field trials happen, including the very talented members of our lab, as well as our in-country partners, healthcare workers and patients who took part in these studies. 
Any words of wisdom or tips for prospective BME students?
It's ok not to have a pre-set plan or path in mind; one of the great things about BME is the versatile and transferable set of skills you gain that can be applied to many different future career paths and settings. Stay curious, take advantage of the opportunity to explore new interests, and get involved with as many hands-on learning opportunities as you can.
 
It's been great to apply some of the foundations imparted by Columbia's BME program in user-centered engineering design, to help build and implement products in the health tech space.