9 Columbia BME Teams Participate in 2022 Senior Design Expo
May 13 2022 | By Alexis Jaya Hutchinson | Professional photography by Timothy Lee Photographers; Video stills by Jane Nisselson; Additional photography by Columbia BME Staff; Graphics by Columbia BME student teams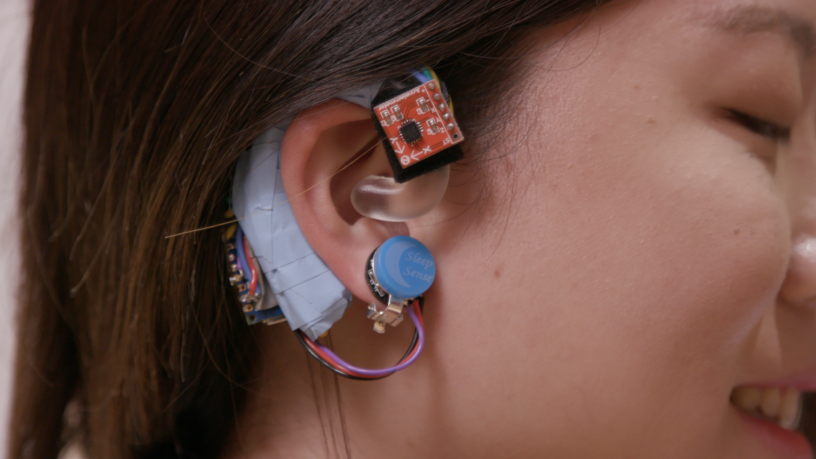 On May 5th, over forty projects completed by teams across the School of Engineering were presented at the 9th Annual Senior Design Expo, an opportunity for students to highlight their innovative and fresh approaches to complex issues through design.
This year, nine teams represented the Department of Biomedical Engineering with their unique and helpful projects spanning from jaw alignment to fall risk detection devices. Here are some highlights of the projects our seniors presented at the expo:
NeuroNotice
Golda Daphna, Luis Muncharaz Duran, Kalsoum Mbacke, Rhea Sablani, Elaine Tan
To create a more affordable and accessible device for testing peripheral neuropathy, this team created NeuroNotice, a device worn on the foot that uses random stimulation to track loss of sensation indicative of peripheral neuropathy.
deSTIgma: A Digital STI Test Recommendation Platform
Susanna Baek, Katharyn Fatehi, Andy Garcia, Vivian Shi, Ruxandra Tonea
Despite our growing knowledge of Sexually Transmitted Infections (STIs), this team notes a lack of accessibility, education, and stigma as one of the reasons for increasing infection rates. The deSTIgma STI Test Recommendation Digital Platform combats this by using comprehensive and relevant patient information to provide test recommendations, clinic maps, and educational resources.
budDLS: Buddy for Daily Living Skills
Kaitlin Abrantes, Amy Jang, Hyunjee Lim, Kelly Pu, Joa Yun
For children with Autism Spectrum Disorder (ASD), learning daily living skills (DLSs) may be accompanied by some difficulties. This team produced the budDLS which uses a multimodal solution to enhance independence for tasks requiring hygienic liquids.
LUMA
Jui Buamahakul, Leanne Pichay, Justin Saintil, Pavin Sethbhakdi, Joanne W. Wang
Due to the use of NaOCl to sterilize the tooth canal following a root canal procedure, NaOCl's cytotoxicity produces limitations that could lead to a reinfection rate of 35%. To combat that, this team created Luma, a device that uses photodynamic therapy to disinfect without adverse effects, providing an elimination of 97% of bacteria that can cause reinfection.
CAUTIcare
Ozgenur Celik, Michaela O'Donnell, Neil Kennedy, Prithi Chakrapani, Emma Glajchen
Catheter-associated urinary tract infections (CAUTIs) are expensive and deadly infections that oftentimes do not have proper testing protocols due to time and resource limitations. With CAUTIcare, patients will have access to urine turbidity testing which could prompt the early detection of CAUTIs.
JawLign
Joshua Fuller, Isabella Leite, Joseph Borison, Yeji Cho, Miranda Wang
To limit relapse rates following jaw surgery, this team has created JawLign, a platform which allows for early relapse detection through the personalized tracking of jaw positioning by using dental impression imaging as a guide.
SleepSense
Keni Chen, Eileen Choi, Olimpia Gavaudan, Michelle Kim, Michael White
Excessive Daytime Sleepiness (EDS) can be both fatal and life-altering. This team created SleepSense to track fatigue and uncontrolled sleeping as well as alert the user when fatigue is detected.
CERV
Hannah Ballard, Aala Nasir, Kiarra Lavache, Joyce Liu, Emme Pogue
With cervical softening as an indicator for cervical sufficiency, which is a contributing factor in preterm birth rates, CERV is an accessible and affordable biomechanical device which measures cervical stiffness to allow patients to measure their risk for preterm birth.
Stabilitek
Erik Emsbo, Shivanni Ramdass, Adi Shastry, Elizabeth Thomas, Micah Woodard
To lower the rates of injury death by fall for the geriatric population, this team created Stabilitek which measures fall risk using motion sensing insoles.
We are so proud of each team. They were dedicated to this work and produced exceptional projects that we hope to see come to fruition in the near future.
Scroll through the slideshow below to view the nine BME project summaries!
Columbia BME Senior Design