August 2020 - BME Blaze: Katherine Strong
Aug 04 2020
In this monthly spotlight, get to know the alumni, students, and faculty of Columbia's Department of Biomedical Engineering. Read what our BME folks are up to, from our faculty's latest research, to our students' plans for the future, to our teams' innovations, start-ups and other career successes.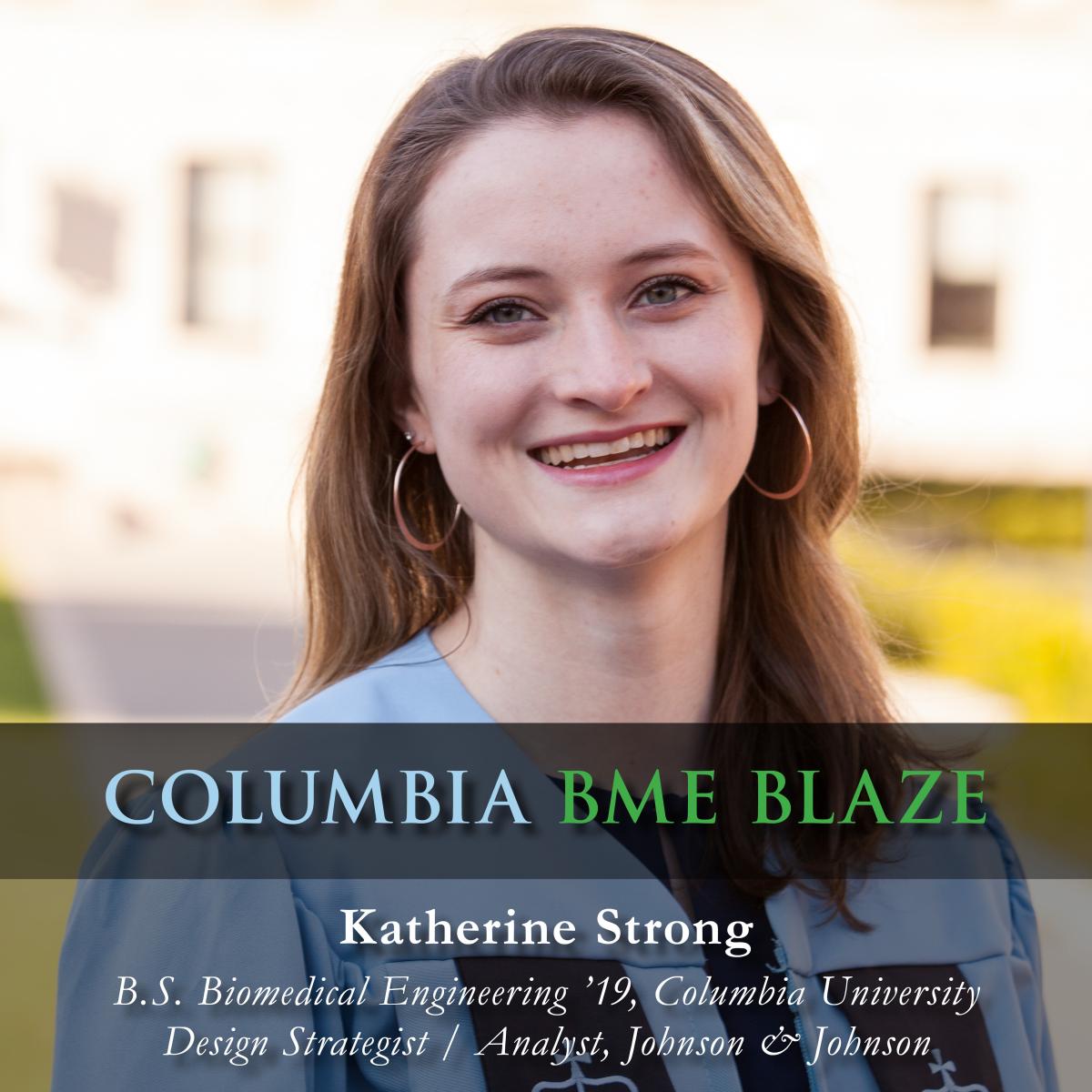 We were excited to catch up with Columbia BME alumna, Katherine Strong (B.S. '19), about her experience as an undergraduate student in the Columbia BME program, her role at Johnson & Johnson Design Studio, and her advice to future BME students.
Read Katherine's story below!
Where are you from?
I was born and raised in Denver, Colorado!
What drew you to the field of Biomedical Engineering?
My love of math and science initially drew me to engineering, but it was my passion for designing for human health that guided me towards Biomedical Engineering. Biomedical engineers are given the unique opportunity to apply engineering principles and design concepts to medicine and biology for healthcare purposes. I have always had a desire to improve the lives of others and I realized that a Biomedical Engineering degree would give me some of the essential skills I needed to bring that dream to life.
What is your current role?
I currently work as a Design Strategist/Analyst at Johnson & Johnson's Design Studio in New York City. The J&J Design Studio creates end-user solutions across all of the company's business groups: Consumer, Pharma, Medical Devices, and Corporate Communications. I am a part of the Insights and Experience Strategy team and I use synthesis, visualization, and storytelling to help design and communicate strategies that enable the organization to deliver people-centered solutions. My day-to-day responsibilities include framing learnings into simple references, revealing deep insights, and empowering the team to collaborate in envisioning the possibilities of a holistic care experience.
It has been so rewarding to discover the ways in which I can apply my BME background in a non-laboratory setting. I find that my foundational scientific knowledge and engineering mindset are critical assets in my day-to-day work researching, simplifying, and presenting on complicated medical devices, procedures, and drugs. 
Why did you choose Columbia BME?
I was drawn to Columbia, and Columbia BME specifically, because my concept of engineering has always been linked with the notion of design-thinking and a desire to not lose track of soft skills while honing hard ones. I knew I needed to find a university with a strong engineering program that did not eschew the importance of the soft skills of communication, collaboration, and idea advocacy. Columbia University offered just that: a stellar engineering education that was not mutually exclusive of inspired humanities courses. The Core Curriculum at Columbia provided me with an education based on communal learning, critical dialogue, and cultivating habits of mind that I can apply in any and all situations. 
What were some of your favorite projects/memories from the program?
The BME Senior Design project was one of the most impactful experiences during my time at Columbia. Being given the opportunity and autonomy to identify an unmet medical need and design a product to meet that need was incredibly rewarding. Our team approached each challenge and roadblock with a sense of dedication and vigor that was often missing when we were simply completing problem sets or studying for exams. Adding in the human element and the potential to actually make an impact in the lives of those we were designing for, invigorated and elevated the entire experience. Aaron Kyle has done a truly masterful job of designing a capstone class that capitalizes on everything we had learned up until that point while at the same time making us realize how much there is still left to learn. His guidance and mentorship propelled us to operate at the highest capacity and deliver nothing short of our very best work. Senior Design was an incredibly formative (and bonding) experience for me and my team members and I am so glad we were given the chance to work so closely together and see our project come to life from start to finish. 
What was your proudest moment at Columbia?
One of my proudest moments at Columbia was working in Barclay Morrison's Neurotrauma and Repair Laboratory and submitting a patent and innovation report for approval and publishing. Though I graduated before this process wrapped up, it was extremely rewarding to see all of our hard work culminate in such a tangible way. I learned an incredible amount working in that lab and truly believe that lessons taught in the classroom are best augmented through hands-on application. 
Any words of wisdom or tips for prospective BME students?
I would encourage all BME students to get involved in on-campus research as soon as possible. As I mentioned earlier, working in a lab on campus gave me the chance to apply what I was learning from the engineering curriculum and see real-world applications of the scientific processes, physics fundamentals, and engineering principles that previously only existed on pages in my textbooks.
I would also remind prospective students that college is about more than just what happens inside of the classroom. Columbia and New York City have so much to offer, so take advantage whenever you can! My involvement in Columbia Women's Ultimate, Society of Women Engineers, Orchesis, and CU Ballet Ensemble shaped my experience in such a wonderful way and allowed me to broaden my perspectives and social interactions beyond that of just my fellow biomedical engineers. I am so grateful I made time to dedicate to extracurriculars that introduced me to such phenomenal people and brought me so much joy.
What are you excited about?
Amidst these incredibly challenging times, I have found it really inspiring to watch the international scientific community come together to fight the common enemy of COVID-19. I am consistently in awe of the advancements that are being made each and every day under extremely high pressure and very tight deadlines.  
It has been so rewarding to discover the ways in which I can apply my BME background in a non-laboratory setting.