BME BIO: José L. McFaline-Figueroa, PhD
Sep 15 2020 | By Alexis Newman
In honor of National Hispanic Heritage / Latinx Heritage month, get to know our exceptional BME faculty, students, staff, and alumni.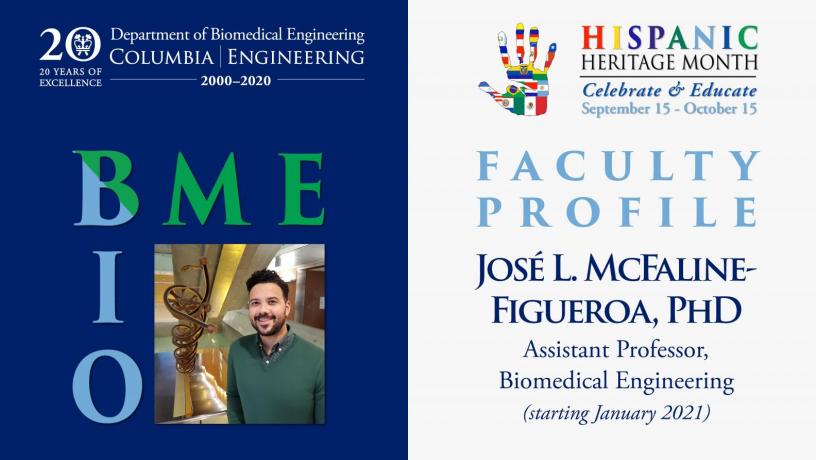 Post-doctoral Fellow currently transitioning to Assistant Professor of Biomedical Engineering at Columbia University
University of Washington, moving to Columbia University in January 2021
Education
B.S., Chemistry, 2006, University of Puerto Rico at Mayagüez
Ph.D., Biology, 2014, Massachusetts Institute of Technology

Where are you from?
I was born and raised in the southwest corner of Puerto Rico, in the towns of Mayagüez, Sabana Grande, and San Germán. Part of my family is from the San Juan area and I spent a large portion of my childhood going from one side of the island to the other. Growing up I really enjoyed this as it gave me an appreciation of all the diversity that can be found even on our small island.

What is your current position?
I am a post-doctoral fellow in the laboratory of Dr. Cole Trapnell at the University of Washington, where I develop and apply single-cell genomic tools to understand how cells respond to genetic and chemical perturbations. I am also incredibly excited that I will soon start as an Assistant Professor in the Department of Biomedical Engineering at Columbia.

How did you become interested in STEM research and, more specifically, in biomedical engineering?
I became interested in research very early during my undergraduate studies at UPRM Chemistry. I worked in 2 labs during college, one focused on the isolation of natural products and the other a protein biochemistry lab focused on the chemistry of myoglobin. I also participated in a summer research program coordinated by the Hispanic Association of Colleges and Universities (HACU). This summer program allowed me to work in a USDA lab at the University of Mississippi and further my training on the isolation and characterization of natural products. These research experiences convinced me that I wanted to pursue a career as a Scientist.
My interest in biomedical engineering developed after college. After graduation I worked at MIT as a research technician in the laboratory of Dr. Peter C. Dedon in the Department of Biological Engineering. This is where I was first exposed to cancer biology and biomedical engineering. I enjoyed how multi-disciplinary the research was and looked to focus on this for my graduate studies, so I joined the MIT Biology Ph.D. program and the labs of Dr. Leona D. Samson and Forest M. White in the Biology and Biological Engineering departments. My training encompassed many different fields – Cancer Cell Biology, Systems Biology, Proteomics, and Data Science – all them applied to determine how an aggressive type of brain cancer resists therapy. I was, and still am, fascinated by how these and many other fields come together in biomedical engineering to address challenging needs in biology and human disease. A recurring theme in my research was how heterogeneity in cellular response hindered our ability to identify changes that occur in tumor cells when exposed to therapy. Looking to expand the toolset that I could apply to this incredibly difficult problem and overcome issues associated with cellular heterogeneity, I decided to pursue a post-doc in single-cell genomic technologies.

Tell us about your family. Who has/have been your strongest influence(s) in life?
It is difficult for me to choose one person who has been my strongest influence. My parents, grandparents, aunts and uncles all did a lot for me and my siblings to ensure we had a good education and they encouraged us to pursue advanced degrees. I am also beyond lucky to have collected an amazing group of mentors. They have been a great example of selfless generosity, always taking the time to offer advise regardless of whether they are down the hall or across the world.

How has your LatinX background influenced your experience as an academic professional in STEM?
I am incredibly proud of my Puerto Rican heritage. Anyone I speak to for more than 15 minutes will know I am Puerto Rican. Transitioning from Puerto Rico and from a Hispanic-serving undergraduate institution to graduate school in the continental US, I found my background and experiences were different from the majority of my peers and it sometimes felt isolating. However, I am fortunate to be a part of a group of family members and friends that are also making their careers in academia and have been a constant source of support every step of the way.

What accomplishment(s) are you most proud of, and what do you hope to accomplish in the future?
My thesis defense was a major highlight where I was able to show my family the work that I had been doing all those years in lab, and I am very proud of that accomplishment. I am also proud of the projects that I have been pursuing more recently in the Trapnell lab and the publications that have resulted from this work. I was fortunate to join the field at a time of incredible progress and growth and am very proud to have contributed to that in some way.
As I start my lab at Columbia, I aim to continue developing tools for single-cell genomics and multiplex perturbation screens with the goal of applying these to determine potent therapeutic strategies for aggressive tumor types that typically fail the current standard-of-care. During my career, I have had the opportunity to mentor some incredibly talented undergraduates and graduate students. I am incredibly proud to follow their careers, whether they have stayed in research or gone into other fields. I look forward to contributing to the training of future generations of scientists and helping to advance their careers.

What advice would you give to your younger self?
There are many, but there is one that immediately comes to mind: "Don't go at it alone; many times, the correct approach is to ask someone for help!"