Columbia BME Hosts 48th Northeast Bioengineering Conference (NEBEC) 2022
May 10 2022 | By Abigail Ayers | Professional photography by Timothy Lee Photographers; Conference Toolkit Artwork by Abigail Ayers
What happens when you gather 500 faculty, researchers, and students from over 75 institutions, all of whom are passionate about biomedical engineering, and put them together on one campus? A sharing of science, an interchanging of ideas, a convergence of connoisseurs, a networking across niches, or just pure magic– whatever you want to call it, it all happened last weekend at the 48th Annual Northeast Bioengineering Conference hosted by Columbia University. As the first in-person conference for most attendees since 2019, NEBEC 2022 was memorable, and demonstrated a seamless integration of virtual and in-person events that may be the new normal going forward. From keynotes to panels to poster sessions, NEBEC was overflowing with engaging speakers and exciting research. Read on for more details, and check out the end for bonus content with tips to prepare for your next conference!
Keynote, Day I: Xingde Li, PhD
Day 1 started off strong with parallel sessions and the first keynote speaker, Dr. Xingde Li from Johns Hopkins. As a professor of biomedical engineering, electrical and computer engineering, and oncology, Dr. Li represents the epitome of multidisciplinary research with his work in biophotonics imaging technologies. Dr. Li shared his lab's exciting work developing optical coherence tomography (OCT) tools to assist surgeons with operation on brain cancers, as well as a new cutting-edge miniaturized optical imaging tool using two-photon endomicroscopy for subcellular biochemical and neural imaging. You can read more about Dr. Li and his research here.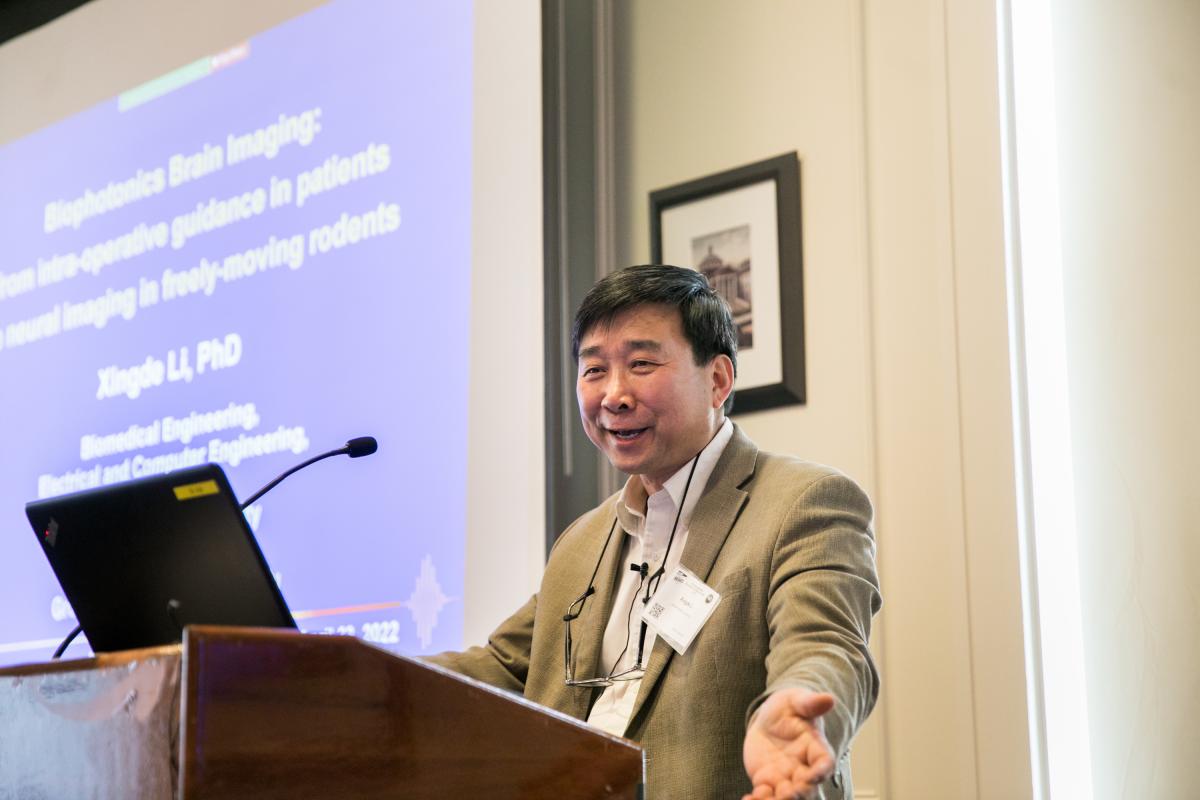 Senior Design Posters
In the afternoon, senior undergraduate students from various universities presented their senior capstone designs. With an impressive lineup of compelling projects and beautiful presentations, the selection of finalists for the senior design award was difficult. Ultimately, a team from Fairfield University took home first place with their project titled "STEM Outreach Through Youth Sports Biomechanics" (Prince Addo, Chizimuzo Chibuko, Aina March Razakamanantsoa, Tobenna Ugwu, Rachel Jacobson, John Minogue, John F. Drazan, PhD), followed by the "Non-Contact Image Analysis of Breathing Rate Using an Unmanned Aerial Vehicle (UAV)" team from University of Maine in second (Jacob Holbrook, Dominic Kugell, Margaret McCarthy, Basel White, Andre Khalil), and "Vacuum Toothbrush for Removal of Oral Aspirates" team from New Jersey Institute of Technology in third (Sahitya Kulkarni, Alexandra Griffith, Christian Rodrigues, Rachelle Cham, Marie Jean, Thomas Dolalas, Domenico Valente, Vivek Kumar).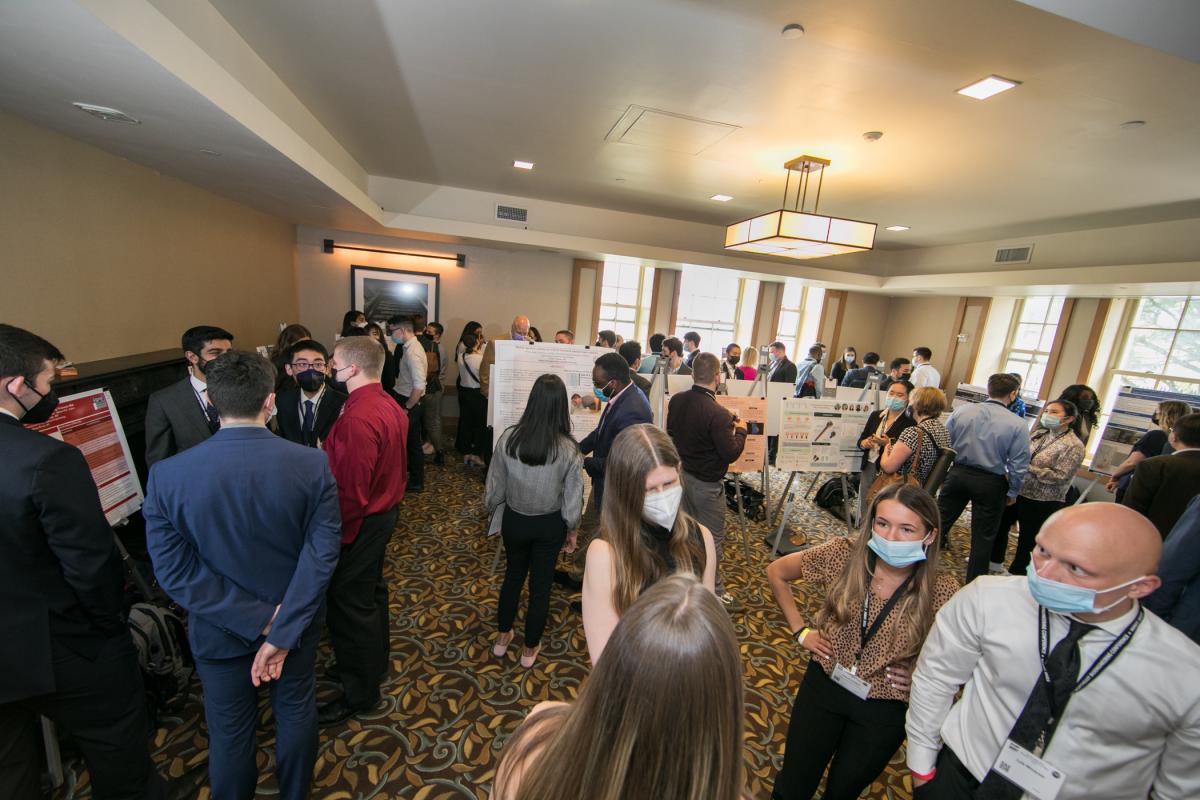 Future Biomedical Engineers
Day 2 brought special presentations in the Future Biomedical Engineers session from incredible young researchers selected out of over 80 applicants as finalists for the Young Scientist Award. With topics ranging from adhesive mechanisms of cartilage to interpretable deep learning for medical imaging, the presenters had the audience fully engaged and consistently running over time with the Q&As. Kaveri Thakoor from Columbia University, with her talk titled "Interpretable and Portable Deep Learning Systems for Detection of Ophthalmic Diseases", was selected for the graduate student Young Scientist Award, and Dr. Ricardo Cruz-Acuña from Columbia University Irving Medical Center, with his talk titled "Engineered Hydrogel Elucidates Contributions of Matrix Mechanics to Esophageal Adenocarcinoma and Identify Matrix-activated Therapeutic Targets", was selected for the postdoctoral Young Scientist Award. These awards recognize young researchers who have already made outstanding contributions to biomedical engineering and show great promise in becoming leaders in the field.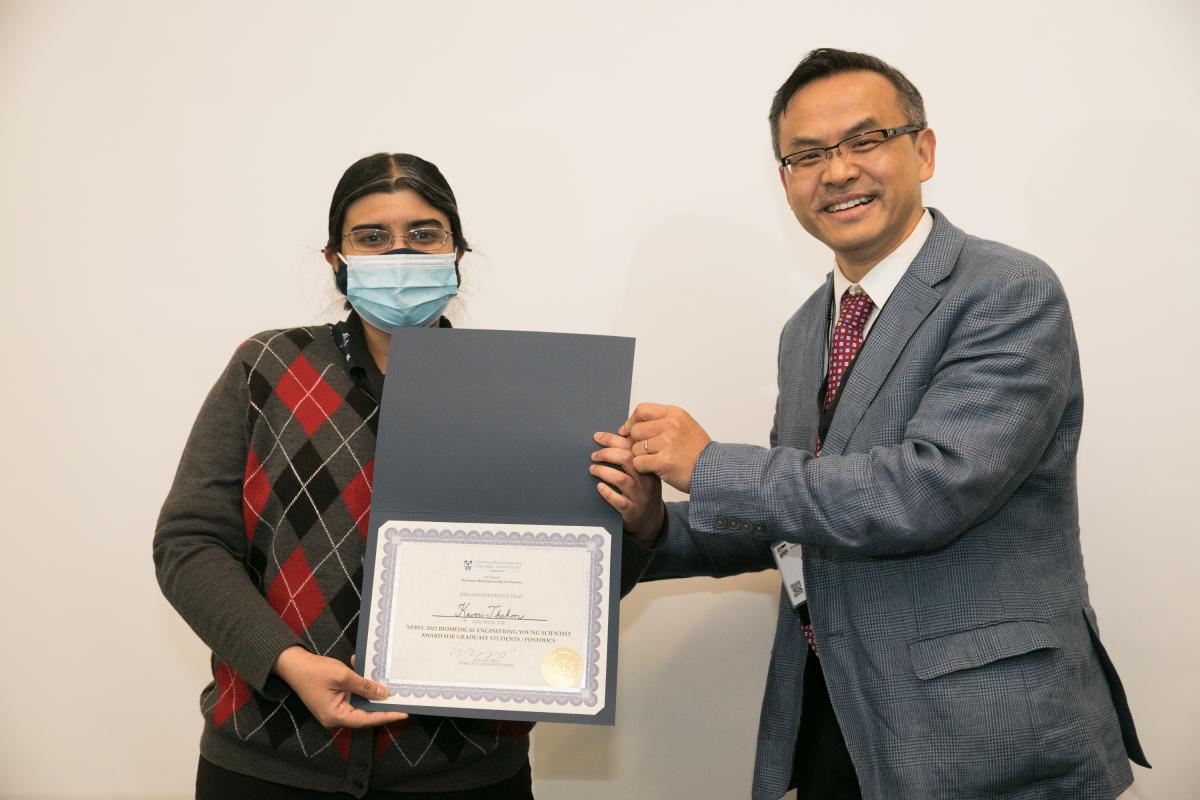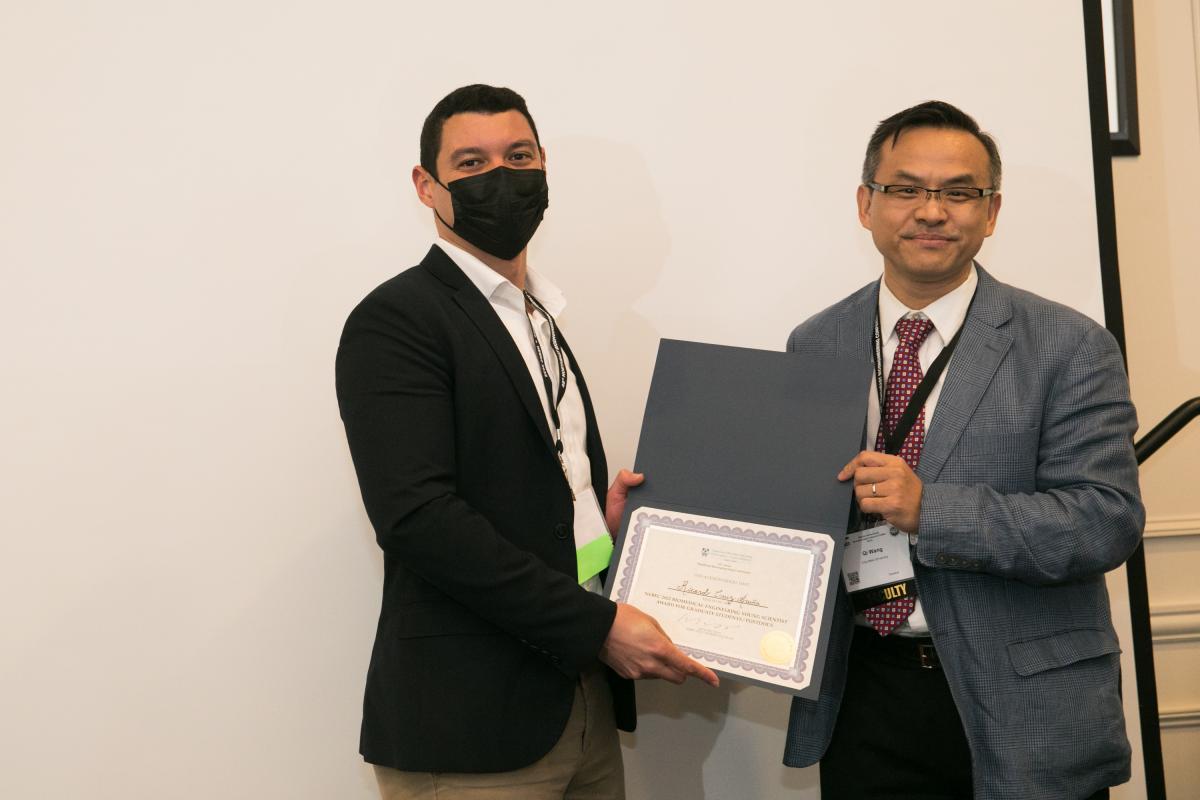 Keynote, Day II: Deepak Vashishth, PhD
Following the Future Biomedical Engineers presentations was the keynote speaker for Day 2, Dr. Deepak Vashishth from Rensselaer Polytechnic Institute. As a professor of Biomedical Engineering and the Director of the Center for Biotechnology and Interdisciplinary Studies, Dr. Vashishth advocates for research that is interdisciplinary, socially responsible, and technologically innovative. His talk focused on his breakthrough work on bone fragility in diabetes. With 537 million people affected by diabetes worldwide, and growing incidence of early onset type II diabetes, the gap is ever-widening between our knowledge of the disease and the demand to treat it– a gap that researchers, like Dr. Vashishth, are working to close. His group investigates how collagen modifications affect whole bone structure, what this may look like in a diseased condition, and how understanding these properties can lead to better treatment and prevention of bone fragility. You can read more about Dr. Vashishth and his work here.

Columbia BME 20th Anniversary Celebration & Department Chair Panel
After lunch on Day 2, conference attendees were honored with the unique opportunity to sit in on a discussion between one NSF program manager and eight BME Department Chairs from leading research and educational institutions across the northeast United States. Opening remarks from Dr. Shi-Fu Chang, Dean of Columbia Engineering, Dr. Zvi Galil, Dean Emeritus of Columbia Engineering, and surprise guest Dr. Michael Crow, current president of Arizona State University and former Executive Vice Provost of Columbia Engineering, highlighted how far the Department of Biomedical Engineering at Columbia has come in its 20 years since creation, and more generally how vital the field of biomedical engineering has become to promoting scientific discovery and tackling healthcare issues globally. In the words of Dr. Crow, the field of biomedical engineering "further enhances the centrality of the role of engineering in all things."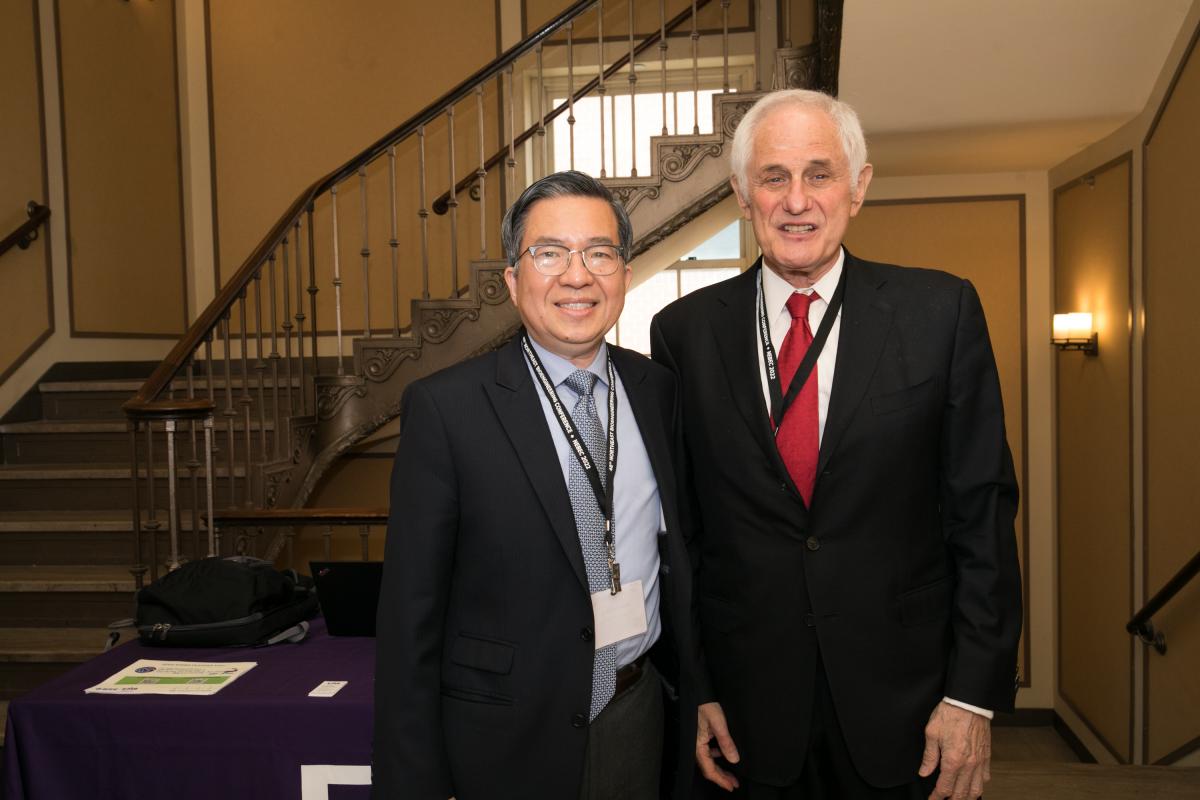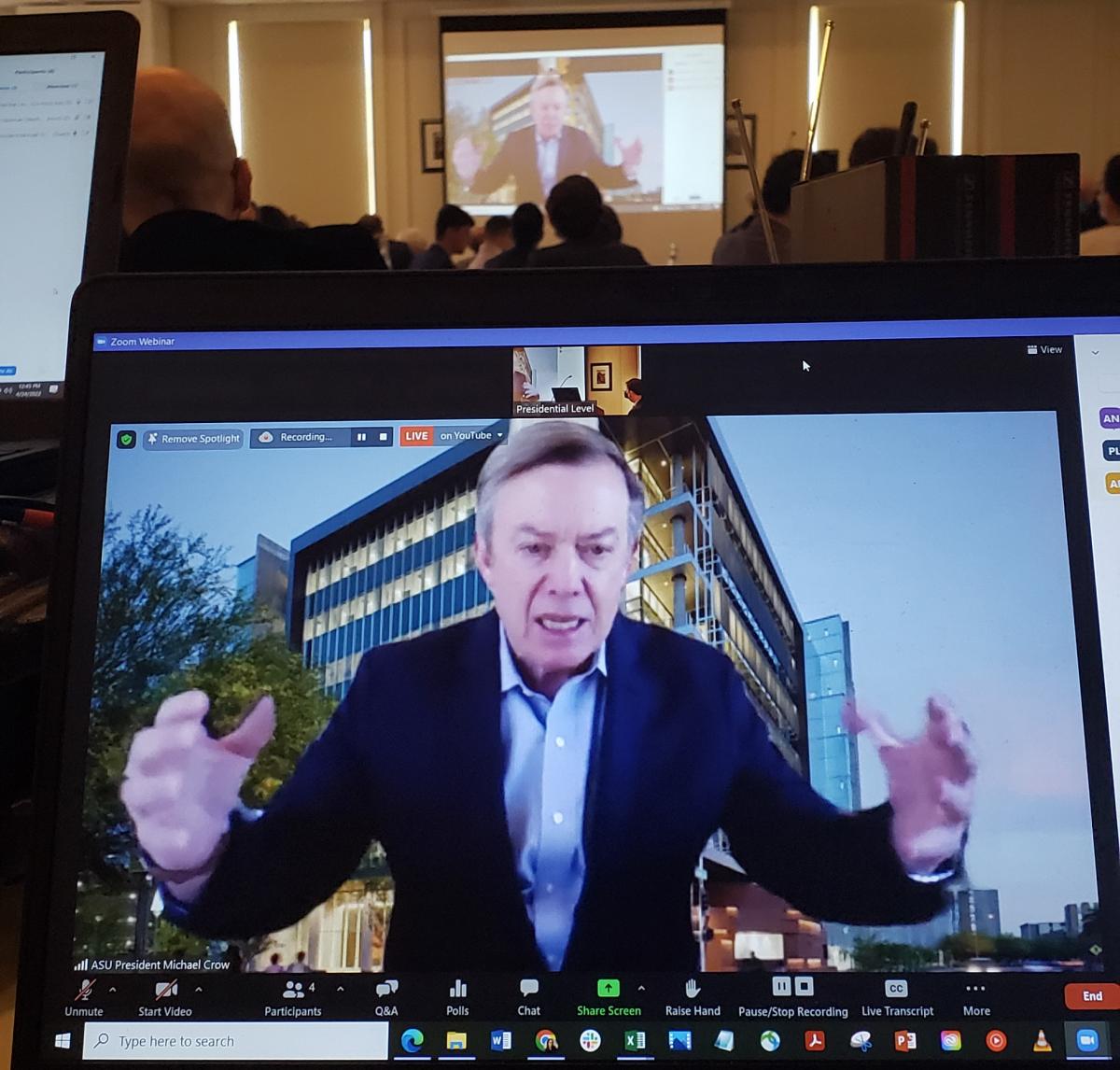 With Dr. Edward Guo, current BME Department Chair at Columbia, as moderator, the star-studded panel included: Vicki Colvin, PhD from Brown University, James Duncan, PhD from Yale University, Andreas Hielscher, PhD from New York University, Kristi Kiick, PhD from University of Delaware, Laurel Kuxhaus, PhD from the National Science Foundation, Michael Miller, PhD from Johns Hopkins University, Mitchell Schaffler, PhD from The City College of New York, and Marjolein van der Meulen, PhD from Cornell University. The panel discussion focused on maintaining and growing BME communities during and post pandemic, with all panelists sharing valuable insights regarding their experiences managing departments during the past years of the COVID-19 pandemic. As leaders within their respective universities, these panelists were faced with many unprecedented challenges, including adapting to online learning, supporting students' mental health, and confronting shortcomings in university infrastructure exposed by the sudden changes. Both Dr. Schaffler and Dr. Duncan commented on the irony that educators had no choice but to be flexible, and were forced to come up with creative teaching strategies– but that it has provided an opportunity to re-think best approaches to student learning. Dr. Colvin and Dr. Hielscher spoke about how the isolation during the pandemic has caused a loss of connection to community and other serious impacts on identity; with this has come a shift in the conversation about mental health, bringing a lot of these topics out of the shadows. Other shifts since the beginning of the pandemic include universities' approaches to diversity, equity, and inclusion; Dr. van der Meulen discussed the responsibility the BME community has to take an active role not only in conversations about it but in implementing real structural changes in the higher education system. Finally, the panelists touched on how COVID-19 has changed the public perception of the field of biomedical engineering; Dr. Miller explained that COVID created a clear mission to work toward something important (a vaccine, treatment, prevention of spread, etc.), which inserted medicine and engineering into widespread conversation and ultimately led to more appreciation from the public; on the other hand, other panelists pointed out that many people still don't attribute these discoveries and medical feats to the engineers responsible for them. Biomedical engineering provides the engine and wheels that keep the healthcare system vehicle moving, but people mostly remember who is in the drivers' seat. As Dr. Colvin noted, the pandemic has highlighted that perhaps engineers and those in the academic community need to learn how to tell a story, focusing on humans and the journeys they've taken, to better communicate their broader impact on the world.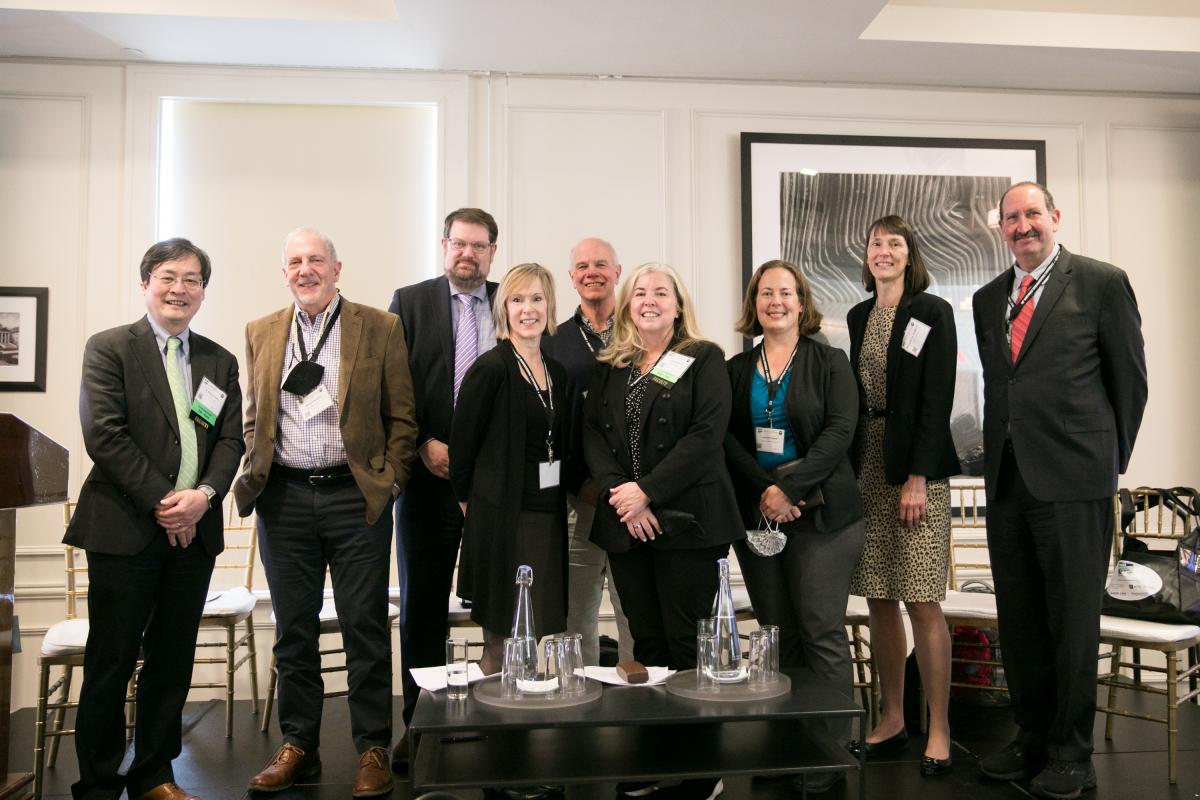 Best Poster Awards
In the afternoon of Day 2, a sea of over 200 posters took over spaces across campus for presenters to share their work with conference attendees. With topics spanning from tissue engineering to imaging to medical devices, intriguing projects could be found around every turn. Three were chosen for the Best Poster Award: Xiaojun Lian from The Pennsylvania State University with the project titled "Robust pancreatic beta cell differentiation from human pluripotent stem cells by small molecules", Ian Sands et al. from University of Connecticut with the poster "Biomimetic Electrically Conductive Coating for Enhanced Brain Microelectrode Interface", and Yasaman Aghil et al. with the work "Electroactive Gelatin Fibrous Scaffolds for Promoting Cell Adhesion, Growth, and Infiltration".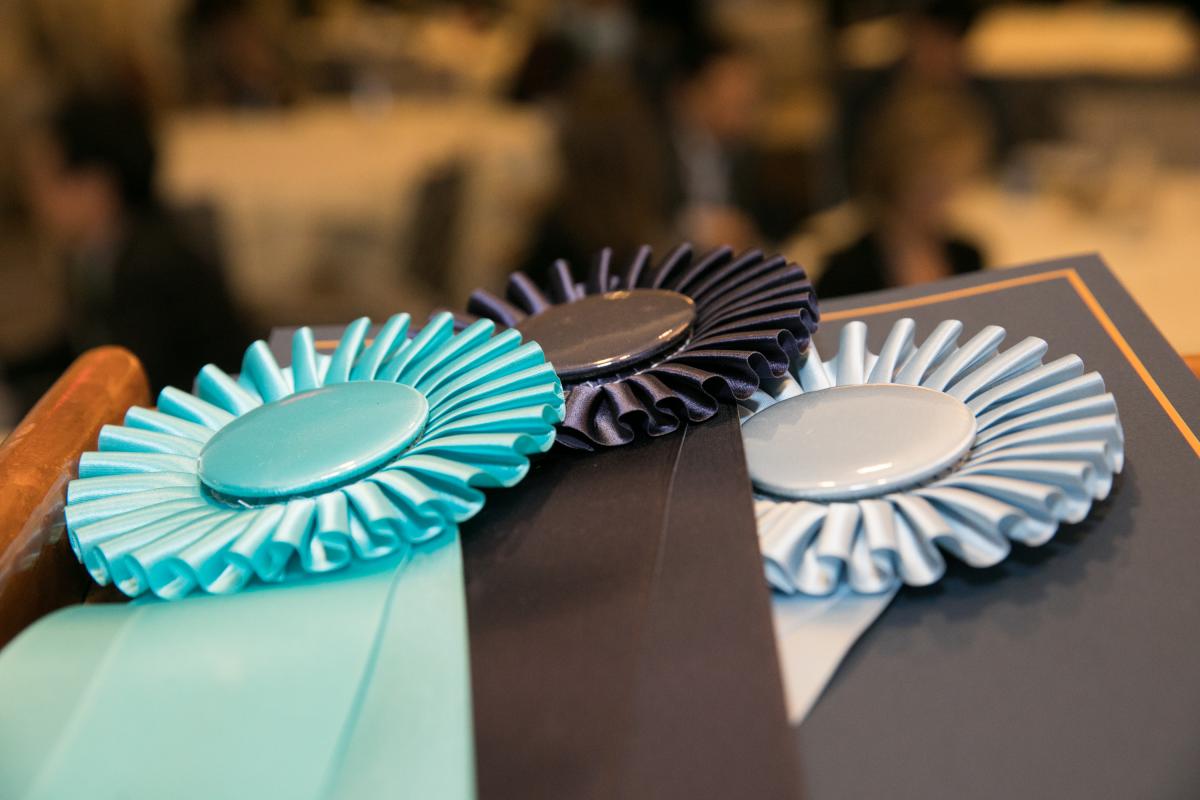 New Innovator Faculty Award
Throughout the parallel sessions spread across the conference, eight finalists for the New Innovator award for Junior Faculty gave talks on their work. The parallel sessions were a huge hit, with fantastic presentations and audience engagement consistent through both days. Out of the finalists, Dr. Xi Ren, with his talk titled "It Takes a Heart to Make the Lung: Recapitulate Human Cardio-pulmonary Co-development Using Stem Cells", was selected for the New Innovator Award. This award recognizes the accomplishments of researchers in the early stages of their independent career.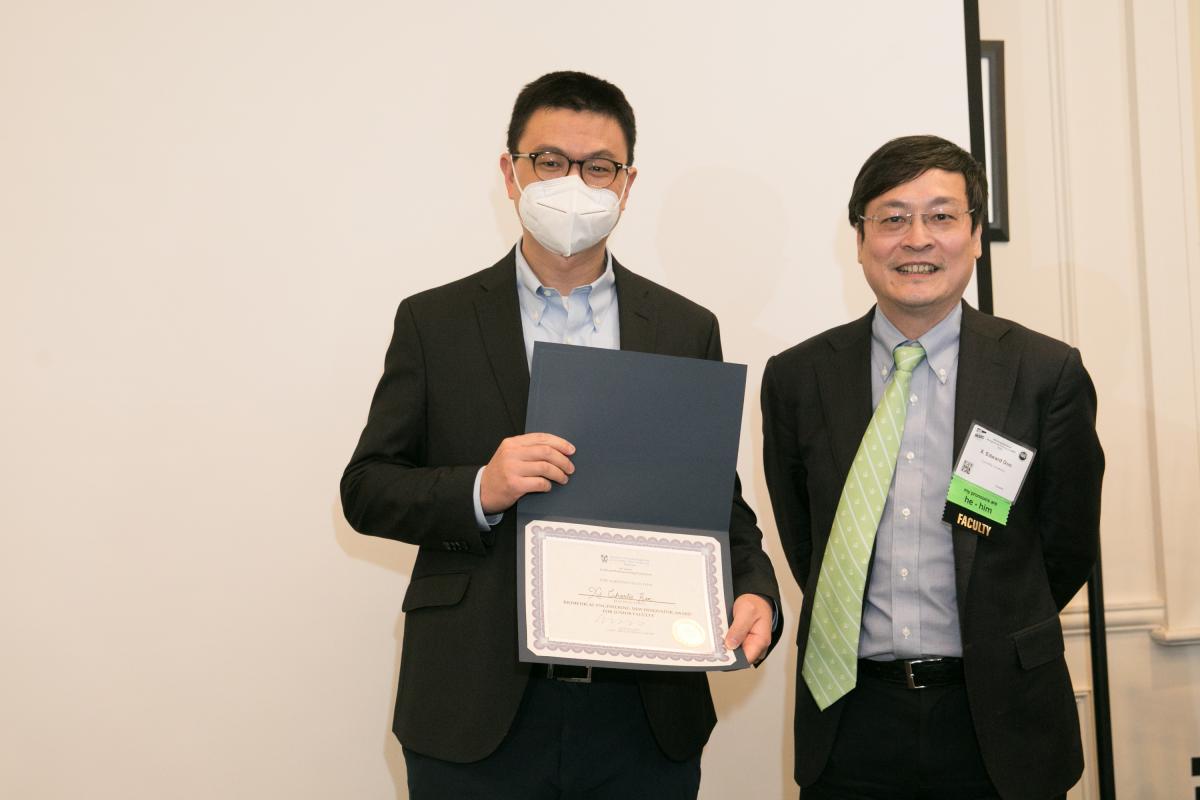 Acknowledgments
All in all, NEBEC was an action-packed two days full of scientific discussion and building relationships in the biomedical engineering community. Congratulations to all award winners and everyone else who participated! The event would not have been possible without the session chairs, organizing committee, judges, and 34 Columbia BME undergrad and grad student volunteers who kept everything running smoothly. A special thanks goes to platinum sponsors Columbia Department of Biomedical Engineering, NYU Tandon School of Engineering, the National Science Foundation, IEEE EMBS, and Regeneron; gold sponsors Brown Department of Biomedical Engineering and Johns Hopkins Department of Biomedical Engineering; silver sponsors Pitt Department of Bioengineering and University of Delaware; and bronze sponsors CEMB, Drexel University School of Biomedical Engineering, Science, & Health Systems, Cornell University Meinig School of Biomedical Engineering, and Soterix Medical, Inc.
The ability to share a mutual love for science face-to-face was a breath of fresh air (masked, of course), all thanks to the organizers who worked tirelessly to pull off a safe and responsible in-person conference. Many left the conference energized with a new optimism for the future of the biomedical engineering field. I think I speak for us all when I say: it's good to be back!
Photo Gallery
Warm thanks to our conference attendees and to our photographer, Timothy Lee Photographers, for helping us capture the magic at NEBEC 2022! Check out the full photo album here.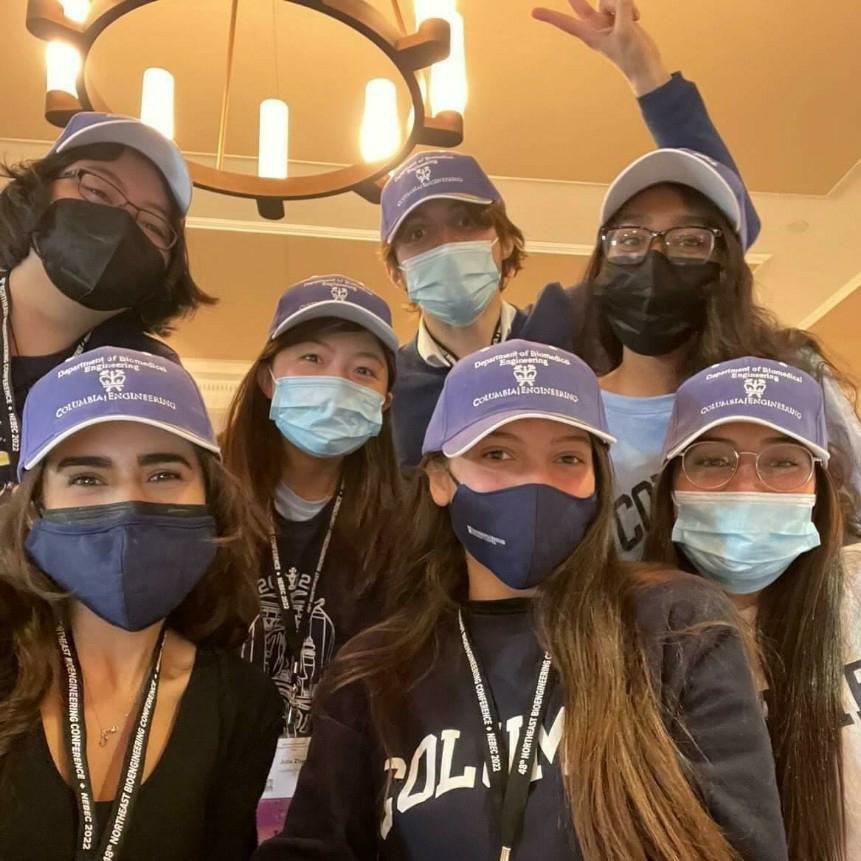 Conference Prep Toolkits
Are you excited to attend the next conference? Worried about getting back into the swing of things after two years of virtual events, or preparing to attend a conference for the first time? One of the best things about scientific conferences is the opportunity for researchers to come together and share the latest work in their fields. In particular for biomedical engineering, which spans many disciplines to bring together biology, medicine, and engineering, conferences provide a unique space for cross-talk between subfields that can lead to new ideas and collaborations. Therefore, networking is an essential, yet sometimes intimidating, component of events like NEBEC. Similarly, giving a poster presentation or talk is a great way to share your work with others, but it can be nerve-wracking. In general, thinking about how to prepare for a conference in order to make the most of it socially and professionally can seem overwhelming. With this conference preparation toolkit, you'll be on your way to an enjoyable and productive experience at your next conference!