March 2022 - BME Blaze: Smruthi Suryaprakash
Mar 01 2022
In this monthly spotlight, get to know the alumni, students, and scientists of Columbia's Department of Biomedical Engineering. Read what our BME folks are up to, from our labs' latest research, to our students' plans for the future, to our teams' innovations, start-ups and other career successes.
We enjoyed catching up with Columbia BME alumna (PhD '18) Smruthi Suryaprakash as she told us about her experience at Columbia and her journey to become a Principal at Boston Consulting Group. Read below to get to know Smruthi!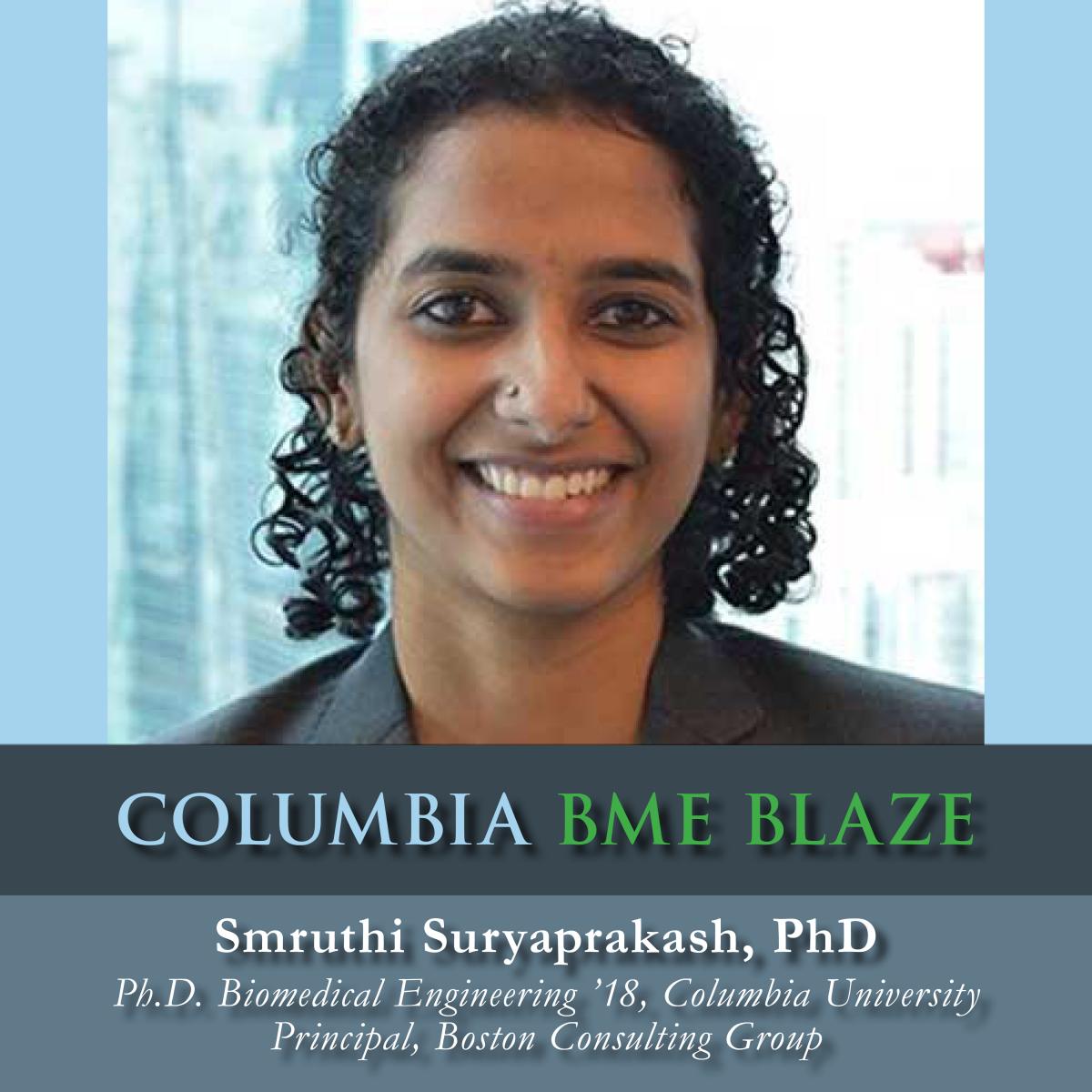 Smruthi Suryaprakash
PhD, Biomedical Engineering, Columbia University, 2018
Where are you from?
Chennai, India
What drew you to the field of Biomedical Engineering?
The possibility of being able to engineer our own cells to solve many unmet needs  
What is your current role?
Principal, Strategy Consulting at Boston Consulting Group
Why did you choose Columbia BME?
For its world class facility and professors  
What have been some of your favorite projects/memories from the Columbia BME program?
Demonstrating fun science experiments, organizing lab tours for STEM schools across NYC through the New York Academy of Science  
What was your proudest moment at Columbia?
Publishing my first paper as a lead author
How has your experience with Columbia BME contributed towards your goals? 
My PhD has set me up with the skills such as analytical and problem-solving skills, which were critical to my success at BCG.
What are your thoughts on the strength of Columbia BME's alumni network and how has that influenced your career path?
During recruiting, I came across several accomplished alumni that were willing to go above and beyond to share their journey and support my career.
Any words of wisdom or tips for prospective BME students?
Explore opportunities to widen your experience beyond the lab.
What are you excited about?
I am excited about the advancements in Biomedical Engineering that have now moved from the lab to industry.