May 2023 - BME Blaze: Sonia Bansal
May 01 2023
In this monthly spotlight, get to know the alumni and students of Columbia's Department of Biomedical Engineering. Read what our BME folks are up to, from our labs' latest research, to our students' plans for the future, to our teams' innovations, start-ups, and other career successes.
We enjoyed catching up with Columbia BME alumna Sonia Bansal as she discussed her experience as a Columbia BME student. Read below to get to know Sonia!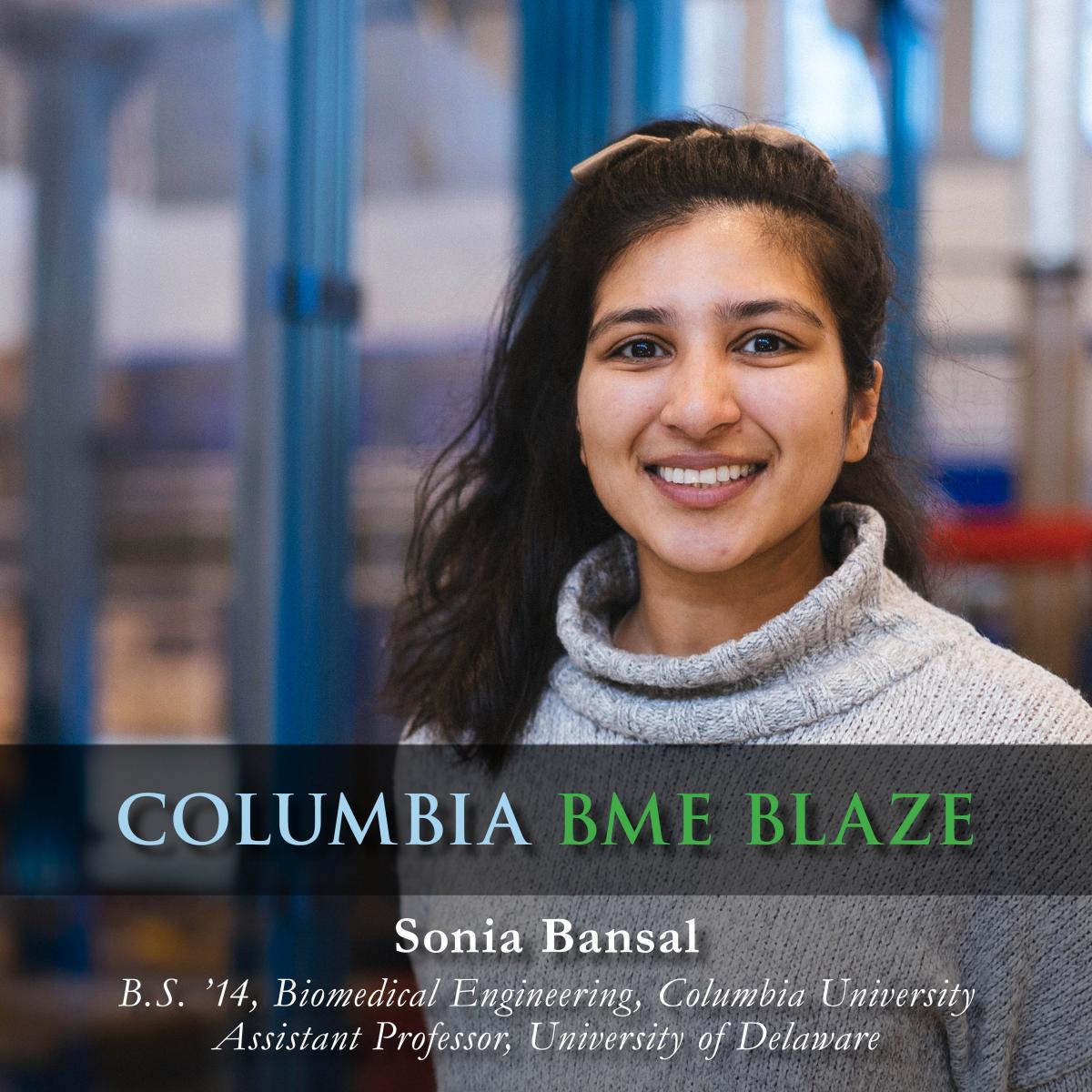 Education
B.S. '14, Biomedical Engineering, Columbia University
Ph.D. '20, Bioengineering, University of Pennsylvania
Where are you from?
Long Island, NY
What drew you to the field of Biomedical Engineering?
I was really excited to build or create something, and I loved biology in high school. When I learned about BME, it felt like a perfect fit! I visited Columbia for admitted students' weekend and attended the BME demos and really enjoyed learning about all of the possibilities in the field. 
What is your current role?
I am an Assistant Professor at the University of Delaware, where I primarily teach and mentor undergraduate students. I teach multi-year design curricula, Biomechanics, and Biotransport. I also work with students on professional development and post-graduation career plans.
Why did you choose Columbia BME?
I was excited about the strong liberal arts curriculum at Columbia and couldn't wait to live in New York City!
What were some of your favorite projects/memories from the program?
Senior design is definitely a highlight – our team developed a pressure-sensitive insole for runners to track their athletic performance. It was connected to an app via a Bluetooth receiver. We brought a treadmill to the senior design showcase and let people try the device! The other is presenting my summer research from the Cellular Engineering Lab at the Biomedical Engineering Society Annual Meeting in 2014. It was my first time going to a national conference, and I learned a lot about BME research.
What was your proudest moment at Columbia?
Graduation! Studying engineering isn't always easy, but it was always a fulfilling experience. It was great to get to celebrate graduation with my classmates.
How has your experience with Columbia BME contributed towards your goals?
The education and research opportunities I got at Columbia BME opened so many doors for me. Without summer research in the department, I would not have been prepared to apply to or attend graduate school, and I still think back to the classes I took in college as I develop the courses that I teach. I am very thankful for the continued support of my academic mentors, Dr. Clark Hung and Dr. Henry Hess, as I continue on in my career.
Any words of wisdom or tips for prospective BME students?
Take advantage of as many opportunities as you can, in and out of the department!
What are you excited about?
I'm heading to Vail, Colorado, for a conference where I will be presenting some teaching-related research. I am excited to meet up with colleagues and learn from them.
The education and research opportunities I got at Columbia BME opened so many doors for me.