Meet Our Fall 2021 Graduate Fellows & Scholars
Sep 20 2021 | By Alexis Newman
DOCTORAL FELLOWSHIPS & SCHOLARSHIPS
Van C. Mow Fellowship
Established in 2018 by Yuling Wei to provide fellowships to doctoral students enrolled in SEAS who are or plan to be engaged in biomedical research.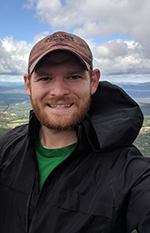 Cody Slater
Graduate Research Assistant, Laboratory for Neural Engineering and Control
PI: Qi Wang
Cody is an MD-PhD student working in the Laboratory for Neural Engineering and Control. His interests are centered on understanding the brain as a complex dynamical system that results from the differential modulation of multiple neurotransmitter networks. By exploring the relationship between brain-machine-interface technologies and the corresponding cell-level modulation, much of his work is aimed at gaining closed-loop control over complex brain functions and contributing to the treatment of neuropsychiatric and neurodegenerative disorders. Prior to beginning his PhD work, Cody completed three years of medical school at Columbia Vagelos College of Physicians and Surgeons and plans on continuing on to neurosurgery residency and a career as a surgeon and neural engineer. Originally from West Texas, he attended undergrad in MA where he received his B.S. in Aerospace Engineering from Worcester Polytechnic Institute in 2016 and worked on a variety of radar and spacecraft based projects at Massachusetts Institute of Technology until 2018.
It is a tremendous privilege to receive the Van C. Mow Fellowship. Beyond my shared origin with Dr. Mow in aerospace engineering, I intend to take his pioneering spirit to heart as I embark on my own path in a newly emerging field. I have not always had such a strong support system behind me, and I am eternally grateful to receive such now. My goal is to contribute to a vibrant and thriving community of young scientists focused on improving the lives of others through our work.
Blavatnik Doctoral Fellowship
Established in 2018 through the generosity of Access Industries founder and chairman Len Blavatnik MS'81, the Blavatnik Doctoral Fellowships support innovative research at the intersection of medicine and engineering. Now in its third year, the program provides resources for a new cohort of doctoral students whose research ranges from novel devices for faster diagnosis to using machine learning to uncover brain function.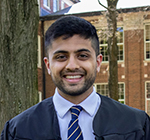 Parth Gami
Graduate Research Assistant, Ultrasound Elasticity Imaging Laboratory
PI: Elisa Konofagou
Parth Gami joins the Ultrasound Elasticity and Imaging Laboratory (UEIL) led by Dr. Elisa Konofagou as an MS-leading-to-PhD student. He completed his bachelor's degree in biomedical engineering at the Georgia Institute of Technology in Spring 2021. As an undergrad, Parth's research focused on the development of low-cost diagnostic devices for low-resource settings. As part of UEIL, Parth will develop and investigate ultrasound processing techniques for vascular disease detection. In his free time, Parth enjoys playing and watching sports, photography, and exploring NYC.
I am grateful to have been selected to receive the Blavatnik Fellowship and am excited to spend my time as a graduate student at Columbia University!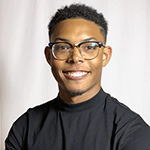 Howard James Nicholson III
Graduate Research Assistant, Cellular Engineering Laboratory
PI: Clark Hung
Howard Nicholson III graduated from the University of Maryland Baltimore County with a B.S. in Chemical Engineering and minor in music. This fall, Howard is starting in the Biomedical Engineering M.S./Ph.D. Program working under the mentorship of Dr. Clark Hung in the Cellular Engineering Laboratory to understand how physical and chemical stimuli impact cells and tissues in order to incorporate these forces in strategies for developing functional tissue substitutes of clinical relevance. He is also interested in investigating how bias and racism may lead to inequity in healthcare and biomedical innovation.
I am so grateful and excited to receive this fellowship and am looking forward to the research that I will be able to conduct!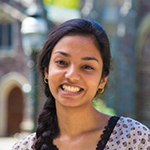 Mathini Vaikunthan
Graduate Research Assistant, The Chemical Genomics Laboratory
PI: José McFaline-Figueroa
Mathini Vaikunthan is interested in the application of high-throughput technologies to understand and combat drug resistance. She has previously worked in the lab of Professor Mark Brynildsen at Princeton University to develop synergy screening techniques to find potential anti-virulence therapies for E. coli infections. After graduating, she joined Deloitte Government and Public Services as a consultant to work on issues of public health. She will be joining the lab of Professor José L. McFaline-Figueroa to develop single-cell genomics tools and subsequently deploy these tools against aggressive tumor types that frequently fail the standard-of-care.
I am extremely grateful to have been awarded this fellowship to study at Columbia. From the generous financial aid support at Princeton University to the unique Blavatnik fellowship for life science innovation at Columbia, I have been extremely lucky in my academic journey and I hope this allows me to both contribute to new health solutions and mentor the next generation of scientists.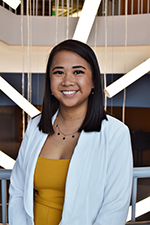 Christia Victoriano
Graduate Research Assistant, Microfluidics For Point-Of-Care Diagnostics And Therapeutics
PI: Sam Sia
Originally from Pensacola, Florida, Christia Victoriano is an incoming MS/PhD student. She graduated from Vanderbilt University in 2021 with a bachelor's degree in Biomedical Engineering. As an undergraduate, she worked to develop streamlined, cost-effective molecular diagnostic assays for viral pathogens such as Zika, Influenza, and SARS-CoV-2. For her doctoral studies, she will be conducting research in Professor Sam Sia's lab. She is interested in utilizing microfluidics to develop fully-integrated diagnostic tests in order to expand access to medical testing in low-resource areas.
I am deeply honored and grateful to be supported by the Blavatnik Fellowship, and I am looking forward to the opportunity to contribute to highly impactful research here at Columbia.
NSF Graduate Research Fellowship
The NSF Graduate Research Fellowship Program (GRFP) recognizes and supports outstanding graduate students in NSF-supported STEM disciplines who are pursuing research-based master's and doctoral degrees at accredited US institutions. The five-year fellowship includes three years of financial support including an annual stipend and a cost of education allowance to the institution.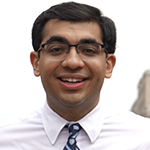 Neeraj Sakhrani
Graduate Research Assistant, Cellular Engineering Laboratory
PI: Clark Hung
Originally from Queens, NY, Neeraj Sakhrani completed his undergraduate studies at Columbia College. He is excited to be staying in NYC as a BME MS/PhD student in the Cellular Engineering Lab under the mentorship of Professor Clark Hung. His research interests include tissue engineering and investigating the mechanobiology of synovium to study etiology of osteoarthritis and its correlation with diabetes. In his free time, Neeraj enjoys pick-up basketball games, playing tennis, traveling, and trying new foods across the city.
I was so excited to be staying at Columbia. I can't wait to continue my journey here and make more friends along the way.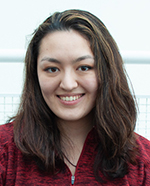 Sophia Windemuth
Graduate Research Assistant, Synthetic Biological Systems Laboratory
PI: Tal Danino
Sophia is a first-year MS/PhD student and NSF fellow in Biomedical Engineering (BME) studying drug delivery and synthetic biology solutions to brain cancer in the Leong Lab and Danino Lab. She loves teaching, and plans to continue in academia after graduation. She grew up in Boston, MA, and went to Cornell University for her undergraduate degree in BME and computer science.
I was in a state of euphoria when I found out that I got the NSF fellowship. For me, this fellowship wasn't just validation of my hard work up to that point, but also a launchpad to the research career that I had previously only dreamed of.
Presidential Distinguished Fellowship
These fellowships are awarded annually to selected incoming Ph.D., Eng. Sc.D., and masters/Ph.D. students. Fellowships include tuition plus an annual stipend for up to four years, including three months of summer research.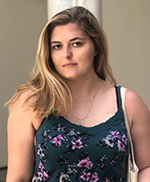 Lauren Chiriboga
Graduate Research Assistant, Fowler Memorial Laboratory
PI: Elizabeth Olson
Lauren Chiriboga is thrilled to be joining the Biomedical Engineering department as a MS/PhD student. Lauren graduated with a Bachelors of Science in Physics from NYU in 2021 where she conducted her undergraduate research in variance adaptation and decision making in Drosophila Melanogaster larva. Her desire to facilitate connections between research in physics and medicine by using a hands-on approach motivates her to pursue a degree in Biomedical Engineering. Lauren will be working with Professor Elizabeth Olson studying the mechanics of hearing. Her goal is to improve the functionality of cochlear implants to aid those with cochlear-based hearing disabilities. In her free time, Lauren loves to travel and practice her photography as well as swim and spend time with her family. She would like to thank her parents and her brother, Matt, for being such incredible role models and extraordinarily supportive.
I am exceedingly honored and grateful to be awarded with the Presidential Fellowship. I can't wait to join the brilliant Columbia community!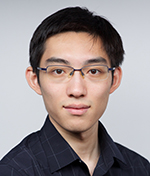 Yinuo Jin
Graduate Research Assistant, Computational Cancer Biology Laboratory
PI: Elham Azizi
Yinuo is pursuing a PhD in the Biomedical Engineering department advised by Prof. Elham Azizi. His current research interests lie in applying machine learning methods on high-throughput sequencing and spatial transcriptomics data to answer biological questions. Previously, he received undergraduate degrees in Physics at Colgate University and Computer Science at Columbia. During his undergraduate studies, Yinuo conducted research including inferring copy number variations from single-cell sequencing and refining Ancestral Sequence Reconstruction algorithms.
I'm super grateful for the support and encouragement from both the department and my advisor Prof. Elham Azizi. I can't wait to continue the exciting journey at Columbia!
Taiwan Columbia Scholarship
The Taiwan Columbia Scholarship was established by Taiwan's Ministry of Education (MOE) and Columbia University in 2014 to provide scholarship funding for students from Taiwan to undertake a Doctor of Philosophy (Ph.D.) program at Columbia. A student who has been accepted into the university and awarded a Taiwan Columbia Scholarship will have all tuition and fees fully funded by the program and receive a living stipend, for a period of three years.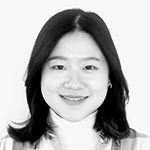 Yu-Yu (Linda) Chen
Graduate Research Assistant, Synthetic Biological Systems Laboratory
PI: Tal Danino
Yu-Yu (Linda) Chen is a first-year Biomedical Engineering PhD student. She completed her undergraduate degree in Chemistry from University of Illinois Urbana-Champaign, and her master degree in Biomedical Engineering from Cornell University. She is currently working in the Danino Lab focusing on utilizing synthetics biology techniques to create bacterial therapy for non-cancerous diseases such as tuberculosis. Receiving the Taiwan Columbia Scholarship was a great honor and motivation for her.
Dean's Fellowship
Bestowed upon outstanding PhD students in engineering.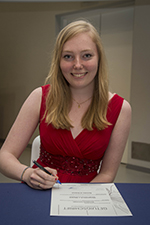 Margaretha Morsink
Graduate Research Assistant, Laboratory for Stem Cells and Tissue Engineering
PI: Gordana Vunjak-Novakovic
Margaretha Morsink is starting her doctoral degree at Columbia University in the lab of Prof. Dr. Gordana Vunjak-Novakovic this fall. Originally from the Netherlands, she graduated cum laude with a master's degree at the University of Twente in Biomedical Engineering, specializing in Bioengineering Technologies. Her research focused on the ER-to-Golgi trafficking of mucin-2, providing insights in the pathophysiology of inflammatory bowel disease. Previously, she worked in the lab of Dr. Shin at Harvard Medical School to develop an in vitro tissue model of liver fibrosis. She is thrilled to pursue cutting-edge research in engineering functional tissues in the lab of stem cells and tissue engineering in the city of New York!
Wow, I am so honored to be chosen as a Dean's Fellow!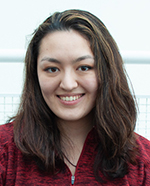 Sophia Windemuth
Graduate Research Assistant, Nanotherapeutics and Stem Cell Engineering Laboratory
PI: Kam Leong
Sophia is a first-year MS/PhD student and NSF fellow in Biomedical Engineering (BME) studying drug delivery and synthetic biology solutions to brain cancer in the Leong Lab and Danino Lab. She loves teaching, and plans to continue in academia after graduation. She grew up in Boston, MA, and went to Cornell University for her undergraduate degree in BME and computer science.
MS FELLOWSHIPS & SCHOLARSHIPS
GEM Fellowship
The GEM fellowship provides African-Americans, Hispanic Americans, and Native Americans access to graduate education. The fellowship includes tuition, fees, a stipend, and a paid summer internship. Applicants for this fellowship must be engineering or applied science majors.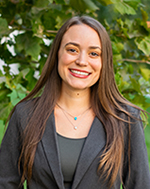 Delfina Rodriguez Briozzo
My name is Delfina Rodriguez and I was born in Buenos Aires, Argentina but was raised in Miami, FL. I recently graduated from the University of Florida with a bachelor's degree in Materials Science and Engineering and a certificate in Biomaterials. I'm excited to pursue my master's degree in Biomedical Engineering with a focus on Tissue Engineering and Entrepreneurship. I've interned at Intel as a Semiconductor Packaging Engineer and at HP as a Quality and Reliability Engineer. I've conducted research abroad at the Materials Science Institute of Madrid, researching thin piezoelectric films for wearable electronics. My specialized knowledge in electronic materials combined with my passion for biology, design, and innovation fuel my dream to create life-changing products for the betterment of healthcare. I've been exposed to fundamental biomaterial concepts guiding cancer research but hope to gain hands-on experience in tissue engineering and regenerative medicine at a renowned institution like Columbia!
I found out I was a GEM Full Scholar by waking up to a text from the Intel Scholar Program manager- I thought I was still dreaming! While this scholarship will directly change my life, I will pay it forward by impacting many other lives as a Biomedical Engineer.
Gates Millennium Scholars Program
The Gates Millennium Scholars (GMS) Program, funded by a grant from the Bill & Melinda Gates Foundation, was established in 1999 to provide outstanding African American, American Indian/Alaska Native, Asian Pacific Islander American, and Hispanic American students with an opportunity to complete a graduate degree program in one of the following discipline areas: computer science, education, engineering, library science, mathematics, public health or science.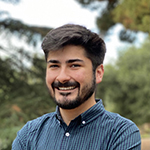 Bryan Aldana
Bryan Aldana is a recent graduate from Stanford University majoring in Bioengineering and minoring in Education. At Stanford, he was part of a team that created a medical device standardizing the measurement of the carotid intima media thickness, a biomarker identifying cardiac health. This experience opened Bryan's idea to a career in MedTech leading to his role as an R&D Intern at MicroVention-Terumo where he joined a team of engineers to roll out the next generation of flow-diverters to combat aneurysms. Bryan hopes to further explore medical devices at Columbia University in the pursuance of a Master's in BME. He hopes to gain in-depth knowledge within his coursework. He is joining the Sia lab where he will work as a research assistant in sensing, extracting and tracking molecular compounds for a non-invasive preventative device. Bryan is excited to continue pursuing experiences that allow him to help those that need it.
I am so honored to be joining a group of scientists and engineers hoping to make the world a  better place and receiving this fellowship has made this opportunity that much more accessible!
Dean's MS Academic Excellence Fellowship
Bestowed upon outstanding Master of Science students in engineering.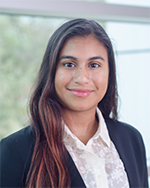 Sarah Cheeran
I graduated from the University of Texas at Dallas (UTD) with a B.S. in Biomedical Engineering (BME). This fall, I will be pursuing an M.S. in BME, specializing in Design, Innovation, and Entrepreneurship at Columbia University. My undergraduate and industry research background, culminating in 7 publications, bolstered my analytical and collaborative abilities. At UTD, I researched sweat-based biosensors measuring real-time physiological parameters. As an R&D Biotech Engineer, I worked on DoD-funded projects involving wearable sensors/medical devices/human performance metrics, collaborating with Army/Navy/DMEA. At Columbia, I will be working under Dr. Qiao Lin's mentorship in the BioMEMS Laboratory, researching real-time biomarker detection in various physiology solutions on graphene-based field-effect transistor nanosensors. Dr. Lin's pioneering work in microelectromechanical technology for implantable affinity biosensors for glucose detection is what initially drew me to his lab. I am very excited to see what my future as a Columbia engineer has in store for me!
I am honored to have been awarded this fellowship and would like to express my gratitude to Columbia SEAS. I strive to embody the mission and vision of Columbia engineering by continuing on the path to become an innovator and leader in advancing technology for humanity.