October 2021 - BME Blaze: HaYeun Ji
Oct 01 2021
In this monthly spotlight, get to know the alumni, students, and scientists of Columbia's Department of Biomedical Engineering. Read what our BME folks are up to, from our labs' latest research, to our students' plans for the future, to our teams' innovations, start-ups and other career successes.
We loved catching up with Columbia BME alumna HaYeun Ji (PhD '18), as she reminisced about her experience as a Columbia BME student, and told us about her current role as a scientist at Advanced Cell Diagnostics. Read below to get to know HaYeun!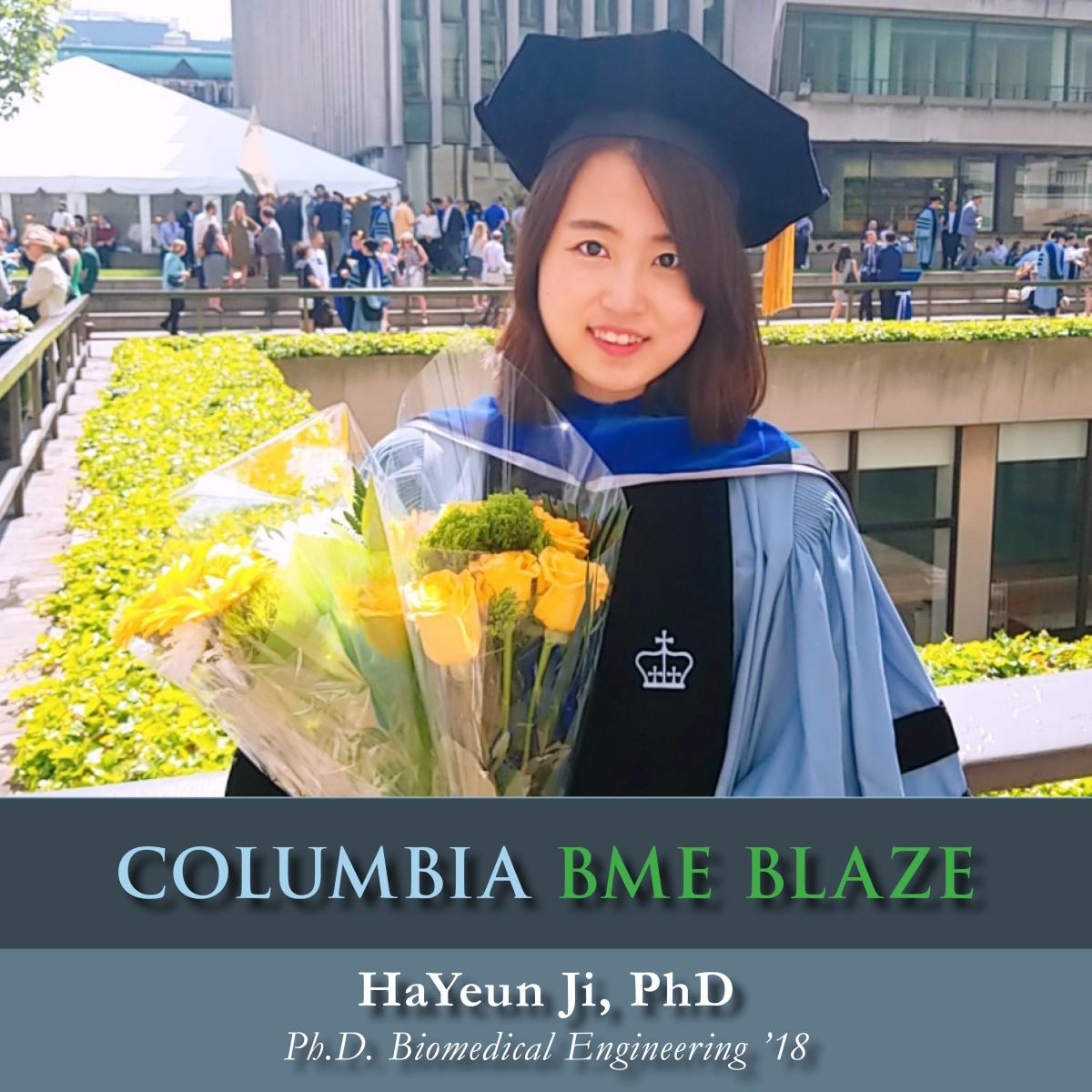 HaYeun Ji, Ph.D.
Ph.D., Biomedical Engineering – 2018 – Columbia University
Where are you from?
I was born in Seoul, South Korea, although I spent most of my childhood and pre-college school years in Thailand and Singapore. I went back to South Korea for undergraduate, and then came to the U.S. for graduate school.
What drew you to the field of Biomedical Engineering?
During my undergraduate, I had the opportunity to start a summer research project in a tissue engineering lab. My undergrad major was in Biological Sciences, and this was the first time I got to experience how biological knowledge can be applied to engineer a biological construct that has so much potential for therapeutic applications. I realized that while I really enjoyed discovering a new knowledge, I was more fascinated by applying that knowledge and building something helpful for those in need. As I looked for more research opportunities, I found that my interest exactly matches what Biomedical Engineering labs pursue, and it would be a great fit for me to continue study in this major.
What is your current role?
I'm currently working as a scientist at Advanced Cell Diagnostics, a Bio-Techne brand, which develops RNA in situ hybridization (ISH) assay products, such as RNAscope. My role is to perform assay optimization and develop new assays that incorporate RNA ISH technology.
Why did you choose Columbia BME?
I followed my advisor, Professor Kam Leong, when he and the lab moved to Columbia BME. I chose to continue working at Professor Leong's lab, because I wanted to continue with the tissue engineering blood vessel project I was working on under his guidance. When I got to Columbia, I was very glad to find that Columbia BME has great resources, leading experts in BME, and ease of collaboration with the medical center (CUIMC).
What were some of your favorite projects/memories from the program?
The program helped me connect with so many opportunities within and outside campus that I'm really grateful for. I really enjoyed organizing and participating events with the BME student organization (GoBME), GradSWE members, NYC-student groups with other colleges in the area, and NYAS STEM mentoring program.
What was your proudest moment at Columbia?
My proudest moment at Columbia was my thesis defense. Going back through six years of my research projects and reflecting on everything that happened throughout the years made me realize how fortunate I was to be part of this great community of researchers. My research work would not have been possible without the continuous inspiration and support from fellow students and professors.
How has your experience with Columbia BME contributed towards your goals? What are your thoughts on the strength of Columbia BME's network and how has that influenced your career path?
Through Columbia BME's numerous networking and volunteering opportunities, I was able to network with various people within and outside campus. By engaging with people with different backgrounds, interests and passions, I was able to reflect on what my passion and strengths are, and this helped me a lot in deciding my career path in the industry. As an alumna, I connect with Columbia Club of Northern California, and it's great to see that we constantly have a lot of networking and volunteering events ongoing.
Any words of wisdom or tips for prospective BME students?
My advice would be to work hard, but also remember that you are living in NYC after all! Spend fun and memorable time with classmates and gradually start to explore what Columbia can offer to help you build your career path. You can take advantage of all the research seminars, networking events, and volunteer opportunities offered by Columbia (within and outside BME) and other universities / organizations in the NYC area. The volunteer and outreach activities can help you find out what your interests and strengths are, and alumni talks and career panels will help you get indirect experience of various career paths you could take.
 When I got to Columbia, I was very glad to find that Columbia BME has great resources, leading experts in BME, and ease of collaboration with the medical center (CUIMC).