Inaugural Applications Open for Integrated Musculoskeletal Training Program
May 09 2023 | By Harry Kelso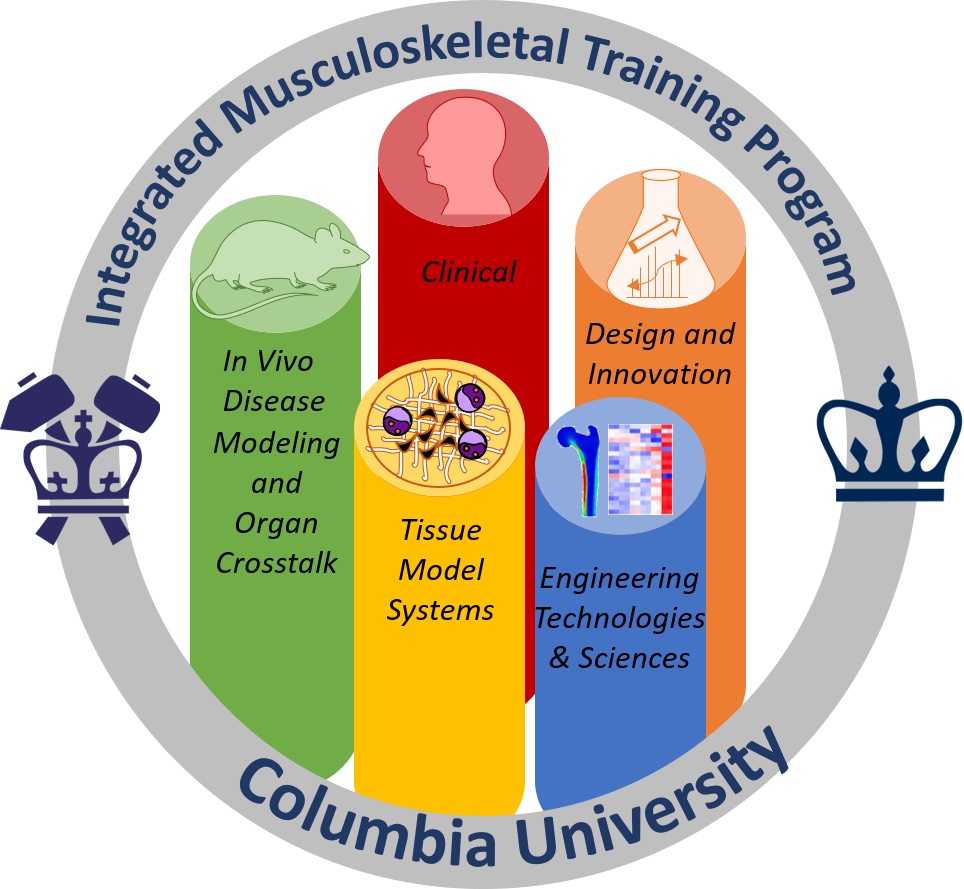 Columbia University's Department of Biomedical Engineering is launching a predoctoral Integrated Musculoskeletal Training Program (IMTP). This NIH-funded T32 training program will establish a unique training paradigm in musculoskeletal disease. In addition to state-of-the-art training in multidisciplinary research in the musculoskeletal field, the IMTP has an added focus on identifying gaps in clinical needs and technology, mentorship, as well as diversity and equity challenges.
"We are very excited to start this first joint Engineering-Medicine NIH T32 training program in musculoskeletal research," said X. Edward Guo, IMTP co-director. "The IMTP is unique in its multidisciplinary training of pre-doctoral fellows by a team of bioengineers, biologists, and clinician mentors." 
Musculoskeletal diseases and injuries continue to be the leading causes of disability worldwide, impacting individual well-being and imposing an enormous socioeconomic burden on healthcare systems. To meet the challenge, recent innovations have ushered in paradigm-shifting scientific revolutions in tissue engineering and regenerative medicine, in vivo and ex vivo disease modeling, sequencing and genomics, high-resolution imaging, and biomechanics. These laboratory developments require multidisciplinary expertise in science, engineering, and medicine to continue accelerating the trajectory of musculoskeletal research and ultimately address unmet clinical needs at the bedside.
However, training in musculoskeletal research continues to be largely siloed into single-discipline approaches and settings. The Integrated Musculoskeletal Training Program (IMTP) brings together world-leading musculoskeletal researchers and clinicians at Columbia University with expertise in biomedical engineering, cell and molecular biology, pathology and cell biology, mechanical engineering, and innovation. The unique predoctoral training program focuses on integrating the multiple disciplines required for cutting-edge research training of the next generation of scientists and engineers in the field.
The IMTP will provide a unique and timely opportunity to promote, enhance, and deepen multidisciplinary musculoskeletal research by supporting trainees with the skills and values needed to enter the biomedical research workforce and to solve the complex problems of musculoskeletal disease in the future.
"Funding support from the National Institute for Arthritis, and Musculoskeletal and Skin Diseases at the NIH is essential for bringing together the pioneering research teams at Columbia University to train a new generation of scientists and engineers and tackle the enormous impact of disease and injuries to our joints and overall physical wellbeing," said Nadeen O. Chahine, IMTP co-director. 
Applications for the inaugural fall 2023 cohort are due by Thursday, June 1, 2023 (new deadline). More information on the program and the application process can be found here.