BME BIO 2021: José L. McFaline-Figueroa, PhD
Sep 21 2021
In honor of National Hispanic Heritage / LatinX Heritage month, get to know our exceptional BME faculty and students.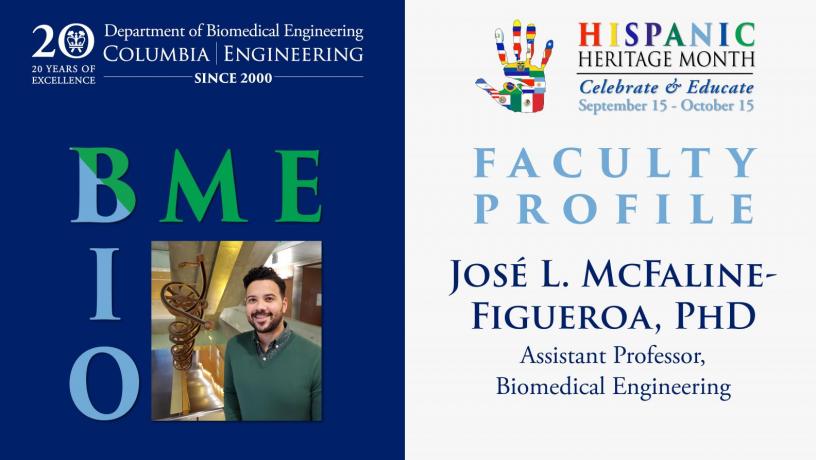 Assistant Professor of Biomedical Engineering, Columbia University
What drew you to Columbia BME?
Many things drew me to Columbia and Columbia BME. My laboratory focuses on developing and applying single-cell genomic tools to define how cells respond to therapeutic exposure. The Department's interdisciplinary nature makes it an ideal environment for my research program to work with researchers to understand how patients respond to treatment and expand into exciting new directions and applications. The Department's faculty, students, and staff pave the way in cutting-edge research and education. I look forward to contributing to these efforts and help train the next generation of biomedical engineers.
What does National Hispanic / LatinX Heritage Month mean to you?
It is a time to reflect on the many past and continuing contributions of Hispanic and LatinX individuals. It is also an opportunity to highlight that Hispanic and LatinX individuals span many ethnic, cultural, and personal identities, all of which should be celebrated.
Do you have any favorite family traditions, customs, or celebrations?
The holiday season in Puerto Rico is very hard to beat. The music, food, and celebration continue 24/7. Jumping out of bed in the middle of the night for a "parranda' is a particularly fun endeavor.
How did you become interested in STEM?
I have been interested in science and technology for as long as I can remember. However, I did not decide to pursue a career in research until late in my undergraduate studies. During my studies at the University of Puerto Rico at Mayagüez, many of my peers were part of programs such as MARC that focused on preparing undergraduates to pursue graduate studies and careers in STEM research. Through my peers, I learned a lot about what I need to do to pursue academia. I try to keep that in mind now. That is, that when we introduce students to research and STEM, they will share those experiences and, if we strive to make those experiences immersive and positive, they will bring others into the field indirectly.
What advice would you give to someone pursuing a career and/or degree in STEM?
Reach out to departments and institutions to learn about opportunities that are available as early as you can. Many have summer internships and other programs where undergraduate and even high school students can get first-hand STEM experience. In addition, these opportunities give students access to mentoring from various stages of STEM training.
What is your proudest achievement?
Being a husband and a father is at the top of the list. On the professional side, it is incredible that I have the opportunity to have my research laboratory and pursue answers to research questions that could improve the lives of others. It is truly a privilege, and I aim to help those interested in STEM career paths, as did many that have helped me.