Columbia Engineering Faculty Win Numerous Major Grants
Aug 28 2020 | By Holly Evarts
Researchers across Columbia Engineering have recently been awarded a number of prestigious grants to further pathbreaking work on everything from expanding tissue engineering resources to building cheaper, safer, and more powerful batteries
Gordana Vunjak-Novakovic Awarded $6.7 million NIH Grant
Gordana Vunjak-Novakovic, University Professor and The Mikati Foundation Professor of Biomedical Engineering and Medicine, was awarded a five-year $6,714,275 NIH National Institute of Biomedical Imaging and Bioengineering award to support a Tissue Engineering Resource Center.
---
Dan Steingart Wins $4M ARPA-E Grant
Prof. Dan Steingart, Stanley-Thompson Associate Professor of Chemical Metallurgy in the department of earth and environmental engineering and associate professor of chemical engineering, won a $4 million grant from ARPA-E with Primus Power. Under the ARPA-E DAYS program, Columbia Engineering and Primus Power will research and develop a low-cost, long-lifetime, fire-safe battery capable of providing more than 10 hours of electrical energy storage at a levelized cost of energy of under $0.05/kWh.
---
Two Faculty Win NIH MIRA Grants
Karen Kasza, Clare Boothe Luce Assistant Professor of Mechanical Engineering, received a Maximizing Investigators' Research (MIRA) Award from the National Institutes of Health (NIH) for her work to better understand how individual cell behaviors are coordinated to generate complex tissue structure. The five-year $1.95 million grant will support her project, "Mechanisms coordinating cell behaviors within tissues during development." Because many genes and cell behaviors are shared by Drosophila (fruit flies) and humans, she is focusing on basic cell biological mechanisms in the flies as her model organism. Kasza expects her NIH MIRA project will shed light on how improper regulation of these processes can result in birth defects and diseases like cancer and may enable new therapeutic strategies.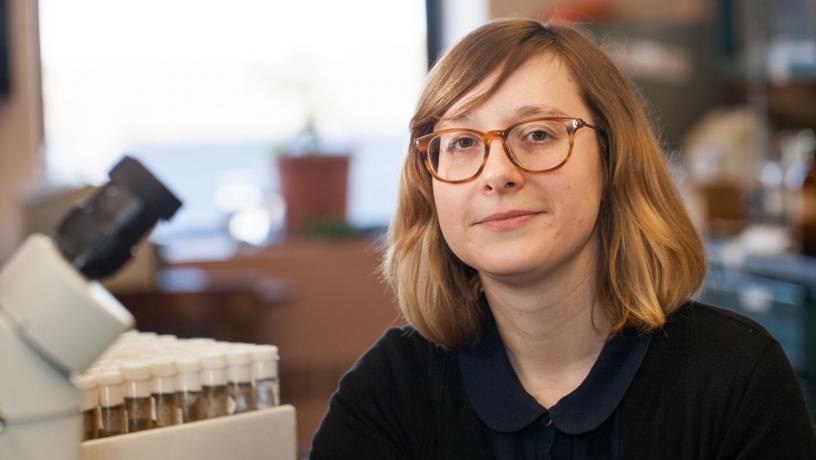 Allie Obermeyer, assistant professor of chemical engineering, won a NIH MIRA award for her work on developing protein-based materials for biomedical applications. The five-year $1.97M grant will support her project, "Development of functional synthetic biomolecular condensates." Obermeyer harnesses the biological and polymeric properties of proteins to create new materials with applications to a number of diseases such as cancer and neurodegeneration. Her research, which encompasses polymer science, biology, and engineering, uses a combination of genetically engineered proteins and synthetic polymers to control protein phase transitions, activity, and stability. Her NIH MIRA project, which is focused on creating enzymatically active synthetic membraneless organelles, or biomolecular condensates, in vitro and in vivo, will help clarify the function of native biomolecular condensates. This understanding could lead to a synthetic biology platform that artificially regulates information flow in the cell, and enable Obermeyer and her team to create self-regulating metabolic compartments to improve the productivity of engineered pathways.