Honoring Engineers Without Borders for Socially Responsible Engineering
May 19 2015 | By Melanie A. Farmer | Photo: Sidney Perkins
Columbia's Engineers Without Borders (EWB) is the recipient of the third annual Robert D. Lilley Prize for Socially Responsible Engineering, in recognition of the group's "commitment to pursuing engineering projects in the developing world through the unique perspective of the Columbia student." The Lilley Prize supports a student club that connects engineering innovation with the betterment of the human condition. In addition, EWB recently was awarded a project materials grant by Alcoa to fund work underway to build a water management system in Morocco.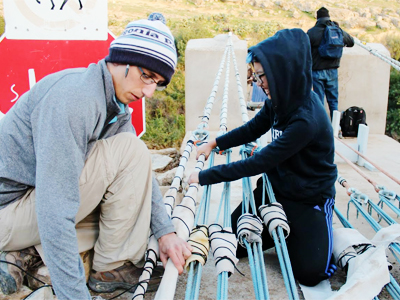 Sidney Perkins '17SEAS (left) is part of the Morocco travel team working on designing and implementing a water management system in Izgouren.
Invigorated by recent accolades and support, EWB student leaders are focused on fundraising and also recruitment, hoping to spread the word that Columbia students of all interests—not just engineering—should join them in the field.
"In keeping with EWB's mission to support sustainable engineering in the developing world, we find it particularly important to encourage a wide breadth of people to get involved," says Chapter Co-President Sidney Perkins, a biomedical engineering rising junior. "We want as many voices at the table with respect to the implementation of our projects, since there are so many considerations that solely engineers might overlook. We need language students. We need poli-sci majors. We are essentially running a nonprofit."
Founded in 2004, the EWB chapter at Columbia works on sustainable engineering projects in communities in Ghana, Morocco, and Uganda. The Ghana program centers its efforts on developing solutions for water management and sanitation in the rural community of Obodan. In Uganda, EWB student volunteers have designed and implemented three rainwater-harvesting systems, and in Morocco, EWB volunteers completed a footbridge in the rural community of Ait Bayoud in the summer of 2013 and are currently working on water projects in nearby Izgouren.
Perkins spent part of winter break working in Izgouren to help construct a shallow well along the river, the beginnings of a clean-water distribution system that will ultimately provide immediate water access to the surrounding villages. An EWB member since his first year at SEAS, he says it is now one of the first things he thinks about when he wakes up in the morning. The work is hard but the rewards are limitless.
"There is plenty of work to do, yet the work is not taxing," he says. "One rests easily with the knowledge that this organization is taking steps to impact people's lives for the better... in the short-term and in the long run."
The Robert D. Lilley Prize for Socially Responsible Engineering is awarded annually by the dean to support a Columbia Engineering student group. Robert D. Lilley '33CC, '35SEAS, who died in 1986, was a former University Trustee and the former president of the American Telephone and Telegraph Company. Helen Lilley, his widow, established the prize in his memory in 2013.