NSF Symposium Kicks Off Launch of New Columbia MechanoMedicine Center
Jun 23 2015 | By Holly Evarts
A new center—the Columbia MechanoMedicine Center (CM2C)—was launched May 1 with an inaugural National Science Foundation (NSF)-Columbia Symposium on MechanoMedicine, hosted by the Department of Biomedical Engineering. The center is focused on mechanobiology, an emerging interdisciplinary field that studies biological mechanisms through the lens of biology and engineering, and is co-directed by Biomedical Engineering Professor X. Edward Guo; Michael Sheetz, William R. Kenan, Jr. Professor of Cell Biology (Arts and Sciences); and Gerard Karsenty, Paul A. Marks Professor of Genetics and Development, professor of medicine, and department chair (Columbia University Medical Center).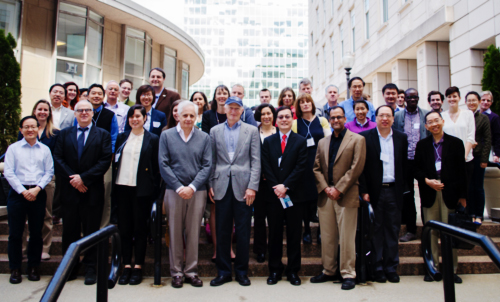 The conference featured 25 preeminent speakers and moderators in mechanobiology, together with more than 100 participants from universities and research institutions across the globe.
Biomechanical factors, such as skin wound healing and plaque creation in blood vessels, are of fundamental importance in biology and medicine and are altered by many diseases, including arthrosclerosis, cancer, and heart disease—and even just aging. These changes are multiscale, and affect both tissue form and function through changes in mechanical forces and the geometry of single cells over time. Researchers have long recognized that understanding how to mechanically modulate cell, tissue, and organ functions is a critical issue in science. The exponential growth of molecular biology, imaging, and computation technology over the past decade has spawned a new field of mechanobiology that is drawing a great deal of interest from experts across the globe.
"We at Columbia have long been interested in mechanobiology," Guo says. "But it's not enough just to understand the mechanics—we need to be able to translate our research into practical, clinical applications. So our symposium came at a critical time in this exciting new field, and we were able to draw researchers from a broad range of disciplines, including genetics, molecular biology, nanotechnology, materials science, mechanical engineering, biophysics, multiscale computation, super-resolution microscopy, system biology, and clinical medicine. This conference successfully kicked off our new MechanoMedicine initiative, and we are excited about extending our work in basic science into effective applications ranging from new therapeutics to enhanced diagnostics."
The conference in May, which featured 25 preeminent speakers and moderators in this new field, together with more than 100 participants from universities and research institutions across the globe, was the result of deliberations over the past year on multiscale mechanobiology with officials from the National Science Foundation's (NSF) Biomechanics and Mechanobiology Program. Last year, Columbia faculty led the initial efforts in organizing the first NSF International Workshop on Multiscale Mechanobiology in Hong Kong.
"After the workshop, we held many conversations among each other and with the NSF," Guo explains, "and it became clear, especially with the launch last fall of the University's Precision Medicine initiative, that we needed a new focus on multiscale mechanobiology and a way to bring biologists, engineers, physical scientists, and clinicians together to collaborate on research and develop practical applications. So we have launched the Columbia MechanoMedicine Center, dedicated to this new field of MechanoMedicine, that will join our faculty from Engineering, Arts and Sciences, and Columbia University Medical Center."
Michael Purdy, executive vice president for research at Columbia, opened the symposium, and Andrew Laine, Percy K. and Vida L. W. Hudson Professor and chair of the department of biomedical engineering, welcomed all guests. Symposium speakers presented new advances in multiscale mechanobiology and clinical applications in MechanoMedicine, from the nucleus to the whole organism. Adam Engler, bioengineering associate professor at UC San Diego, and CT (Chwee Teck) Lim, biomedical engineering professor at the National University of Singapore, showcased the basic science of mechanobiology and its applications in cancer research and cancer screening. Columbia faculty presented cutting-edge research in mechanobiology across disciplines and scales.
"We are planning to issue a whitepaper in MechanoMedicine later this year," Guo adds. "We are very excited about moving forward with the Columbia MechanoMedicine Center—with this new focus, we expect to make rapid advances in translational mechanobiology science. Drawing upon the extraordinary wealth of talent and expertise at Columbia, we look forward to contributing to the university-wide precision medicine initiative and having a large impact on the medical field."
The symposium was funded by the Biomechanics and Mechanobiology Program of the National Science Foundation (NSF), the Department of Biomedical Engineering, and the Bone Bioengineering Laboratory at Columbia University.