SEAS Faculty Teams Win University Research Support
Jul 01 2015 | By Jesse Adams
Columbia Engineering excelled in the University's Research Initiatives in Science & Engineering (RISE) competition, held annually to fund interdisciplinary teams of faculty-level researchers pursuing early stages of imaginative, high-risk, and potentially high-impact research collaborations in engineering, medicine, and the basic sciences. RISE awards, initiated by Columbia University's Office of the Executive Vice President for Research, help researchers map out high-risk proposals and develop proofs of concept to demonstrate their further viability.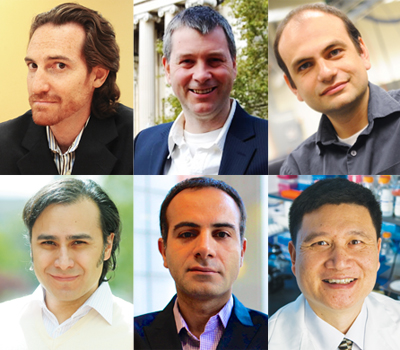 Top, from left: Profs. Barclay Morrison, James Hone, and John Kymissis; bottom, from left: Profs. Tony Jebara, Nima Mesgarani, and Jingyue Ju
"The 2015 winning teams exemplify the ingenuity, creativity, and excellence that so well characterize Columbia's preeminent research enterprise," says G. Michael Purdy, executive vice president for research and professor of earth and environmental sciences. "Without RISE funds, many of these projects may never be realized. Columbia is committed to seeding groundbreaking and high-risk innovations, and encouraging researchers to collaborate across traditional disciplinary boundaries."
From 53 teams that entered this year's competition, six were chosen to receive funding for each project for up to two years. Five of the winning teams included Columbia Engineering faculty. They are:
Since 2004, RISE has awarded $7.4 million to support 56 projects that have gone on to secure an additional $40 million in supplemental funds, including research programs funded by the National Institutes of Health, the National Science Foundation, the Department of Energy, the Department of Defense, NASA, the Howard Hughes Medical Institute, and the Keck Foundation, the Packard Foundation, and the Templeton Foundation, among others.