BME alumna and team wins at 2020 Columbia Venture Competition
May 12 2020 | By Alexis Newman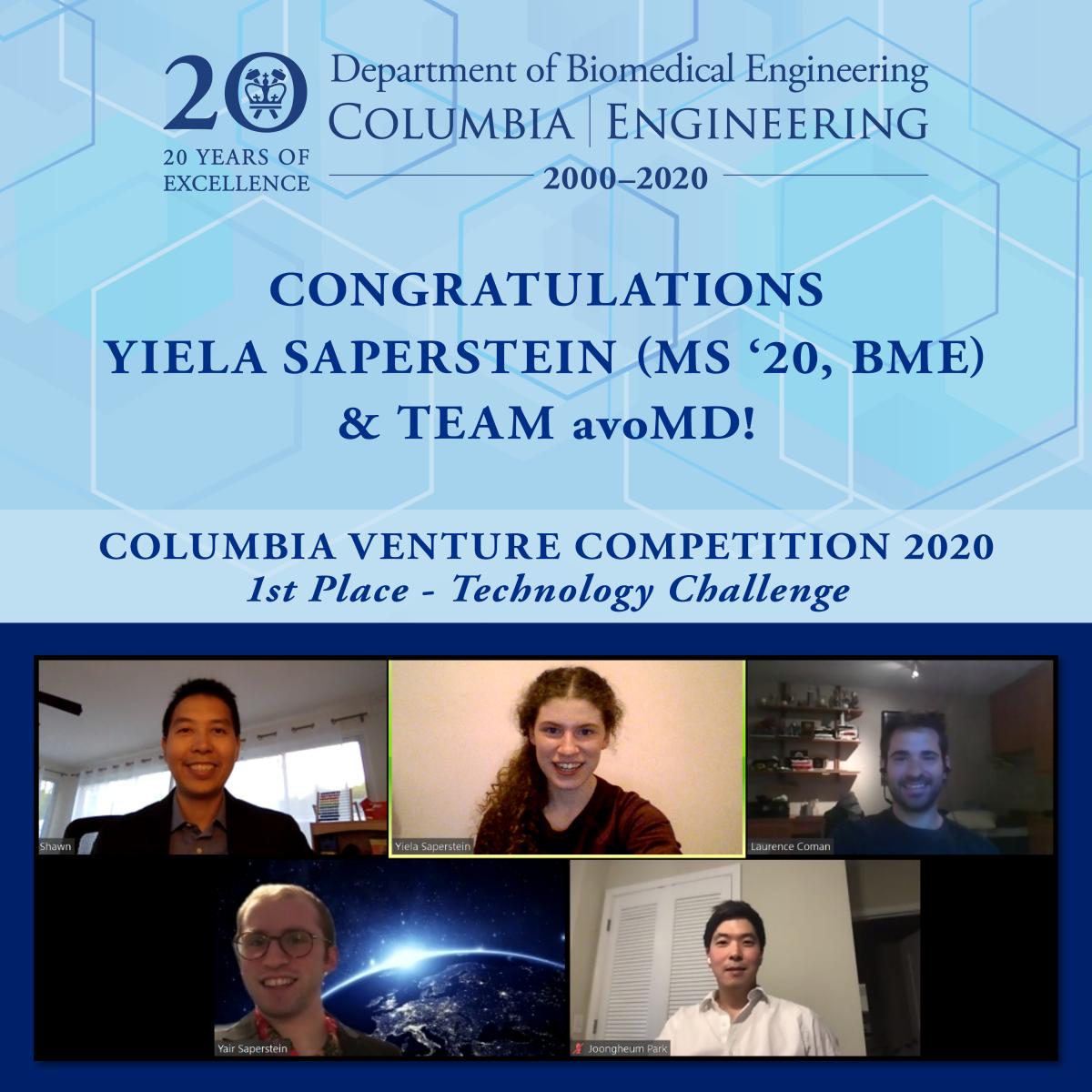 Biomedical Engineering alumna Yiela Saperstein (MS '20, BME) and her team, avoMD, took home $20,000 for their work developing a digital point-of-care personal assistant made for doctors by doctors at the first ever virtual 2020 Columbia Venture Competition in April. The teams pitched via video, with judges joining from around the world, in NYC, San Francisco, and Mumbai. Columbia Engineering sponsored two tracks in this year's competition: The Technology Challenge and the new Urban Works India Challenge. Both tracks  focused on teams developing tech-based solutions, with those competing in the Urban Works Challenge working on sustainability solutions in urban India.
avoMD, a team consisting of Columbia alumni Yiela Saperstein* (MS '20, BME) and Laurence Coman (MBA '20, CBS), along with Dr. Yair Saperstein, Dr. Shawn Ong, and Dr. Joongheum ("PJ") Park (former internist/clinical informatics fellow at New York Presbyterian-Columbia University Irving Medical Center (CUIMC)), won first place in the Technology Challenge. Their app simplifies complicated guidelines & protocols, delivering bite-size knowledge to physicians at the point of care. Per Yiela, "What a fabulous experience it was to share our accomplishments and win 1st place at the Columbia Venture Competition. At times like this, we need innovation more than ever and we thank Columbia Engineering for always encouraging innovation and advancements."
Congratulations to avoMD!
*Yiela participated in the Biomedical Innovation I and II courses taught by Dr. Katherine Reuther and focused on a global health project, creating an oxygen delivery device. That project was recently selected as a finalist in the African Biomedical Engineering Consortium (ABEC) Design Competition. 
Innovation and Entrepreneurship
Read about Columbia's Innovation and Entrepreneurship offerings.
Master of Science in Biomedical Engineeering
Read about Columbia University's Master of Science in Biomedical Engineering.