Meet Our Fall 2020 Doctoral Fellows
Sep 10 2020 | By Alexis Newman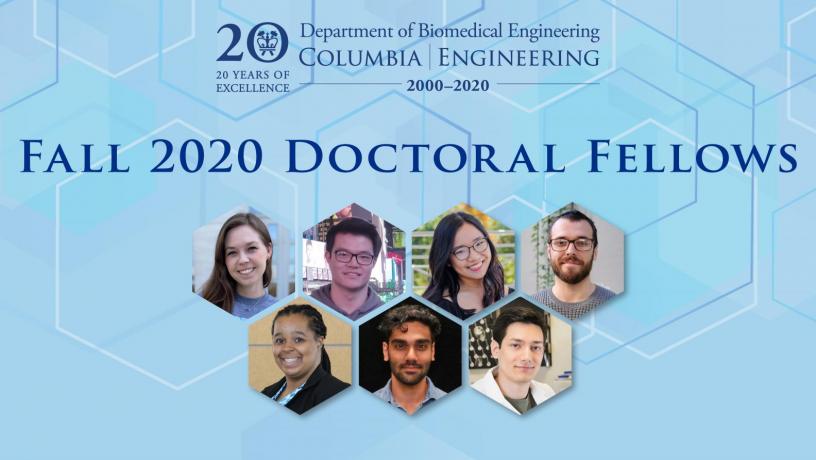 Blavatnik Doctoral Fellowship
Established in 2018 through the generosity of Access Industries founder and chairman Len Blavatnik MS'81, the Blavatnik Doctoral Fellowships support innovative research at the intersection of medicine and engineering. Now in its third year, the program provides resources for a new cohort of doctoral students whose research ranges from novel devices for faster diagnosis to using machine learning to uncover brain function.

Kelia Human
Graduate Research Assistant, Microfluidics For Point-Of-Care Diagnostics And Therapeutics
PI: Sam Sia
Kelia Human began her PhD studies in biomedical engineering at Columbia University in the Fall of 2020, working with Professor Samuel Sia. Originally from Berkeley, California, Kelia graduated from Northwestern University with a degree in biomedical engineering. Kelia is interested in flexible and small electronics for biomedical purposes such as sensing and diagnostic testing. Specifically, she is interested in the potential use of this technology in low resource settings and in underserved communities.
I am excited to have the opportunity to work on research that has the ability to improve the medical field and address real-world problems. I look forward to meeting other fellows and seeing the work they will produce throughout their careers!

Panagiotis Oikonomou
Graduate Research Assistant, Morphogenesis and Developmental Biomechanics Lab


PI: Nandan Nerurkar
Born and raised in Athens, Greece, Panagiotis Oikonomou is an incoming MS/PhD student in the Biomedical Engineering department. As an undergraduate at Columbia University, he worked on multiple research projects, including cancer therapeutics, microfluidic point-of-care devices and tendon repair strategies. In his senior year, his capstone project team (NeuroTrak) designed a wearable for the outpatient monitoring of seizures, coupled with a machine learning algorithm for real-time detection. For his doctoral studies, he will be part of Professor Nandan Nerurkar's group, the Morphogenesis and Developmental Biomechanics Lab, investigating how embryonic tissues grow and change shape to form organs.
I am deeply honored and grateful for receiving the Blavatnik fellowship, allowing me to continue my research here at Columbia.
NSF Graduate Research Fellowship
The NSF Graduate Research Fellowship Program (GRFP) recognizes and supports outstanding graduate students in NSF-supported STEM disciplines who are pursuing research-based master's and doctoral degrees at accredited US institutions. The five-year fellowship includes three years of financial support including an annual stipend and a cost of education allowance to the institution.

Abigail Ayers
Graduate Research Assistant, Microfluidics For Point-Of-Care Diagnostics And Therapeutics
PI: Sam Sia
I'm from Nashville, Tennessee, and I went to Vanderbilt University for my undergraduate degree in biomedical engineering. I'm currently working in the Sia lab with research interests in biomaterials and micro- and nanoscale systems. Aside from research, I enjoy running my podcast called Ladybugging STEM, through which I interview female STEM professionals to build up underrepresented voices in these career fields!
I'm extremely grateful for the opportunity to conduct research with the support of the NSF Graduate Research Fellowship, and I'm excited to start my research journey.
Presidential Distinguished Fellowship
These fellowships are awarded annually to selected incoming Ph.D., Eng. Sc.D., and master's/Ph.D. students. Fellowships include tuition plus an annual stipend for up to four years, including three months of summer research.

Terry Chern
Graduate Research Assistant, Microfluidics For Point-Of-Care Diagnostics And Therapeutics
PI: Sam Sia
Terry Chern joins Biomedical Engineering Professor Sam Sia's lab as a biomedical engineering PhD student. He attended UC Berkeley as an undergrad and graduated with a double major in mechanical engineering and electrical engineering & computer science. Terry credits his desire for pursuing a PhD in biomedical engineering to the simultaneous realization that his engineering skills were directly applicable to biomedical engineering research and lifelong inspiration of seeing his parents' commitment to their line of work in improving the quality of life of their dental patients. With the skills he's developed through his undergraduate experience, Terry is interested in developing novel medical devices and point-of-care diagnostics in the Sia Lab. He hopes that his unique background proves to be a catalyst for inventive ideas that will improve the quality of life of individuals through his research.
I'm honored to have been selected as a recipient of this fellowship, and I'm looking forward to contributing to biomedical engineering research!

Zain Khan
Graduate Research Assistant, Laboratory for Neural Engineering and Control
PI: Qi Wang
I am a first year MS/PhD student joining the Neural Engineering and Control (NEC) lab studying brain stimulation for enhanced sensory processing. I received a double major in Mathematics and Computer Science & Engineering from the University of Iowa this last year and have had previous research experiences there studying machine learning optimization and deep learning network behavior. In my free time I enjoy photography and rock climbing and I look forward to spending a lot of it exploring the city. Moreover, I can't wait to start my research and interact with my peers.
I am sincerely grateful to my advisor, Professor Qi Wang, and the greater SEAS community for this honor. I promise to appreciate the spirit of the Presidential Fellowship and to share it with the community as this award intends.
Juan Rodriguez
Graduate Research Assistant, Laboratory for Nanobiotechnology and Synthetic Biology
PI: Henry Hess
Van C. Mow Fellowship
Established in 2018 by Yuling Wei to provide fellowships to doctoral students enrolled in SEAS who are or plan to be engaged in biomedical research.

Joy Fan
Graduate Research Assistant, Computational Cancer Biology Laboratory


PI: Elham Azizi
Joy is a current doctoral student in Professor Azizi's lab at the BME department. She completed undergraduate training at MIT, where she studied Biological Engineering with a minor in Computer Science. Her previous work at the MIT Synthetic Biology Center involved using deep learning approaches to study the behavior of synthetic circuits in human stem cells. She is excited about working at the intersection of computer science, engineering, and experimental biology, and hopes to develop novel machine learning methods for the study of cancer in the Azizi lab.
I'm beyond humbled and grateful for the support from the department, and I can't wait to become a part of the vibrant research community on campus!

Cameron Holman
Graduate Research Assistant, Electrophysiology, Memory, and Navigation Laboratory


PI: Joshua Jacobs
I'm a student of neuroscience and passionate about brain computer interfaces. Though I grew up in New York, for undergraduate studies I attended UC Berkeley and majored in Molecular Cell Biology and Cognitive Science. After college, I worked as a research assistant investigating neural blastocyst complementation. Ideally, I would like to be a cyborg by the year 2049.
Thank you so much for your support during my graduate studies. I'm excited and humbled to join all of you at Columbia.