BME BIO: DeAnalisa Jones
Nov 10 2020 | By Alexis Newman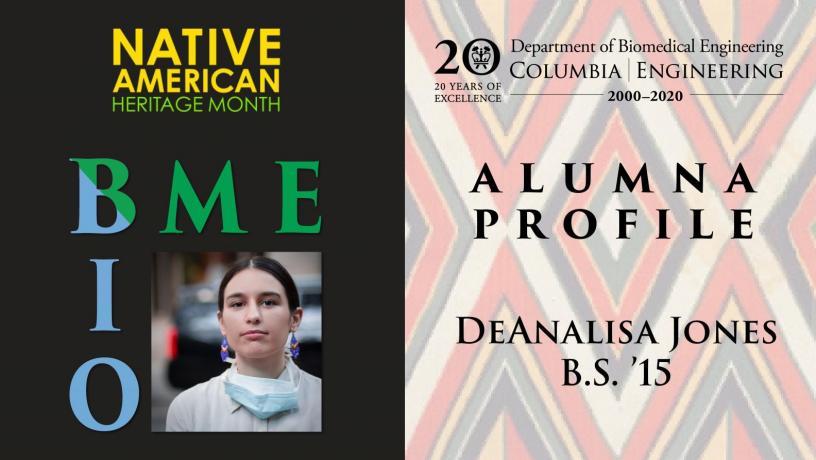 DeAnalisa Jones (B.S. '15, Biomedical Engineering)
DeAnalisa is a third-year MD/PhD student at Icahn School of Medicine at Mount Sinai in New York City. Originally from Tulsa, OK, she is a member of the Cherokee and Muscogee Creek Indian Nations. She graduated as the valedictorian of Catoosa High School in Catoosa, OK and moved to New York City to attend Columbia University in 2011. In 2015, she received a Bachelor of Science in Biomedical Engineering from Columbia University Fu Foundation School of Engineering and Applied Sciences and began the NIH-sponsored Postbaccalaureate Research Education Program (PREP) at Icahn School of Medicine. She also received an NIH Diversity Supplement award for her research during PREP. As an MD/ PhD student, DeAnalisa currently works in Dr. Eric Sobie's Systems Pharmacology Lab building mathematical models of intracellular calcium signaling in heart disease. In addition to her research, DeAnalisa leads the Association of Native American Medical Students (ANAMS) chapter and the Sisterhood Christian Women's Fellowship at the Icahn School of Medicine and volunteers as a student psychotherapist at the East Harlem Health Outreach Program (EHHOP)—a student-run free clinic in Harlem.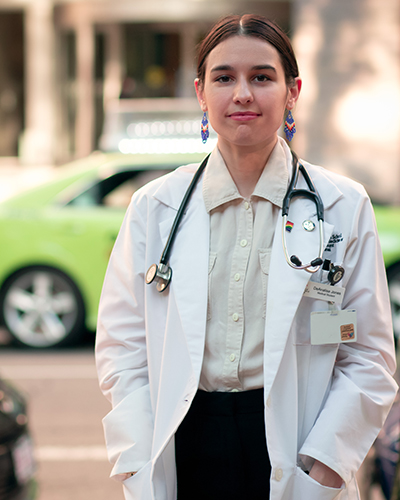 Tell us about your family. Who has/have been your strongest influence(s) in life?
Most of my family lives in Oklahoma, but I'm very close with them and talk to them in some capacity every day. My family, especially my parents, has had great impact on me. My parents are kind people. They're so funny, and they have loved and supported me and my four older siblings unconditionally. They've taught me that no matter what spaces I'm occupying, the most important things are that I'm kind to others and that I'm laughing with and loving the people around me.
Have you gotten involved with the Native American community? If so, tell us about your favorite groups/activities.
I started a chapter of the Association of Native American Medical Students at my medical school last year, and we've started building a small community for Native students. We currently have 2 Native members and many non-Native allies! For Native American Heritage Month, we are hosting a book club where we're reading the book "Black Indians: A Hidden Heritage" together.
How has your Native American heritage influenced your experience as an academic professional in STEM?
I have no doubt that I will be a more compassionate, more thoughtful, and more inclusive physician because of my background. Native people are very family and community-oriented, and we've faced a lot of hardship as a whole. Taking care of one another is a priority to us. Last year, I attended the Association of American Indian Physicians annual meeting for the first time, and it was unlike any scientific or medical conference I had ever been to in that the overwhelming focus was on how we can best care for our people. That was it. In my professional life, I pray that this will always be my focus too.
Read more about DeAnalisa in her Columbia BME Blaze interview from July!