Özgenur Çelik SEAS'23: A Force Within and Beyond the Research Lab
May 09 2023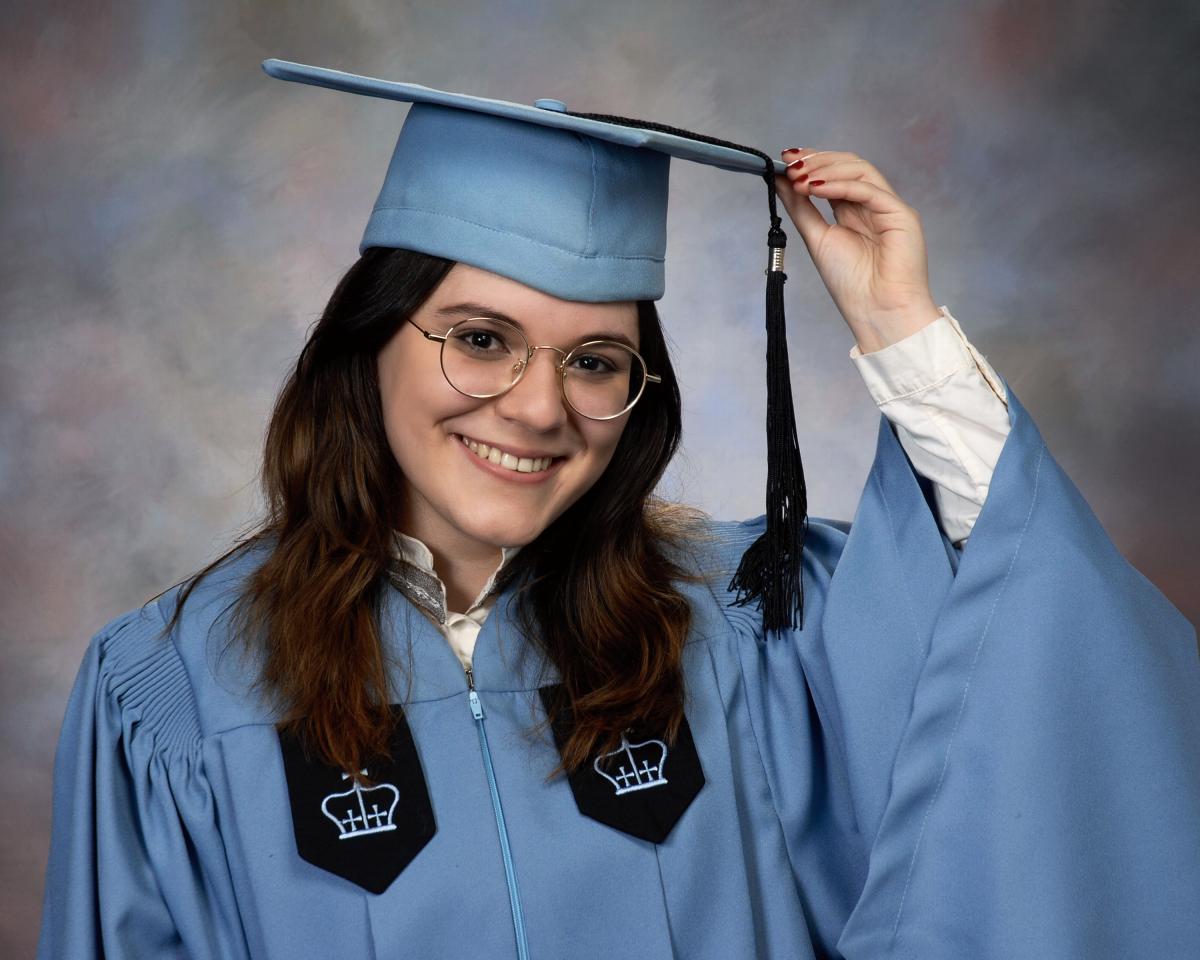 Özgenur Çelik, known as "Ozzie" among her peers, hails from Izmir, Turkey. She received her Bachelor of Science from Columbia Engineering, graduating as an Undergraduate Student Honoree from the Biomedical Engineering Department in May 2022. She is expected to complete her Master of Science with a specialization in Biomaterials and Tissue Engineering a semester early and graduate this May as a SEAS Class Day Marshall.
An active member of the Columbia community, Çelik is the recipient of the university-wide King's Crown Leadership and Excellence Awards two years in a row in Community Building (2021) and Health & Wellness (2022), as well as the Multicultural Affairs Graduation Cord.
This March, she was invited to be a panelist for Columbia BME's Embracing Equity Luncheon, discussing the importance of gender equity in science and engineering with BME faculty and alumna. This April, she addressed the Columbia College and SEAS undergraduates at the 2023 International Graduation Celebration as the alumni speaker.
Well-Being Advocacy
Çelik views promoting well-being in the community as one of her passions. She has been a CU Well Peer Leader and ROAR @ Columbia facilitator since her freshman summer, leading conversations with incoming students about mental health, self-care, and stress management. She is also a NASPA-certified Peer Educator and has served on the Student Health Advisory Committee, acting as a spokesperson for her peers at SEAS. Guided by Columbia's well-being initiatives, she is a firm believer that well-being is multifaceted and includes intellectual growth. She has been a teaching assistant for the BME Lab I course and a research assistant in Dr. Kam Leong's lab since her first year as an undergraduate. She gave a podium presentation about her stem cell engineering research at the Biomedical Engineering Society Annual Conference in October 2021. She also presented three posters at local (Columbia Research Symposiums) and regional conferences (Northeast Bioengineering Conference).
Mentorship & The International Community at Columbia
As an international student from Turkey, Çelik says, "Being an international student at Columbia made me a better advocate for my peers and myself, a better thinker, and a better humanist." She is the first one in her extended family to study college outside of Turkey. One of the reasons she chose Columbia Engineering is New York City's multicultural identity and Columbia University's diverse student body. In the Ivy League, Columbia had the highest percentage of international undergraduate students when she started college. She has been an active voice in the international community serving as an International Buddy Program "Lion" (mentor for incoming international students), International Student Orientation Program Head Leader, and International Student Advisory Board secretary. She has guided numerous student peers to navigate NYC, campus life, and academics on topics ranging from getting involved with biomedical research on campus, volunteering, finding fellowships/funding for international students, and making the most of freshman summer and their time during the pandemic.
She believes that knowledge is essential to share and that mentoring younger students is just' "passing the torch" of what she has experienced and the knowledge she has taken from her mentors at Columbia. Çelik also sees mentorship as a valuable tool to foster a sense of belonging and make available resources more accessible for international and underrepresented students in STEM.
The Essential Thing Columbia Engineering Teaches
Çelik underscores what her Columbia Engineering education means to her.
"My five years at Columbia Engineering cemented a lifelong desire to be of service to humanity through intellectual growth and the pursuit of knowledge. Receiving my Bachelor's and Master of Science at Columbia Engineering taught me the importance of interdisciplinary collaboration. Guided by Columbia Engineering's vision, "Engineering for Humanity," this interdisciplinary collaboration, life-long mentorship from faculty, and the aspiration to expand the limits of collective human knowledge, I aspire to carry this vision forward."
Fondest Memory at Columbia Engineering and Career Aspiration Connections
Çelik describes her proudest highlight from her time at Columbia Engineering as when she was given the opportunity to share her research on the national stage. As an undergraduate student, she delivered a podium presentation at the Biomedical Engineering Society Annual Meeting. She represented her research mentor and her project on generating hepatocyte-like cell spheroids from induced pluripotent stem cells for drug screening and disease modeling.
She says, "Sharing our group's work, answering questions from the audience, and discussing the field's future with experts was invaluable to me as an aspiring scientist."
This experience provided by Columbia Engineering, the BME Department, and the Leong Lab shaped her decision to pursue graduate school. She will continue her graduate studies in Georgia Tech and Emory School of Medicine's dual Ph.D. program as a Women in Natural Sciences and Laney Fellow this fall. With her training, she aspires to make healthcare more accessible and mentorship more equitable, believing the right to health and education are fundamental human rights.
Parting Advice to Peers and Younger Students
Çelik shares parting advice and congratulates the Class of 2023. "As you reflect on your time at Columbia, I encourage you to acknowledge the better scholar and human being you have become. Think about all the efforts you put in for your degree, all the hours you spent making the Columbia community better with a student group, and all the sacrifices your loved ones put in to get you to where you are.
Cherish that growth, spread it wherever you go, and wear the Columbia alumnus label with pride. That growth proves your passion, courage of conviction, and a strong sense of self. That growth is your flashlight to guide you as you take your next steps into the world. It is the fuel to make an impact toward a more equitable and sustainable future.
Be kind to yourself and others, keep improving yourself compared to your yesterday self, acknowledge the people who lift you up, and keep growing! I am so grateful for the mentors, professors, and peers at Columbia BME who gave me opportunities for growth. Lastly, I am so thankful to my family for their endless support and sacrifice. A special thank you to my father, who is my role model for his impact on others as a physician and human being."